YouTube is all about watching and sharing videos, subscribing channels and lot's more. There are some general things about YouTube that every user may know about. But few YouTube tricks I know, will change the way you watch videos.
With over 1 billion active users, YouTube become the 3rd largest website in the world, and one of the most popular social networks on the internet. For me, the most surprising fact about YouTube is the average time a user spent on the video-sharing service, and that is about 40 minutes. It means if you talk about addicted users, it may be more than 4-5 hours in a day.
An addicted YouTube user will sure need tips and tricks, and all this is for you. If you're a YouTube content creator, you may want to consider buying YouTube subscribers to boost your channel.  
1. Play YouTube videos in the background
You always wanted to keep playing ongoing YouTube video on your mobile app. Because YouTube can't offer background playing, it's hard to listen videos like a music player. You can use Awesome Pop-up video app from Google play in order to play YouTube videos in the background on Android.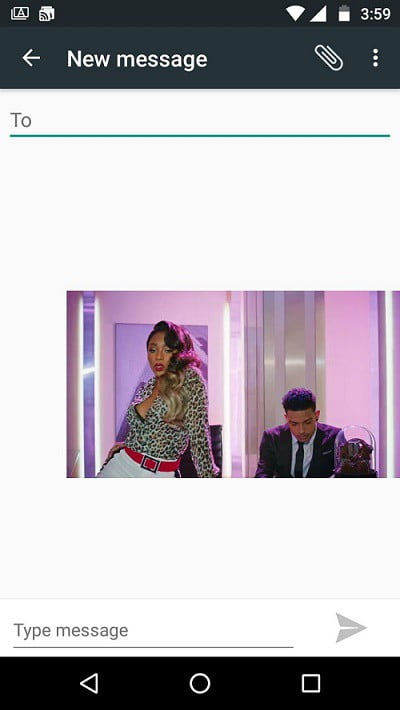 2. Watch YouTube videos in the VLC media player
VLC media player is the most popular media player for desktop. Using the network streaming feature in VLC, you can stream a network file like audio or video, directly on the player.
Because YouTube can't serve direct video links, VLC automatically convert YouTube video URLs to direct media link. Just paste the URL of a YouTube video on VLC > Media > Open Network Stream and watch YouTube videos on VLC media player.
3. Auto HD all YouTube Videos
By default, YouTube detects your internet speed and change the video quality automatically. If you choose a specific quality like 720p HD, or 1080p Full HD while watching a video, the settings didn't save for all time.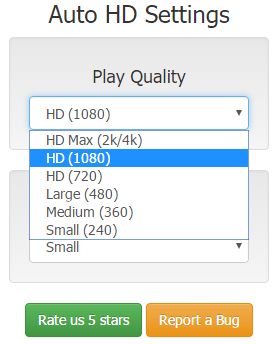 Using a browser extension like AutoHD for chrome or YouTube High Defination for Firefox, you can set a default video quality for all YouTube videos. Install the extension and select a default quality from extension's settings.
4. Loop/Repeat the ongoing video
One of the serious problems with the YouTube player was 'repeat'. Viewers who watch or listen music on YouTube, they unable to repeat the current video because there is no option of repeat. But after many years in 2016, YouTube added a loop feature in their HTML5 player that automatically loop the ongoing video.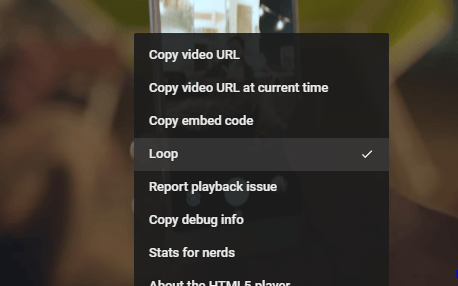 While watching a video on the desktop, right-click over video and check 'Loop'.
5. YouTube videos to GIFs
If you want some GIFs, then the world's best GIF website Giphy.com is always active for you. But, if you want to create your own GIF from a video or YouTube video, you don't need to download the YouTube video on your computer.
Go to Giphy's GIF maker > Paste the YouTube video URL > Go > Select start and end time > Create GIF.
6. Sort search results by most viewed
When you search a term on YouTube, it gives you relevant search results. But using the 'Filters' feature on YouTube, you can sort your search results listing by 'view count'. It is very helpful for users who wants to find most viewed videos of their search term.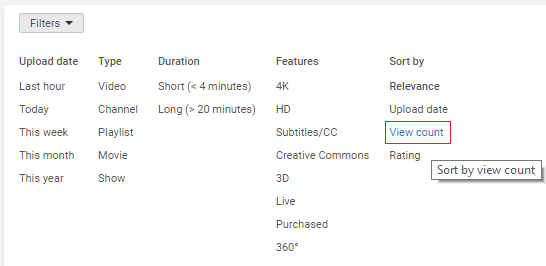 On desktop, Search any term, Click 'Filters' and sort listing by 'View count'.
7. Keyboard shortcut tips
It's time to control YouTube's HTML5 player with the keyboard. There are useful actions exist that can be easily control with the keyboard, such as increase volume, go forward and repeat. Here are all:
| Action | Shortcut key (Windows) |
| --- | --- |
| Play/Pause | K or Space Button |
| Full screen | F |
| Restart the video | 0 (Zero) |
| Jump to end of the video | End |
| Increase/Decrease volume | Up/Down arrow key |
| Go back | Left arrow (5 seconds), Ctrl+Left arrow (10 seconds) |
| Go forward | Right arrow (5 seconds), Ctrl+Right arrow (10 seconds) |
| Mute | M |
| Increase/Decrease speed | Shift+> (Increase) and Shift+< (Decrease) |
| Skip to a video point | Numbers 1-9 |
8. YouTube search operators
Just like Google search, YouTube supports search operators. Although, Google search provides advanced search tool and YouTube provides 'Filters' feature. Take a look at the below image of a external source: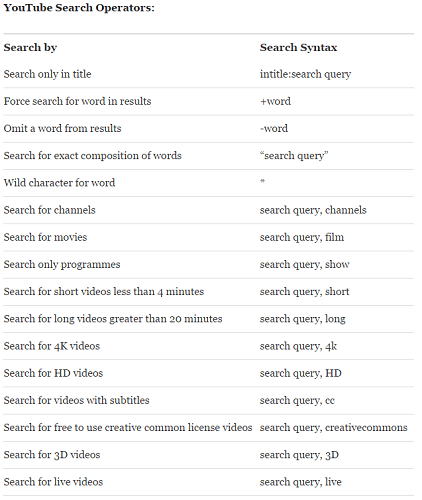 You can easily share a YouTube video using the share button, but additionally, you can also share the YouTube video from a specific position. For example: Your shared video link should be played after 20 seconds.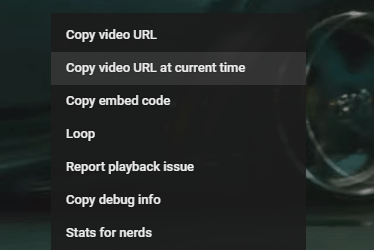 While watching a video, right-click over video and copy video URL at the current time. You can also check 'starts at' option below share buttons.
You probably know about embedding feature, that allows website owners to frame YouTube videos on their website. Just like embed, you can frame a video on your browser's entire window.

While watching a YouTube video, remove 'watch?' and replace '=' with '/'.
11. Identify music in a YouTube video
Sometime when you're watching a video, you heard a beautiful music or song in the video. Unfortunately, the Uploader didn't mention the music name in the description and you go crazy to find that music on Google.
Don't go crazy, just paste the video URL to MooMa.sh and identity which music is in the YouTube video.
12. Enable night mode on YouTube
Most of the mobile web browsers have an option to surf the internet in the night mode. When you enable the night mode, all websites on that browser turn to dark background and it feels like you just turn off the light.
Use Turn off the lights extension on chrome or Firefox, and enable night mode for YouTube.
13. Watch trending videos of different countries
When you visit YouTube.com, there you can see a trending tab shows you trending videos on your country. But I want to know what is trending on other countries. Go to the trending tab > scroll to the bottom of the YouTube > change content location and select a different country > refresh the trending page.
14. Earn money from your YouTube videos
If you're a YouTube content creator, you already know how to earn money from YouTube videos. People who don't know, they should simply enable Adsense monetization in their YouTube videos.
Go to your YouTube dashboard > select Monetization > enable my account. You'll be paid through Google Adsense.
15. Watch YouTube videos in slow motion
One of the funny things I do on YouTube is watching videos in slow motion. When you turn down the speed of a YouTube video, the sound also goes slower. Go watch a video, select settings icon in the player and turn normal speed to a lower value, such as 0.5.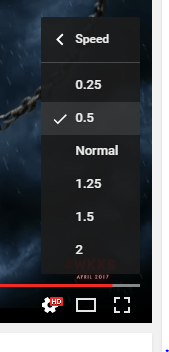 16. Calculate total number of watching time of a video
YouTube has an interesting statistics data about every YouTube video and the data is public to all users. If you surprise about most viewed YouTube videos, you'll be more surprise when you see the value of 'Time Watched'.
Go to a YouTube video on the desktop, click more, and select 'Statistics'. There you can see a 'Time Watched' data of the video.

By the way, 'Time Watched' data is unavailable on PSY's Gangnam style.
17. Read video transcription
Google has a brilliant speech recognition technology and that's tech used in YouTube. If your spoken language is not English, it's hard to understand the exact English words from a video. YouTube provides a video transcription feature that automatically transcript video spoken language to text.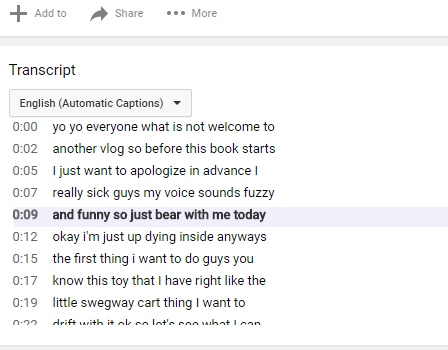 Go to a YouTube video, click more and select 'Transcription'. Automatic video transcription is not available on all videos.
18. Fetch thumbnail from a YouTube video
Whether it is a custom or automatic thumbnail, every YouTube video has their own thumbnail. People who want the full resolution thumbnail image of a YouTube video, they should try an online tool called YouTube thumbnail grabber.
It fetches all resolutions thumbnails from a YouTube video.