YouTube is a company owned by Google inc. And it was Google's most popular product where video creators upload their original recorded videos and get paid for views through Google Adsense. The video-sharing service was launched in 2005 and currently it has over 1 billion active users and the 3rd most visited website in the world. When a creator reached a milestone of subscribers, the company sends him a reward. For example: Silver play button for 100k subscribers, Gold play button for 1 million subscribers and Diamond play button for 10 million subscribers. Let's read what are the interesting facts you didn't know about YouTube.
10. Google is not a founder of YouTube
YouTube is Google's most profitable product, but exactly the video-sharing site was not founded or created by Google. In 2005, three formal PayPal employees names Chad Hurley, Steve Chen, and Jawed Karim created YouTube.com, and the idea of video-sharing website is led to the Jawed Karim when he didn't find video clips online. In 2006, it was announced officially that the company Google inc. Acquired YouTube for $1.65 billion in cash and YouTube will continue to operate with its co-founders.
Google's main revenue was based on advertising and the search giant use ads on YouTube to earn revenue. At the end of 2015, it was in the media that YouTube.com is getting more visits than Google.com and YouTube is more important to Google than search. The search company starts merging their services with YouTube and in 2009, it was announced that all new signups on YouTube required a Google account and people can sign-in to YouTube using a Google account.
9. YouTube's most popular category is Music
If we see the list of most viewed videos on YouTube, you'll feel like YouTube is just built for music. Whether you talk about Psy's "Gangnam style", Wiz Khalifa's "See You Again", or Bieber's "Sorry", all these music videos cross the milestone of billion views. YouTube takes care of every artist on YouTube and it's an opportunity for artists to get their music discovered by over 1 billion people around the world.
In earlier times, people buy music CDs to listen latest music genuinely, but since artist start uploading their original music videos on YouTube, people around the world can directly listen or watch the original music video for free.
The auto-generated music channel on YouTube has over 94 million subscribers and it is the most subscribed auto-generated channel on YouTube. Music streaming services like Spotify and Apple music are growing faster over the years, but when it comes to free, folks first go with free, and YouTube is absolutely free to stream music videos.
8. YouTube started as an online dating service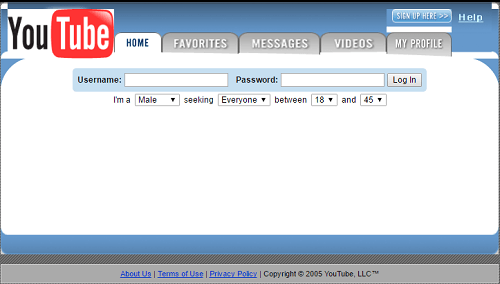 It could never think that the world's most entertaining website is started as an online dating service. The idea of Steve Chen was a video version of online dating service, where singles upload their personal introduction video and tell what they were looking for, but unfortunately no one uploads a single video on YouTube. After the bad results of online dating service, Chen and other co-founders makes YouTube open up for any video.
As you can see in the above screenshot, YouTube in 2005 consists dating related features such as messaging, profile, favorites and in the about page, the company written "YouTube is the first online community site that allows members to post and share personal videos." The idea of online dating was influenced by a site called hotornot.com.
Whether YouTube was started as an online dating service or social networking website, I believe that the company always in favor of videos and there is something that'll change the world of online videos.
7. YouTube bandwidth consumption as much as the entire internet in 2000
Every web engineer know media download and streaming activities consume more server bandwidth than a regular information website, and YouTube is all about streaming high and low quality videos. Today, more than 400 hours of videos upload on YouTube every minute and the service automatically generate video sizes such as 360p, 480p, 720p, 1080p and more. In 2007, it was estimated that YouTube consume as much bandwidth as the entire internet in 2000. Some web experts of that time also warn that the video service will down unless billions of pounds spent on upgrading servers and infrastructure.
The traffic of YouTube grow rapidly over the years, even in the launch year 2005, more than 8 million videos watched a day and within after year, YouTube is getting more than 66,000 videos upload per day. When a viewer wants to watch the video again, it needs to stream the video again and that's a tiny example why sites like YouTube consume huge bandwidth.
6. YouTube's most subscribed channel earns $12 million annually
YouTube is also known as a platform to earn money online by uploading originally-recorded videos and get paid through Google Adsense. There is no restriction of topics on YouTube and anyone can upload videos on any topic. The most subscribed YouTube channels like PewDiePie, Smosh, JennaMarbles and Lindsey Stirling earn millions through the video platform. But PewDiePie is the only most subscribed channel (46 million+ subscribers) that earn more than $12 million annually.
Last year Forbes published the list of World's Highest-Paid YouTube Stars, where PewDiePie ranks first in the list. PewDiePie also talks about money on YouTube as a public video. The advertisement is not only a single income source even popular YouTubers sell services and products to viewers and earn more like a business. Many YouTube stars also started their own production company to get the license of movies and launch shows for the television industry.
5. YouTube's first video was uploaded by the site's co-founder
When we talk about history of sites like Facebook, Google and YouTube, there was an interesting question about the first content uploaded or published on the site. The first third accounts on Facebook belong to founder and co-founder and the IDs distribution is 4, 5, and 6, and the first video uploaded on YouTube belongs to site's co-founder Jawed Karim. The video title was "Me at the zoo", where jawed talking about elephants trunks.The video was published on April 23, 2005 and it was 19 seconds long.
YouTube has not deleted the video since upload because it is a sign of the company. Few changes applied in the video description, but overall the video is as it was uploaded and currently it was available publicly. The video was shot at San Diego Zoo and recorded by Yakov Lapitsky. The video production quality is so poor because in earlier times, the videos are mostly recorded in low-definition resolution.
4. YouTube can't handle "Gangnam style" views

The most watched video on YouTube is Psy's Gangnam style, and it is the first video on YouTube that crossed the milestone of 1 billion viewers. In 2014, when the music video cross 2.1 billion views, Google engineers get some headaches because the views counter starts showing negative values. The YouTube views counter is built to handle maximum 32-bit integer value (2,147,483,647), but the music video crossed the maximum view's value and YouTube can't handle it or people are saying "it just broke the YouTube".
The company post a public message on Google+ and said "We never thought a video would be watched in numbers greater than a 32-bit integer (=2,147,483,647 views), but that was before we met PSY. "Gangnam Style" has been viewed so many times we had to upgrade to a 64-bit integer (9,223,372,036,854,775,808)!". Google spokesman Matt McLernon explained that "There was never anything that actually went wrong. It's just people having fun with the language."
3. YouTube will bounce when you search "Do the Harlem shake"
Harlem shake is a 30-second video internet meme in which group of peoples performs a funny dance on a song called "Harlem Shake". On February 2013, the dance move goes viral on the internet and YouTube start getting 4,000 Harlem shake videos upload per day. You can now search for "do the Harlem shake" on YouTube, wait a few seconds and watch how YouTube perform on the song.The YouTube logo starts bouncing to the beat and after a few seconds, all page elements will start dancing along with YouTube logo.
If you want to watch some Harlem shake videos, so please use the pause button in order to stop YouTube dance and enjoy the videos showing up in the results. It looks very similar to a Google search trick called "Do a barrel roll".
2. YouTube is the 2nd largest search engine
Not you, even more people are using YouTube as a search engine. The searches of "how to" related queries are growing up by 70% over the years and the YouTube's search results page works similar as Google SERPs. Everyone knows YouTube.com is the 3rd most visited website in the world and with over 1 billion active users, the video-sharing company process more than 3 billion searches a month. It is more than Bing, Yahoo and Ask combined. YouTube is changing the way we find information via regular search engine.
We use long tail keywords on Google search to find information, like "iphone 7 specification and features", but on YouTube people search simply, like "iphone 7". YouTube is a company owned by search giant and there is no doubt that YouTube uses an algorithm in search results. According to a marketing blog, YouTube videos ranking based on factors like more watch time, more views count and content creators can optimized their video to rank better in YouTube search results.
1. YouTube support 8K videos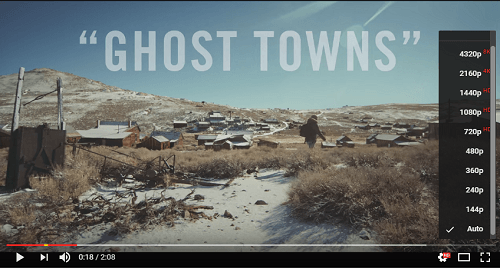 The fact you'll surprise to know is YouTube has 8K resolution videos that almost no can easily stream. 8K UHD (4320p) resolution is currently the highest video resolution in the world and Ghost towns is the first 8K video uploaded on YouTube. The company announced 4K  support in 2010 but he also says it supports 8K videos upload since 2010, but the 8K label was added earlier in 2015.
There are few cameras available in the market that can record videos in the 8K, such as AH-4800, RED 8K Weapon Vista Vision, Ikegami SHK-810 and more. The size of an 8K video is much higher than expected, even it's hard to edit 4320p videos in a regular video editing software. In order to experience the realty of 8K videos, you need an ultra-high-definition monitor or television. I found a playlist on YouTube that contains some popular 8K videos.