In the generation of 5G, streaming media is going very common over the years. People stop buying music DVDs and CDs offline and start paying online, but the problem if you save music for offline, your device storage will start filling up. The media files like videos, movies or music can be easily streamable online, so why would I care offline.
On-demand streaming service providers are crazy to provide paid subscription. Every streaming music provider, including Spotify, SoundCloud, Google Play Music has a free plan for users, but Apple can't, the service Apple music provides a free trial for 3 months and after you can't use the service anymore till pay.
Music streaming is available all over the world and listening is possible by using the provider's website, Apps and software. Some of the top music streaming providers not available globally, but don't worry a music streaming service provider is waiting for you in your country. English music is a part of every user's music collection and here all services listing is based on popularity around the world.
|  Service |  Pricing | Platform |
| --- | --- | --- |
| Apple Music |  £9.99, £14.99/month, 3 months free |  iOS, Android, MAC, Windows |
| Amazon Prime Music |  £49/year, 1 month free |  iOS, Android, PC, MAC, Web |
| Google Play Music |  Free, $10/month |  Android, iOS, Web |
| Tidal | $9.99, 30 days free |  Android, iOS, MAC, Windows, Web |
| Pandora |  $5, $10, $18/month |  Android, BlackBerry, iOS, Web, Windows |
| Spotify |  Free, $5/month |  Android, BlackBerry, iOS, MAC, Web, Windows |
| SoundCloud |  Free |  Android, iOS, Web |
| YouTube music |  $9.99/month |  iOS, Android |
8. YouTube Music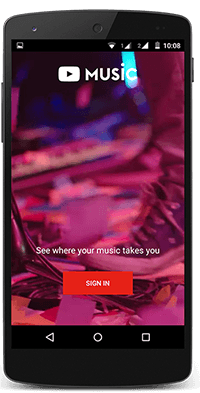 YouTube music is a separate way to listen music videos in the background, just like a music player. But, you need YouTube Red membership to run listen music in background, ad-free and more benefits. YouTube doesn't have separate music database, it's just a paid service made by the company to hear the audio of a music video. But, you know what? It's cool!, even I can enjoy the latest releases faster than other streaming services and apps.
7. Tidal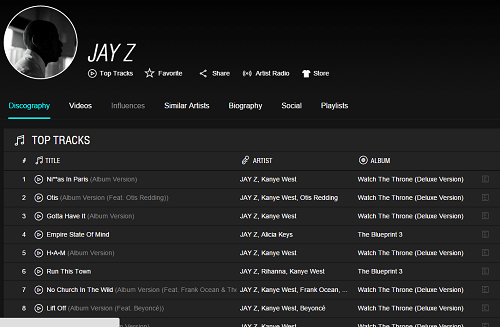 Tidal's way lets you get access to 40 million songs with high quality music experience. Two plans of Tidal: Premium VS HiFi divided music quality standard vs lossless audio. The service was launched by rapper "Jay Z". As a listener for a test, I was tracking Tidal to know how it feels to listen a track on their platform and I found the new content "videos" and it's awesome. Users can also save albums, playlists for offline.
6. Amazon Prime Music



In the list of Amazon businesses, music streaming is just a small thing. Amazon's Prime subscribers can able to stream ad-free music using the app or website. The collection of over 1 million songs indicates good, but there was not any free plan like Spotify, and subscribing prime for just a music streaming is not so good. If you already have a prime membership, then it's perfect else get a 30-day trail for a test.
5. Soundcloud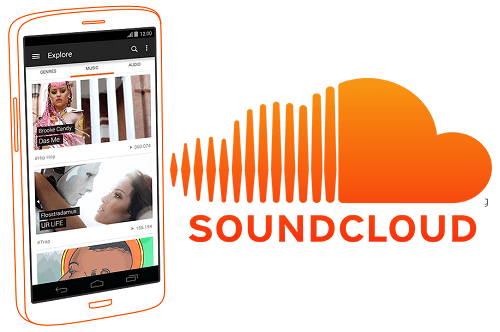 Soundcloud is a kind of social networking music website, but the word "music" is enough. Just like a social networking site, artists around the world post their original soundtracks on Soundcloud and the community of 170 million+ users give response to the content. The collection of music on Soundcloud is awesome, even the music is available in all languages. There's no paid plans for listeners and the app player design is outstanding.
4. Apple Music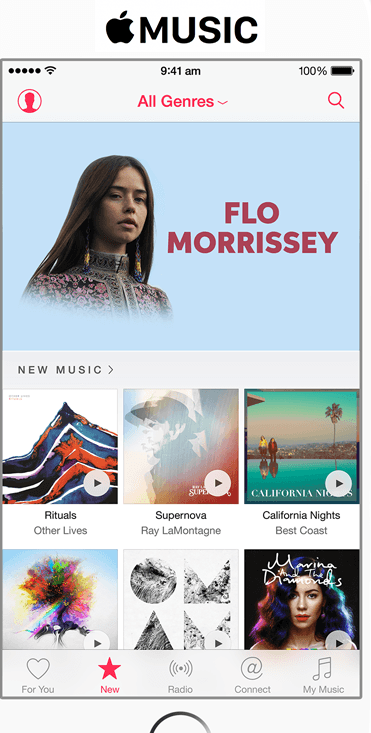 Beats music gone, Apple music comes, all the game played by Apple to get Beats's subscribers switch to Apple's paid service. The service will charge you $9.99 a month, or $14.99 for families with up to 6 users. 3 months free trial is waiting for you, that you can experience 30 million songs in a time period. Let's define features quickly — Offline download, Like/Comment with @connect, Follow artists, Music discovery engine, upload personal library, music tastes, videos, etc.
3. Pandora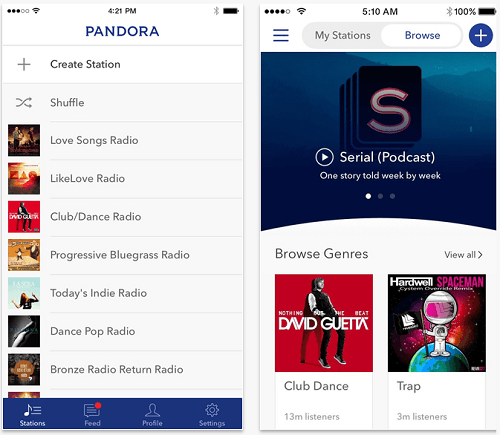 Pandora's $5/month subscription is cheaper and a free ad-supported plan is also exist. There's not a huge catalog of Pandora surprise you, only a million. Pandora gives us ability to create radio stations based on taste and you create a new one by searching the name of a song.
2. Spotify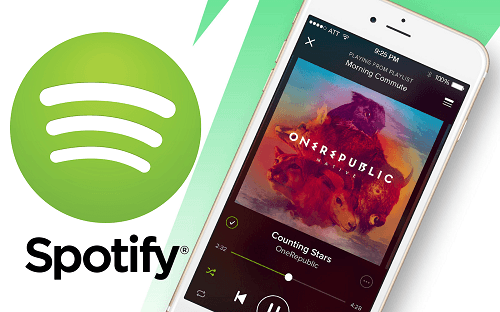 Spotify is the #1 music streaming app in the world, but the only reason why I put this on #2 is because I love Google play music. Spotify has a free unlimited ad-supported plan lets users stream free unlimited, the else Spotify premium is all good. Offline listening is possible, but only for Premium users. Listen online from the collection of 30 million songs via cross platform software and apps. The service was so popular that I easily find my friends on Spotify and able to listen their playlists.
1. Google Play Music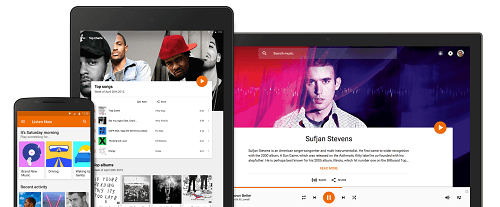 Google play music is my first ever choice and I got the app pre-installed on my first Android device. Even, I awarded the app #1 in the list of the best music players for Android. Hats-off, to the design, simplicity and theme of the music player. It's all access subscriptions provide the catalog of 30 million songs, YouTube red and more decent features you're waiting. Offline limit of the Google play music is much higher than Spotify's 3.3k/device.