Many new YouTube content creators receive thousands of views in a single day without any promotions. This is not the fate of the uploader, the video sharing company uses factors and algorithms to determine the quality video that suitable for others. If your video content is unique and optimized for organic, you can get thousands or millions of views in a day without any promotion. Many new users have wasted time sending video links to social media, instant messenger, and e-mail contacts to get the viewer, but I believe that you should pay attention to audience shares.
YouTube has billions active users around the world, even today people are active on YouTube for a long time, not on Facebook. After uploading a video on YouTube, you do not need anything to get the audience, just come back after a few hours or days and see if the video is getting a response or not.
Learn ways to promote YouTube videos for free, and official organic optimization guide.
The YouTube Optimization Technique below helps you to get more organic traffic in your video:
Optimization 1 of 5: Video title
This title is one of the most important metadata of YouTube video that briefly describes the content. Writing a better title will help your videos get more organic traffic and rank in YouTube search results.
Title length
In order to make it fully visible in suggested videos, search results, and home feeds, keep your title length less than 60 characters. Short titles perform better on YouTube, so do not insert additional text such as channel name, description, longer keywords in the title.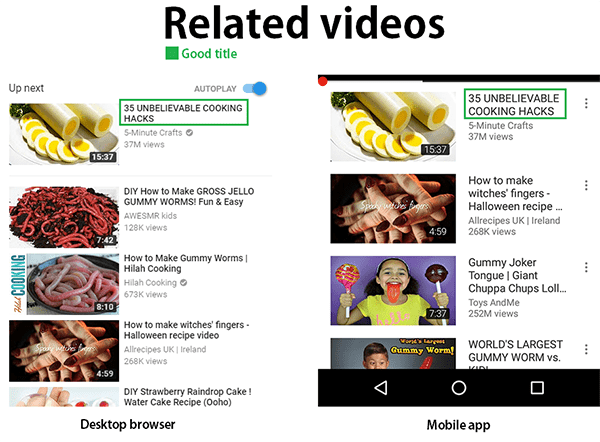 Use popular keywords
If you are making a video on the general topic, then keyboard research should be done. Insert popular search keywords in title and get more clicks on your video through YouTube search results and related videos. You can use Google Trends, Keywordtool.io/youtube and the auto suggestion feature of the YouTube search to get ideas for the most searched terms.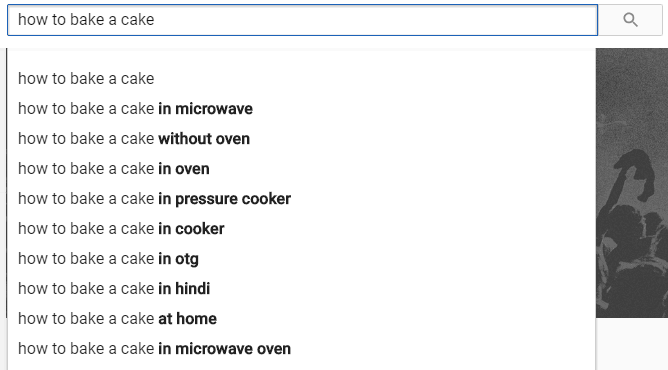 Attract people's attention through title
There are some title writing techniques for YouTube that draw people towards your videos, such as ask questions, use natural language and write title in capital letters. You can use basic special characters such as exclamation (!), Double coat ("), vertical bar (|), dollar sign ($) and more to make it more interesting.

Optimization 2 of 5: Custom thumbnails
When it comes to video optimization, video thumbnails consider YouTube as the most important meta data of video. Auto generated video thumbnails are not as good as custom thumbnails, 90% of the best performing videos on YouTube use custom thumbnails.
The recommended resolution of YouTube thumbnail is 1280×720, and it has a minimum width of 640 pixels. You can create custom thumbnails on your computer using photo editing software such as Adobe Photoshop and Microsoft Paint.
Whatever your video content is, show the most interesting part of your video content to get more clicks on thumbnails. You can set a fake thumbnail on your YouTube video to get more clicks but don't. As you can see in the thumbnail below, this is the most interesting part of the video, when thousands of colored balls were filled in the room.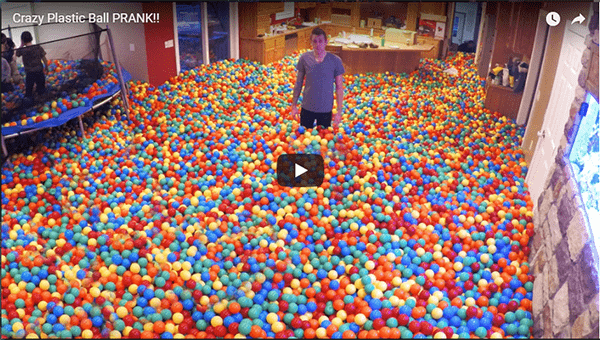 Create multiple thumbnails of one video and update it from time to time.
Optimization 3 of 5: Video resolution and quality
I have learned from several new fast breakthrough youths that if we upload videos in high definition and resolution, then the video gain more organic traffic than usual. The maximum you can upload 8K videos to YouTube, which is very impossible for any content creator, but at least you can create and upload in HD format such as 720p and 1080p.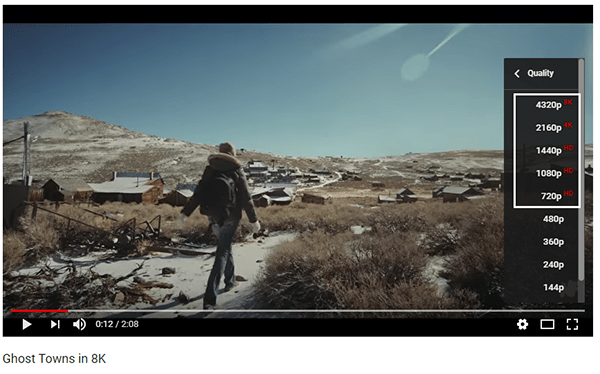 If you are really serious about YouTube, then I recommend that you invest in creating a small YouTube production setup, which requires the purchase of some stuff such as a Digital SLR camera, Professional Microphone and Photo editing software such as Adobe After Effects.
Learn the production and pre-production courses of the YouTube Creator Academy and be a professional YouTube Creator.
Optimization 4 of 5: Description and Tags
The description is useful, you must put the first paragraph in all the important keyword in the subject of your video. The first paragraph of the description should not be long, and combine with the keyword and natural language. Many YouTube Creator take advantage of the first line by adding external links.
Tags are playing important roles in organic and search optimization. You should apply both generic and subject-specific tags on your YouTube video, such as 'iPhone' is a subject specific tag, while the keyword 'mobile phone' is generic. Get keywords from the title you've written, and more ideas from the auto suggest of YouTube search bar.
Optimization 5 of 5: Exclusive video content
Do not be fooled by making full video content using downloaded videos and images from the web, use your own recorded content in your YouTube video. Music can be downloaded and used from non-copyright music download sites, because making your own music is not easy. Copyright content will not harm your video ranking, but the reputation of your channel will be hurt when some copyright strikes hit your channel.