If you have a lot of subscribers in your YouTube channel, then you don't need to think about video promotion, because the audience share will boost your video for free. Many new YouTube content creators do not struggle like others, from their first public video, they get millions of views and thousands of subscribers without wasting time in promotions. The question of many people is how do I promote my YouTube videos, how to get more viewers and subscribers without any promotion. The first thing I want to tell you is that there is nothing like free advertising on the Internet, some techniques that I know to promote YouTube videos can benefit you.
If your channel is about a business whose purpose is to promote products and services through video, then do not waste time just for free promotion, try to advertise YouTube ads. If your objective is to entertain YouTube audience, then you can become famous without any promotion, or using some techniques, you can promote your video for free.
Organic traffic is very powerful and beneficial because you need time and money for it. When you upload great content to YouTube that audience need to watch, the organic traffic automatically increases on your videos and your channel get more subscribers without any promotion. YouTube Organic Optimization is a study of how to create high quality videos, write better metadata and make clickable custom thumbnails. If you focus on organic optimization, you will not need to promote your video with money.
Once your video is ranked in YouTube search results, a lot of traffic can drive on your video every day.
Google has published its own official organic optimization guide, while my guide is also good.
YouTube Fan Finder Program
As a content creator, you will not have heard about the YouTube Fan Finder Program because it is very hidden. The program allows content creators to run a Skippable TrueView YouTube advertisement on their videos for free. You can submit any video as a channel ad from your uploaded video library, but according to best practices the channel ad should be entertaining, lesser in length and give a strong message to the audience. Do not forget that viewers can skip skippable ads after 5 seconds.
Click here to go to the Fan Finder page in your YouTube account, and then select your channel ad.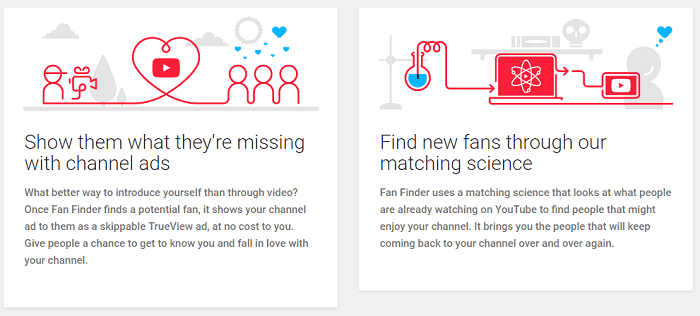 Video link submission
Sites such as Reddit.com accept public content, even though you are only a general user. Reddit has more than 500 million users per month worldwide, and more than 17 million subscribers in the subreddit R/videos. You can submit your YouTube video link in R/videos subreddit and get more traffic on your video.
For other sites like Reddit.com, go to the web and search.
Mass messaging
Mass messaging is one of the better ideas for promoting your YouTube video link with your contacts. Sending link, photos, videos or any other content via message is more effective than sharing on social media. You do not need to send all your contacts one by one, just create a list and send your video link to them all at once, I will tell you how.
Use GMass, a Chrome extension that allows you to send email messages from your Gmail account to multiple email contacts. You can save your email address list in Google Spreadsheet document, and GMass will use it.
A feature called Broadcast List on WhatsApp Messenger allows you to send messages to multiple contacts at one time.
On Facebook Messenger, you can create a group chat or a new chat with hundreds of friends in the chat list. Once conservation is created, it will never be removed from your messenger.