Music and songs are mostly copyrighted by artists or by any company, which is owned by music or is considered copyright holder. Through the Internet, you can download non copyrighted music, song and sound effects for free without worrying about issues of copyright and use it in your projects. Under the Creative Commons license, audio files shared on the Internet can be used for any purpose, even for commercial use.
Not just music files, even through internet, can easily download non-copyright photos, videos and other types of work. According to an analysis, it has been estimated that about 1 billion content are available on the internet under the Creative Commons license.
These are the best places on the Web to download non copyrighted music:
1. YouTube Audio Library
YouTube's Audio Library is a place where you can find and download free music and sound effects. The library is built specifically for the YouTube content creator so that they can make videos with better sound effects and background music, and you do not have to think about copyright issues. Read more about those attribution marks near the track.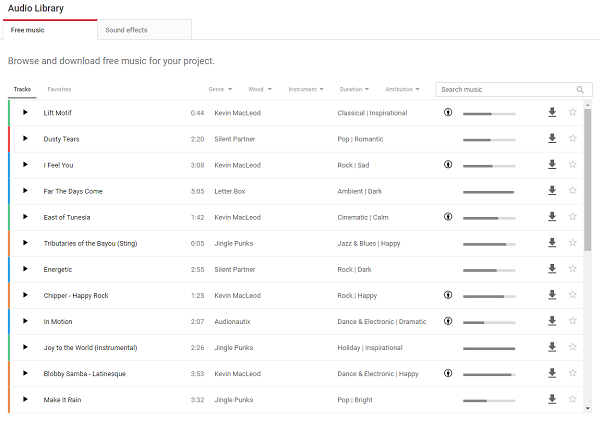 Next to the Audio Library, there is a 'Music Policies' directory where you can find popular songs, which can be reused in your video project.
Audio Library is a YouTube channel that is managed by an individual (not by YouTube) who post new music on his channel daily, you can subscribe to the channel and get free music every day. If you do not know how to download music from YouTube videos, then do a search on Google. The best part about the channel is that it posts a lot of selected and long-term music.
ccMixter is a worldwide music community site that provides free music, sample track, and royalty-free music for reuse. Users can easily browse music tracks and listen online before downloading. The site has three domains where you can download free music, ccMixter.org, dig.ccMixter.org and Tunetrack.net. To know more about licenses, please visit the home page.
Freesound.org is a website where you can search and download free audio files (e.g., audio snippets, samples, recordings, and bleeps), all sounds released on the website are licensed under the Creative Commons, but please read the description before using a sound in your commercial project.
Netlabels is an internet record label that distributes music through the Internet. You can browse and download free music from Netlabels's Collection page on the Internet Archive. This collection contains music files that are licensed under the Creative Commons. Before using music for any commercial use, please read about the Creative Commons license icon in the download page.
Like the name of the site, Free Music Archive (FMA) is a library of free music with over 100,000 songs and music. Through FMA, you can download free audio files for your project without worrying about copyright issues. You can search for music by Genres and Charts on the FMA website, and click the download icon to download the music. There was no registration required to download music files to FMA.
Soundcloud is a type of social networking platform (especially for artists and musicians), anyone can share their original music on the platform for more than millions of people can listen to Soundcloud. You can do a music search on Soundcloud and Filter search results by Creative Commons. If you do not find any filter results option in Soundcloud Music Search, please use the heading link above.
Jamendo.com is the one of the largest communities for listening, downloading and reusing music under the Creative Commons license. The website did not focus on providing free music, its business model is different. You can listen to music on Jamendo, and download music files according to the license. Learn more about the Jamendo license to reuse the music file in your project.