Wikipedia is a world of information almost every internet user will make use. With over 5 million content pages, Wikipedia is making the web more informative than books. As a registered Wikipedia user, you can create a page/article for free, even you're allowed to edit and improve an existing wiki.
Wikipedia.org is available in 292 languages, out of which, the major language is English. If you write a wiki in English, it didn't automatically translate into a different language, like Chinese or Hindi.
Search engines like Google and Bing uses Wikipedia content to show instant information about a search query. For example, if you search 'Facebook' on Google, the right-hand side knowledge graph show you an information snippet from the Facebook's Wikipedia page.
Do's and Don't before creating an article on Wikipedia
If you don't have any experience and going to create your first article on Wikipedia, here are few do's and don't you should follow:
Do choose a genuine title.
Do create a wiki about a famous person.
Do provide a valid citation on every line.
Don't use basic English, Do write in a Standard English language.
Don't create articles about yourself, your company or a thing you made.
Don't put contents that considered as an advertisement.
Don't submit a short article.
Don't exact copy paste contents from the web.
Don't use copyright materials.
Use Sandbox, a testing environment, if you don't have any editing experience on the Wikipedia editor.
What is a citation?
A citation is a source (in the form of a link) that verifies the source of an information. When you add a line, a paragraph or information in the article, it's required to add a citation link, from where you got that information.

For example, I wrote a line 'Bill Gates is the richest man in the world'. To prove that, I cite the line with the source link → Forbes billionaires list. The source link should be valid and reliable, and should not be created by yourself.
Let's get started
Follow the steps below in order to create a genuine information page on Wikipedia:
Step 1, Create an account
Only registered users can create a new wiki. Go to the Log in page and create a new account. If you already have an account, go to the next step.
Step 2, Make sure your title is not already exist
Use the above search bar and search your topic. You can also redirect to your topic title page by formatting Wikipedia URL. For example, my new topic title is 'Bill Gates', so i just replace spaces from my title with underscores '_', and add it to the end of this URL →  https://en.wikipedia.org/wiki/. Which makes a final wiki URL looks like this →  https://en.wikipedia.org/wiki/Bill_Gates.
When you visit that final wiki URL, it may show you 'Wikipedia does not have an article with this exact name.', that means your title is not yet created. Below screenshot is a example of a random title.

Step 3, Edit your title in the visual editor
Click the create button and choose the visual editor for editing. Source editor is difficult to use, even only an experienced Wikipedia editor can use it better.

Step 4, Know the format of a wiki
Don't format article yourself, it's better to see the format of other similar pages. The most common format of writing on Wikipedia starts with a quick introduction. After that, add headings, subheadings, table, list, external links and more.
Here is the view of the most common format of a Wikipedia article: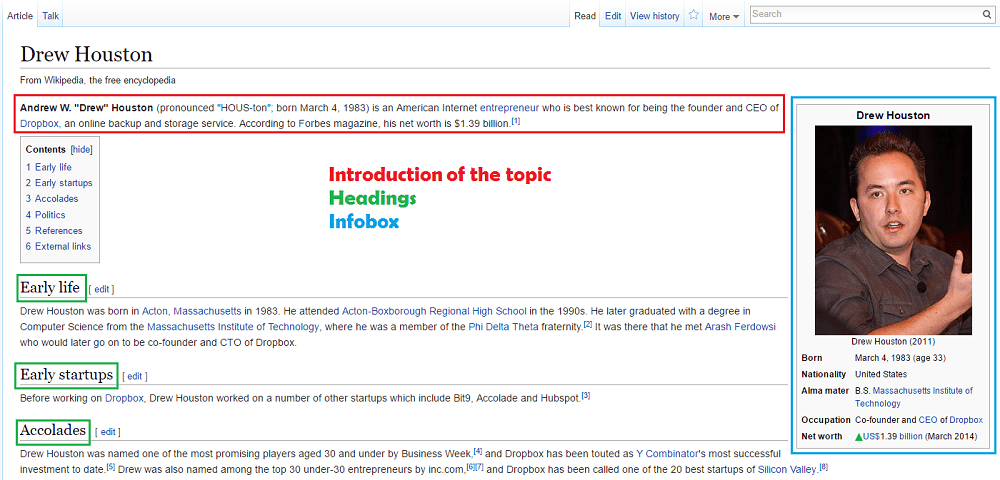 Step 5, Start writing
Wikipedia articles are written in standard English that written and contributed by professional writers. If you don't have any writing skills, please be prepared. Basic English is different than standard English.
On the visual editor, start writing your first paragraph normally. Use the toolbar menu to add headings and subheadings, style text, add links, list, special characters, and more.
Use the Cite button to add citations after each paragraph or line. Just paste the source URL and it automatically gets the title and site name for the citation.
Step 6, Add media files
When uploading a media file, like an image, video or sound clip, make sure it should not be copyrighted. If the media file is your own work, then just check the mark and upload the file. Else, use the Wikipedia commons upload wizard, if you do not own the copyright of the media file.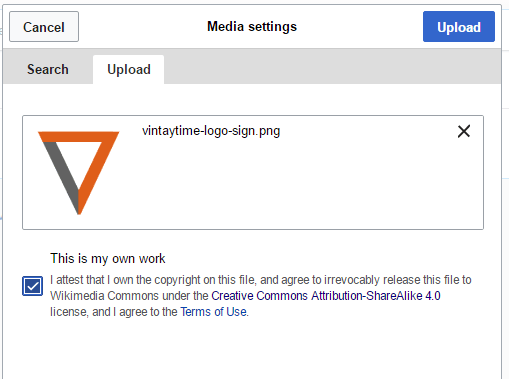 Step 7, Add info box (optional)
You would see, Wikipedia articles of an individual or organization contain an infobox template (situated at the top-right hand side) that identifies a quick summary of the article.
To include this box, click the insert button from the toolbar menu and select Template. Type 'infobox' and select an infobox format. After that, fill the required fields, add more information and insert the template in your wiki.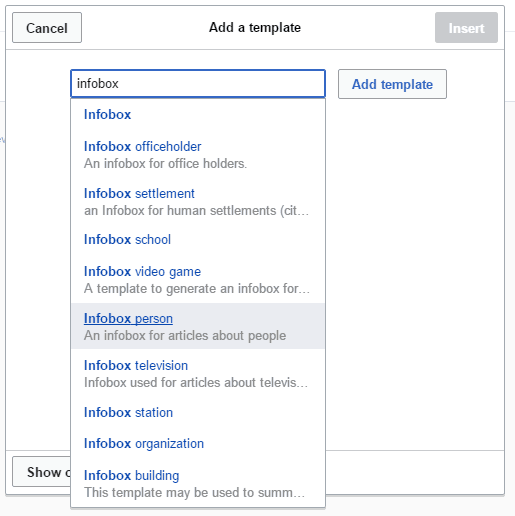 Step 8, Check grammar and spelling mistakes
Grammar and spelling mistakes may drop your account reputation, even it will be a negative signal for all your submissions. Use Ginger's grammar checker extension in chrome and check spelling mistakes and grammar errors in your new wiki.
Step 9, Submit the page
'Save Page' button is the publish button of your article. Once you publish your article, it will visible to all users. Before clicking on the Save page button, please once preview your article.
Alternative way to submit a new article on Wikipedia is the Article wizard.
What's next?
Be patient, because Wikipedia will review your submission within a few hours and the article will remain visible to all users. Your wiki will start getting improvement related messages on the talk page. You should fix important errors otherwise the article will move to the deletion zone.
Once your page survive 2-3 weeks or a month on Wikipedia without getting any errors, it means you have successfully created and submitted an article on Wikipedia.