Do you want to spoof your friends by scheduling a fake call on your Android phone? Yes, it is possible and you can also schedule a fake text message/SMS too. A fake call appears with a fake caller ID, phone number and contact photo.
Additionally, you can already record a voice that automatically played when you receive the call. With voice it seems like you're talking with a real person.
I know only the Google play will fulfill my need, because there I can find almost any kind of app, although Fake call is just a common need. The iTunes app store also has fake call apps, but it didn't seem genuine than Android.
How To Schedule a Fake Call
An android app called Fake Call allows you to schedule fake calls or SMS for free. You can customize the Fake caller ID like Name, Number and Photo. Additionally, the app serves you choose a custom calling screen for the fake call.
Fake Call App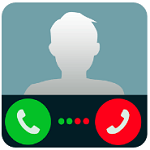 Follow the steps below to schedule a fake call on Android:
Install and open Fake Call app.
Input fake identity, such as a name, number and photo.

Click  'Select phone' and set a custom calling screen (optional).
Select a custom ringtone from more settings (optional).
Click Save, and set a time when you want to ring.

From the more settings, there are more options available related to incoming call, outgoing and missed call.
How To Schedule a Fake SMS
In the same app, you can see the 'SMS' option situated at the title bar. Click that and select Make MSG. After that, enter the fake identity, such as a recipient number, name, and message.
Additionally, you can customize the receive time and folder. As you save, the fake call app automatically set as your default messaging app. Please revert the changes after you receive the fake text message on your phone.