One of the most common pocket gadgets today is a USB flash drive. There are many reasons why everyone stop using CD/DVD discs and start using USB flash storage, such as smaller in size, higher in capacity, easy to read/write/delete and no worries of scratch. How much is your USB flash drive capacity? 32 GB, 64 GB or 128GB. I know these are the common sizes comes in the market, but now I 'am going to surprise you with the list of higher capacity USB flash drives in the world.
When it comes to buying a new USB drive for my own use, I usually go with SanDisk, Kingston and Transcend. These are the only manufacturers that provide me a variety of USB drives with faster performance. Companies like Samsung, Sony and HP also made USB drives, but i never trust on their hardware.
Let's go ahead and talk about higher capacity. In the world where Internet speed is Gigabyte, why not capacity of HDD, SSD, SD Card, and USB flash drive should be Terabyte. World's most popular manufacturers for USB flash drives are SanDisk and Kingston, and Kingston is the first who built Terabyte USB drives.
Let's see which are higher capacity USB flash drives in the world:
It's time to talk about the world's highest capacity USB drive, Kingston DataTraveler Ultimate GT. Yes, it comes with up to 2 Terabyte of storage lets you store your entire world (even your neighbors and friends world too) in a USB flash drive. The product is newly introduced at 2017 International CES, and it is not currently available in the market. The DataTraveler Ultimate GT comes with USB 3.1 Gen. 1 standard that gives you faster transfer speed. The flash drive is supported on all major platforms such as Windows, macOS, Linux and Chrome OS.
The estimated price of the DataTraveler Ultimate GT 2TB is around $5000-$5200.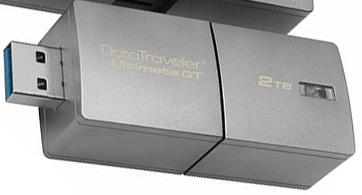 For both personal and business use, Kingston offers Terabyte space on a USB flash drive lets you to store the whole world in just a small flash drive. The DataTraveler HyperX Predator is a USB drive comes with up to 1TB storage with the next-generation USB 3.0 standard. The flash drive can read/write/delete/modify files faster with up to 160MB/s write and 240MB/s read speed. HyperX Predator comes in a metal body with a HyperX Valet Keychain.
The 1 Terabyte variant of the DataTraveler HyperX Predator will cost you around $2,730.
JetDrive™ 520 by Transcend is actually a SSD upgrade kit for MacBook systems. JetDrive comes with SuperSpeed USB 3.0 interface and you can connect it with your MacBook using a USB cable comes inside box. JetDrive 520 comes with next-generation SATA III 6Gb/s interface and it gives you read/write speed with up to 400-500MB/s. The device needs physical installation while the package includes everything you need, such as SSD, Case, USB cable, Screwdrivers and Screws.
JetDrive 520 960GB variant will cost you around $500.
HyperX Savage is one of the blazing fast USB flash drives from Kingston that offers transfer speed up to 350MB/s. The flash drive comes with USB 3.1 generation and trend-setting design. It is compatible with multiple platforms such a Windows and macOS. The higher capacity variant of HyperX Savage is 512GB and the minimum capacity is 64GB. The 512GB variant will cost you around $330.

With a compact, sleek design, SanDisk Ultra USB 3.0 gives you faster transfer speed with up to 100MB/s. Among all SanDisk USB drives, Ultra 3.0 comes with the highest capacity up to 256GB. There are five variants and all comes with USB 3.0 standard. The flash drive is fast, secure, portable and this is actually my own personal choice.

SanDisk Ultra USB 3.0 256GB variant will cost you around $60-$70.
The SanDisk Wireless USB drive is truly a great idea for the wireless generation. You can instantly read/write/delete up to 200 GB data directly from a mobile, tablet or computer device. It has five variants where 200GB is the highest capacity wireless USB drive. The wireless stick comes with a USB plug too for accessing files as usual by connecting in a USB port. Along with, your drive will charge as long as you plug-in the stick in a USB port.

The 200 GB variants will cost you around $86-$88.