I'm not a full time YouTube content creator or a video editing person, but if you are, this post is helpful for you. Here I list some video intro creator apps that are suitable for making introduction videos for YouTube. The professional way to create video intros is by using video editing and graphic designing programs, such as Adobe After Effects, Sony Vegas and others, and you do not need to design graphics and animation manually because the sites I have listed help you download pre-designed video templates for free.
If you go with any app that was specifically designed to create animated videos then there is probably no way to customize the video in the way you want, but if you go with a video editing program then you can create a high quality fully customizable video for your YouTube channel.
If you are a YouTuber, you will know about video editing, if you know basic information about video editing, you can operate any video editing and graphic designing software very easily.
The best video editing application for the computer to make YouTube intros
The software applications below require basic skills of video editing and graphic designing.
1. Adobe After Effects
One of the widely used software in the market After Effects is used to create visual effects and motion graphics. You can find lots of free video templates on the web for Adobe After Effects. The program is not easy to use for those who do not use any graphics and video editor programs before, but if you have a little more experience with the video editing environment then you can easily use After Effects on your computer.
Download Adobe After Effects's offline installer for Windows and Mac Computers.
Free download video templates for Adobe After Effects with Velosofy, Editorsdepot, and Videoblocks.

2. Sony Vegas Pro
Vegas Pro is one of the best video editing software for Windows computers, supports a wide range of tools for video / audio editing, visual effects and motion graphics. The software did not require any special hardware on the computer, you can run and use the software application on any standard computer. There are so many video introduction templates available on the web for Sony Vegas.
Download Sony Vegas Pro's Offline Installer for Windows Computers.
Free Download Video Templates for Sony Vegas with Velosofy and Editorsdepot.
3. Cinema 4D
Cinema 4D is a 3D modeling and motion graphic creation software used in the production of Tron, Iron Man, Van Helsing and many other popular movies. You can install the software on your Windows and Mac computers to customize the downloaded video template from the sites below.
Download the Cinema 4D offline installer for Windows and Mac computers.
Free download video templates for Cinema 4D from Velosofy and Editorsdepot.
4. Blender
Blender is a free and open-source 3D modeling software that is used to create 3D models, visual effects, motion graphics and more. It works on all major computer operating systems, such as Windows, macOS and Linux, and did not require any special hardware requirements.
Download Blender installer for Windows, Linux and Mac computers.
Free download video template for Blender from Velosofy and Editorsdepot.
Other best YouTube intro maker application
Adobe Spark is a web based free application that allows you to create animated video stories within a web browser in just a few steps. Add your custom video, image, text, and icon to video stories, and create high quality video intro for your YouTube channel. The Spark Video app is also available for the iPhone and iPad at the iTunes App Store.

Legend is a free mobile app for creating animated text videos. The length of animation styles given in the app is short, and it is the best fit for making introduction video for YouTube. Background music option is not available, you can easily add music using  a free video editing program and YouTube Audio Library.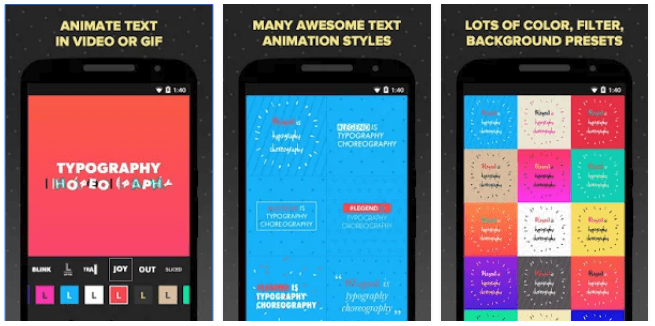 Biteable has a great collection of video templates and they are all free, but the web-based application did not allow free users to export their animated videos without watermark. Overall the service is extremely easy to use, and best for creating YouTube introduction videos.
Renderforest is another best web-based application to create animated videos, intros, slideshows and more. As a free user, you can only export your video in SD quality and the watermark is also being displayed on your video.
FlexClip is ideal for personal, educational, and commercial use, as it is a simple yet easy-to-use online video editing platform. It's a cloud-based video maker for creating great YouTube intros. The benefits of using FlexClip include powerful animation packages and premade templates for making fancy YouTube intros in a few clicks.