The most advanced security setting for social networking accounts is Two-step authentication, and the most popular and personal messaging app WhatsApp is now letting you enable two-step verification.
Facebook, the company behind WhatsApp is very serious about privacy and security. There are some more, secure messaging apps available in the store, but I cannot compare it with WhatsApp.
WhatsApp's end-to-end encryption is an advanced security feature that no one can understand what really the security does. But the reality of the encryption is already protecting you from hackers and cyber crimes.
What is Two-step verification for WhatsApp?
The new security feature for WhatsApp protect user's phone number and required passcode when anyone attempt to verify your WhatsApp number in a new device.
If a person successfully accesses your WhatsApp verification SMS, they cannot verify your number until it provide your 6 digit verification pin. In case you forget your pin, you can reset it using the recovery email address.
How to enable in my account?
It's easy to enable the new security feature, but because it is a new feature, make sure your app is updated to the version 2.16.346 or above. Please update your app from Google play or get the latest APK file from WhatsApp.com.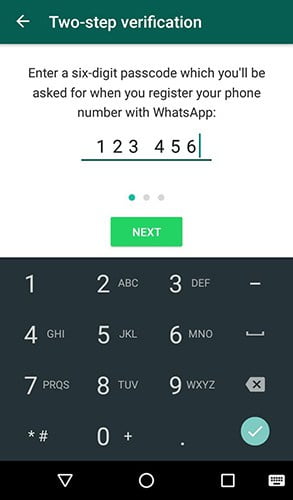 Once you have updated, go to WhatsApp > Settings > Account > Two-step verification. Click 'Enable', create and confirm a new 6-digit passcode and add a recovery email address. Don't skip the email address step, it will required in case you forget your passcode.
How to use?
You don't need to do anything until you re-verify your phone number to a old or a new device. After you verify with the SMS, you also need to provide your 6-digit verification passcode in order to continue.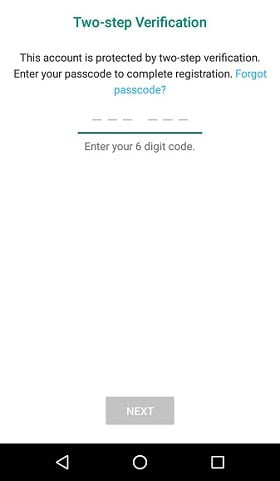 In case you forget your passcode, use the forget passcode link showing on the two-step verification screen.
After the security is enabled, you can change your passcode and recovery email, or disable the security feature from settings.
Note (11 Nov, 2016): The feature is currently marked beta.