The Internet is a network, and networks can fluctuate at any time without your permission; There can be many reasons for your internet slowing down, many of you think that there is a problem with my device configuration but the real problem may be with your Internet service provider.
Countries like South Korea, Norway and Hong Kong have an average internet speed of 20 MB / s, whereas there are no internet access in many places in the world. I mean, if your internet is working slow, just do not blame your internet service and your device settings, it depends on the place you are living.
We have listed the fastest ISPs in the world that you should read.
Now let me tell you how to diagnose the problem of slow Internet problems on your device, and speed up the Internet.
(Applied for computer, mobile and tablet devices and mobile networks, broadband.)
1. Test the Internet speed on your device
Before making any changes to your device network settings, WiFi router, first test your current internet speed using Speed Test applications. Visit Speedtest.net or try a Speed ​​Test application that is provided to you by your internet service provider. If the result of your speed test is showing the download speed near your Internet Plan, then go to the next methods, otherwise call your Internet service provider's support team.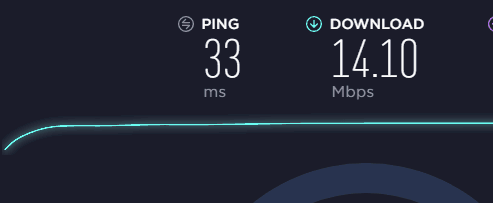 2. Close background download
Download services running backdrop on your computer and mobile device may be due to your internet problem, operating systems such as Windows, macOS, Android and iOS are automatically updated in the background and system updates usually are larger in size.
Third-party software applications running in the background can consume a lot of data, so to prevent those background downloads, manually see and close background services, which are consuming your internet bandwidth.
To view real-time data usage by apps, follow the following:
On a Windows PC, open Run (Ctrl + R), type resmon and press the Enter button. Go to the Network tab and see which apps are using more bandwidth in real-time.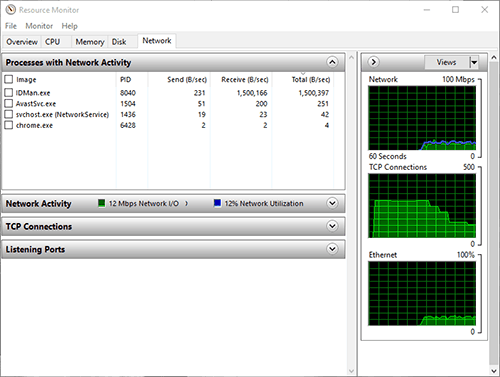 In Android smartphones or tablet devices, go to Android settings, Data usage and then Mobile data or Wi-Fi data usage to see a list of applications with usage counter. To see data usage in real-time, you can use apps like My Data Manager and GlassWire Data usage Monitor.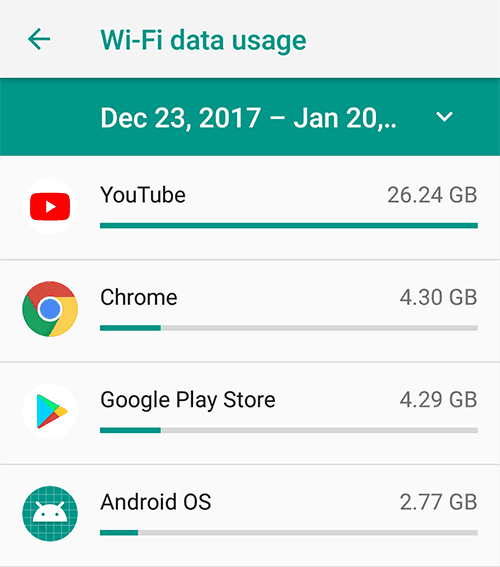 3. Use your wifi router dashboard
If you have connected your Internet cable to a WiFi router, it is very easy to monitor data usage, connected devices and many things through the WiFi router application. You can block devices that are using more bandwidth, monitor if your device is consuming more download speeds, and more.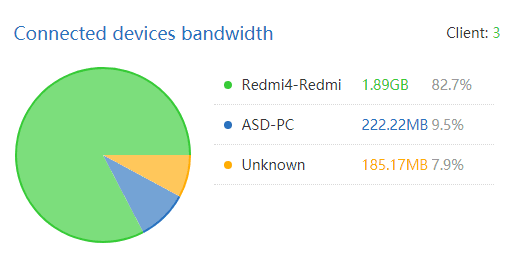 To access your WiFi router's web-based dashboard, you will need to find your router's local web address. The address will look like //192.xxx.xxx.xxx, you can see the manual documentation, otherwise use the command prompt in your Windows computer, type ipconfig in cmd window and press enter, copy the 'Default Gateway' address into web browser.
4. Connect your internet cable directly to the computer
Occasionally the WiFi routers maintain problems with the speed of the Internet, the number of users connected to WiFi can be consuming too much or any other reason, so instead of using the Internet on your computer with WiFi router, connect the internet cable directly to your computer.
If you are having problems with your WiFi router, simply reset all the settings with the hardware button on the rear of the router.
5. Speed ​​up your web browser and device performance
After some time you came to know that when you download a file from the Internet, it is working fast, but when I browse the web why the Internet is slowing down? This is because your device or browser performance is poor, your web browser may be interrupted, which is why your browsing is freezing.
You can optimize your browser's performance by clearing browsing data and removing unused browser extensions.
6. Check your mobile network type settings
If the Android smartphone is set on an auto network then the speed of mobile internet can be fluctuated at any time as it automatically turns into a 3G / 4G network. If you are currently out, then set up your mobile network type to only 4G LTE.
In Android, navigate to Settings> Mobile networks> Preferred network type, and change Auto mode to 4G.
7. Signal strength problem
How many signal strength you get on your device in your WiFi network or mobile network, the strength of the more signal gets more internet speed. Keep your WiFi router in the middle of your home so that your device can get better connectivity across all corners. In the case of mobile networks, only advice can be given to you, you will know which cellular network is working best in your location and then switch to that network.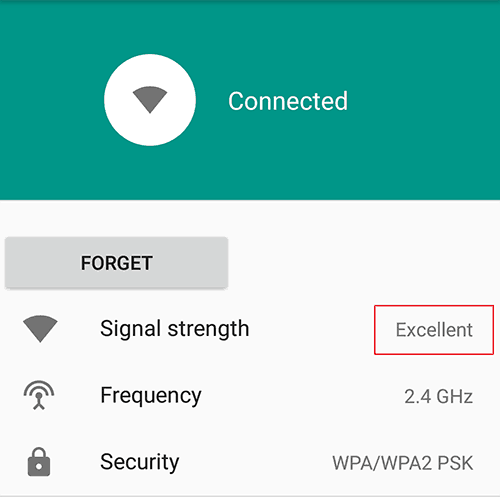 8. Reset your device's network settings
Your device's misconfigured network settings can cause internet problems, you can reset the network settings of your mobile or computer device very easily.
In a Windows PC, open the command prompt as an administrator and run the netsh winsock reset command, and then restart your PC.
In Android, you can find the 'Reset Network Settings' option in Settings.
In iOS devices, navigate to Settings > General > Reset, and then click 'Reset Network Settings'.
9. Restart your internet connectivity
Restarting internet devices such as a broadband power adapter, the WiFi router can solve your internet instability problem. These internet devices are capable of running 24/7 because it is a kind of computer, but closing those devices for 30-60 seconds can fix your internet speed problems.
In the mobile network, just close the data for a few seconds and then turn it back on.
10. Find Physical Damage in Your Internet Wires and Devices
Ethernet cables, modems, wires, antenna can cause physical damage or may be disturbed so that your internet connectivity is not good, check all internet devices and wires that are connected to your computer, and go to the roof of your house and find out that your fixed wireless antenna device is in the right place.