If you have certain private photos and videos on your smartphone or tablet device that you do not want to appear in any image organizer application, hide them with a picture hidden app. In iPhones and iPads, the built-in iOS photo app has the ability to hide pictures, but it can be seen by anyone, while on Android smartphones and tablet devices there is no pre-installed application to hide photos and videos, many devices comes with a custom Android firmware with Photo management apps that give the ability to hide gallery items.
The question is, which is the safest and free app to hide photos and videos? Let's see the list below.
1. Keepsafe Photos (Android / iOS)
Keepsafe Photo Vault is the best free (non-ad-supported) app to hide photos and videos in a smartphone, it supports the Cloud Sync feature, which stores your personal photos in the cloud, but as a free user only a few hundred items can save to the cloud. It's so easy to use, just create a PIN and import your personal photos into Keepsafe Vault, and then to access your content, just open the app and provide your PIN.
2. Gallery Vault (Android / iOS)
Gallery Vault is a free (ad-supported) photo and video hiding app that is so easy to use, just create a password and start importing photos, videos and other files in the app vault. You can add your Google Drive account to the app to sync vault content in cloud storage. Other features include app icons, recycle bin and uninstallation protection for all users.
3. Calculator Photo Vault (Android / iOS)
Calculator Photo Vault is a very cool mobile app that hides your photos and videos behind the calculator app, the app will appear as a calculator on your device, and the app's name will be 'Calculator' in App drawer. To access your private vault, type the unlock pin with the number keys and access your library.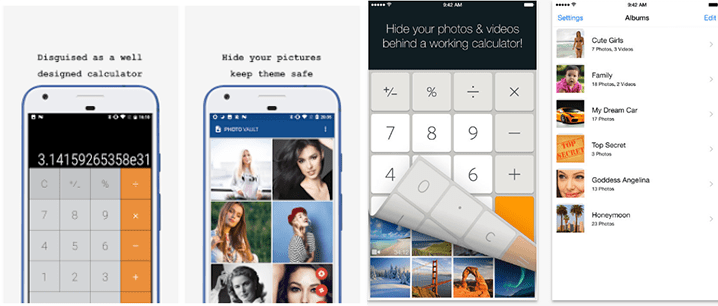 4. Private Photo Vault (Android / iOS)
Private Photo Vault is the most popular photo hidden app on the iTunes App Store, though it has millions of downloads on Google Play. It has a built-in web browser that allows you to browse the web privately, the features of the app are not so rich as if it does not support cloud sync, but it's simple and best for iOS devices because Android has more good photo hidden apps.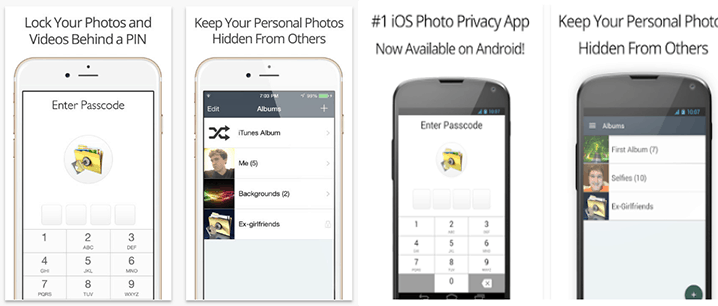 The NQ Vault app is one of the most downloaded photo vault apps with more than a million users worldwide. Not only photos and videos, you can hide any other types of files in the app with a password, for free users, the app will display ads and provide limited cloud storage.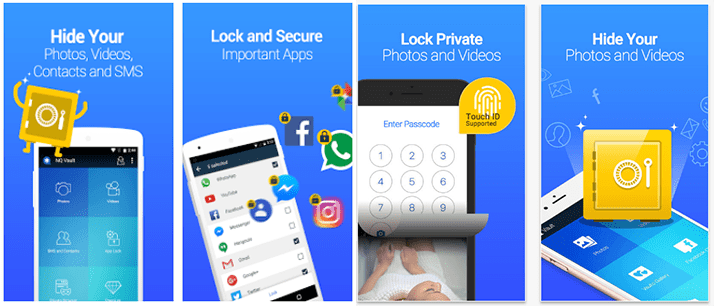 6. Hide Something (Android)
Hide Something app is one of the most rated photo hidden apps on Google Play, it helps hide your images and videos on your device, and helps you access your private content with a pattern, pin, or fingerprint. Your hidden photos will appear on the app in the Invisible tab.
Hide Something app do not support the Cloud Sync feature, and ads are supported.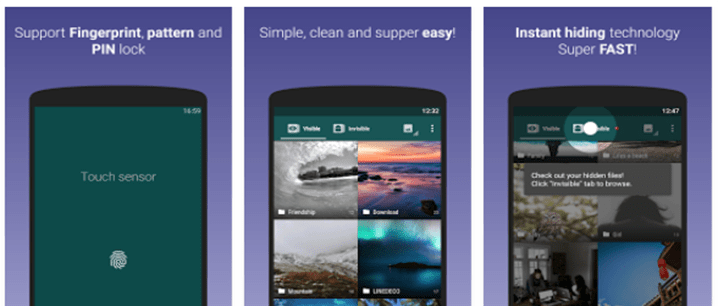 Folder Lock by NewSoftwares.net is one of the best folder lock software for PC, the mobile version of the app allows you to hide photos, videos and other files on the device with a password. Free users can not enjoy the benefits of Cloud Sync, and the app supports many ads. I rely on app security because the development company has published a lot of good security software.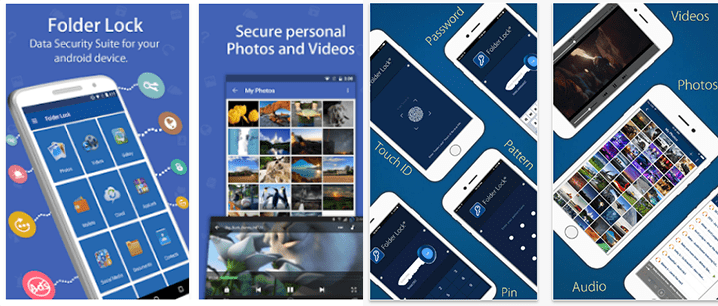 Is it safe to hide photos and videos in the device?
If you think your phone can be hacked and leak your private photo, then upload your photos and videos to the cloud storage using a web browser or mobile app, and then sign out from the cloud storage account . Delete photos from your device for a permanent. The next time you need to use those photos, just log in to Cloud Storage with your ID and password.
This way your personal content will never get hacked, and will never be leaked in any way as it is not actually available on your device.