Does your Windows computer show an error notification called 'USB device not recognized' when you connect an external USB device, or you may receive that error when you turn on the computer. Generally, this means that the USB device connected to this computer was not working properly and it may be damaged or corrupted, but there are several reasons for this error so try repairing the device with methods given below before going to the repair shop and throwing it in the garbage.
As you can see in the screenshot below, the error notification appears when I connect a USB flash drive with my Windows 10 PC. The error can appear with any USB device like keyboard, mouse, flash drive, memory card reader, external hard drive, USB joystick, smartphone, tablet etc.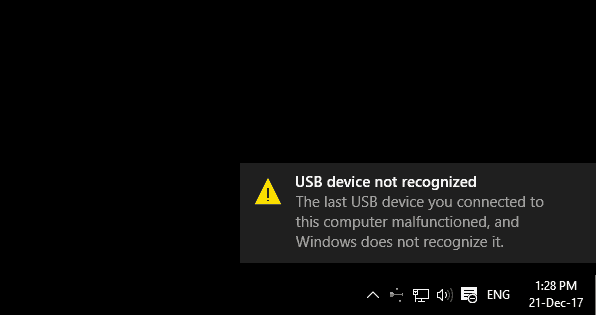 You can try the following methods to fix the USB device not recognize error (test on Windows 10, 7 and 8):
Try connecting the device to a different USB port on your computer. If you are on a desktop computer, then test it on the ports given behind the computer case.
Go to Device Manager (Open Run and type 'devmgmt.msc'), find your connected USB device, right-click on it and then uninstall the device, then reconnect the USB device to the same port.
If you are connecting the device via data cable, try using any different data cable.
Install and use the official Windows USB Troubleshooter program for automatic diagnosis.
Install and update your PC hardware drivers (tip – use driver updater software applications).
Install the drivers using the Driver Installation Disc which you have got with that USB device.
Try testing the USB device to another computer, so you know that this is not your PC problem.
Make sure cable wire is not broken of your device.
Restart your computer.
Follow the official Microsoft guide.
To make sure your PC's USB controller hardware component is working, try adding another USB device (e.g., USB flash drive)
Find physical damage on your USB device and if you can, then apply the fix properly.
If these methods are unable to solve your problem, then you should go to the nearest hardware repair shop and repair the hardware. As I have said the most common reason for this error is a hardware damage, so if your USB device is not expensive, replace it with a new one. Your device may be in the guaranteed period so please check the device's manuals and documents before.