Becoming fake in the community of active billion users is a kind of fun for fakers, but they don't know sometimes it will break someones heart and trust. Facebook, the social media network where your hear lot's of complaint about fake Facebook accounts, pages and more and we don't know how many friends on our account are fake, and mostly are female profiles.
Fakers are very interested in creating fake female profiles with a hot and beautiful display picture (DP), and pictures are mostly stolen from anyone's real female Facebook account or internet. If you're a female, so please take care of your photos by applying a privacy over your profile pictures and album photos. Read more about Facebook security and privacy tips.
Identification 1 – How old is account?
Generally, a fake profile is not older than a year. Even faker is less interested in operating old fake accounts because the folks connected to the profile will slowly start to understand the real identity and there is the end of the fun. I recognize the fake profiles are mostly newly joined Facebook, and that's the point when you catch the account red-handed. Not always, but if you've little doubt that the account you found was fake, so you can identify with this trick.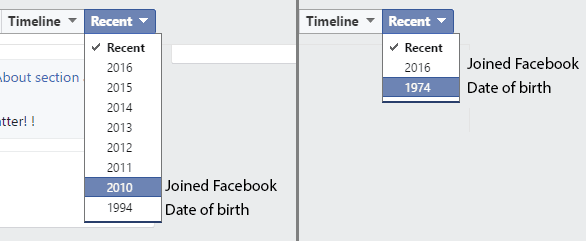 To know when the account was created, go the profile> scroll down> click the recent years> and see the list of years. Because life events don't mean for fake accounts, that's why the year shown above the date of birth is probably the year when account created. Or, you can see posts of recent years to know more about account history.
Identification 2 – Understand fake date of birth
The most fake date of birth is 1 January, but on today's time fakers are very smart, even they choose the date of birth that looks real. My understanding looks at the date of birth of the profile and think twice, Is that real or not?. Go to their timeline, and select the month of the birthday. See the response of their birthday wishes.
Identification 3 – Profile picture
Display picture is one the best way to know the height of fake. The profile picture of a fake Facebook account is generally taken from anyone's real account or from the internet. You can easily search the account's profile image on Google. Just download the profile picture> go to  Google images> Click the upload camera icon> upload profile picture image> and see the results. If Google shows the results with the same image on multiple web pages, then it'll be fake.
Identification 4 – Friends list
As you know, girls account is mostly filled with so many male friend requests and a girl didn't accept any unknown male request easily. The list of friends on a female profile is mostly hidden, but if it's public, then surely check the friends list of the profile. Check that the quantity of friends should not be in thousands and mostly should not be boys. Faker always wants some benefits from their fake account and without peoples, it's not possible. That's why the faker accept all friend requests on their account.
Identification 5 – Timeline posts & photos
The account you think fake, maybe it's not! But it's foolishness to post random public girls pictures as a public post. If the female account was real, their timeline and photo album was filled with their original similar photos, not like pretty and hot girls images. You should check out their photo albums and find 2-3 photos of the same person. If you found some random hot pics of girls, then it should be the fake account.