YouTube recommends faster internet connectivity like Wi-Fi to continuously stream a video without a buffering, but the problem is, internet speed is not static, and the speed may suddenly drop that makes you impossible to stream a YouTube video.
Yes, YouTube player automatically detects your internet speed and change the video quality, but it's not helpful for everyone. The slow connectivity can better stream videos between 240p to 480p, but as the speed bounce, YouTube automatically switches to the different video quality and it may break your experience.
If you want to determine your internet connection is suitable for YouTube or not, you should play a video in HD quality, and watch it completely without once buffering. Fiber cable connectivity can better stream videos in Full HD.
1. Set a Default Video Quality
On YouTube's video player, there as an option to switch video quality from 144p to 8k and the option "auto" is the default value. When you switch the video quality, it was changed for temporarily until you attempt to refresh the page.
By setting your own default video quality of YouTube player, will only load videos in selected quality. For example: If your internet connection is slower than 1MBps, you should set the default quality to 360p or internet speed higher than 4MBps should set 720p HD as a default.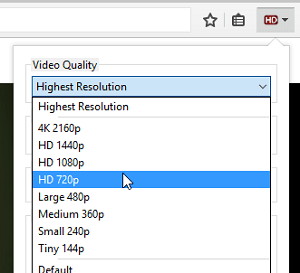 Here's a chrome extension that helps you to set the default video quality for all YouTube videos. Also, available for Firefox. Just add the extension in your browser, and from the top-right corner, select a default video quality. Now from the same browser, you are able to stream videos without worrying about buffering.
2. Force YouTube Buffering

By pressing the pause button, YouTube player will buffer next few seconds of the video in the web browser. But, what if you want to watch the entire video without any buffering in slow internet connectivity. Download is a good option, but there is no genuine way to download YouTube videos directly from the site. A browser extension called SmartVideo allows you to buffer the entire YouTube video in browser so that you can watch it completely without worrying about buffering. Just install the SmartVideo extension from Chrome web store or Firefox Add-ons, click Global preferences and check Ensure that videos are buffered even if they are paused in extension's option page.
3. Add To Offline

On YouTube app, you can save any video for offline (alternatively downloading video) and watch it later comfortably. For slow internet connectivity users, it is the best feature ever YouTube made for you. Just click the add to offline button while playing a video on the mobile app, and keep the smartphone in your pocket. Once it downloads, you can play it anytime, even without internet connection.