WhatsApp is more common like Facebook, and in the crowd of more than one billion active users, people want to know some tips and tricks about WhatsApp. There is no such hidden features in the messenger that I can surprise you now, even it has a simple interface and design and the features and settings is all visible to you. But, few interesting things that you can do with WhatsApp is all about Whatsapp tricks.
Here, the meaning of WhatsApp tricks is different than cracking and hacking. We never try to break official software features and go beyond the app functionality. If you want to hack someone's WhatsApp conservation, please be out of here.
Following are the WhatsApp messenger tricks you must know:
1. Use multiple WhatsApp accounts on one device
If you're using a dual SIM phone and wants to use both numbers in WhatsApp, then it will be easily done using an app called Parallel Space. It creates a virtual parallel space in your Android storage and allows you to run multiple app accounts from one Android device.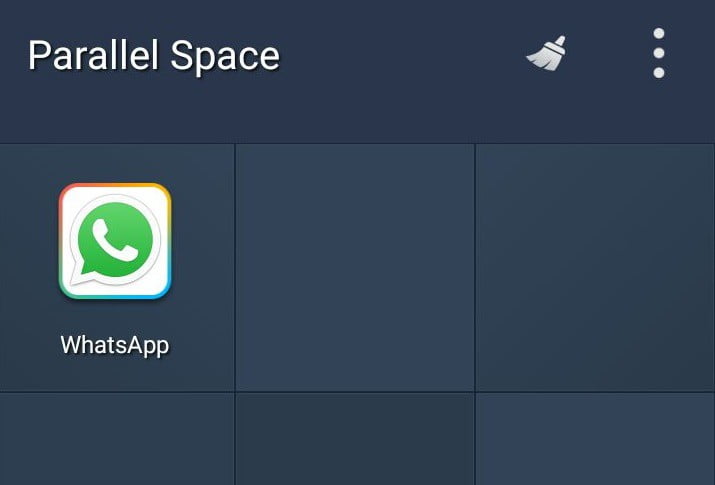 Install and launch Parallel Space App > Click Clone apps icon > Select WhatsApp > Tap to WhatsApp > Follow on-screen instructions > verify second WhatsApp account and start using multiple accounts. The second account will be accessible through the Parallel space app, and it didn't appear in the main menu. The message notification arrive though the Parallel space app.
2. Send Bold, Italic and Strikethrough words
I'm really surprised when I saw a person send me formatted text in WhatsApp. The text message I receive in my app is formatted in Bold, Italic and Strikethrough words. When you write a new message, WhatsApp allows you to add certain characters before and after the text in order to format the text. For example, *Text* will be written as Text, _Text_ will written as Text, and ~Text~ will written as Text.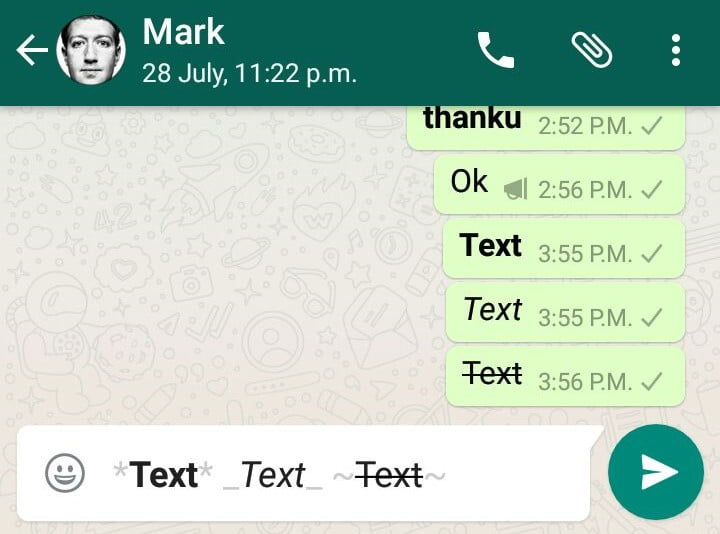 3. Hide Last Seen and Profile Picture
WhatsApp's personal privacy feature allows you to hide personal information from others. Last seen, profile picture and status is your personal information and you've the right to manage these information or make them private from public or contacts. Go to WhatsApp > Settings > Account > Privacy and hide your profile picture and last seen by changing Everyone to another option.
4. Send a WhatsApp message using voice command
On Android, If you're using the Google app or Google now launcher, definitely you know about "Ok Google" voice commands. When you search or perform actions using Google now, there are lot's of tasks you can do with the voice, including send a message thorough messaging app like Viber, WeChat, Telegram and WhatsApp.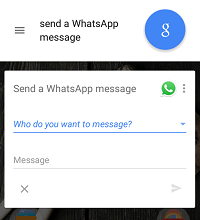 Just say "Ok Google, Send a WhatsApp message to Mark" and see what's happened. Google will ask you for the message you want to send, and then confirm the message. You can also say the full message voice command at once, like "OK Google, send a WhatsApp message to Mark, Hello".
5. Find out when your message seen
The tick mark right after the sent message is a way to confirm the message was sent, delivered and read by the receiver. But, you never see the exact time of delivery and seen. In a conservation, when you send a message, WhatsApp add a time right after the message. It was the time when the message arrives from the device, not the time when it delivered or sent to the receiver.
Press and hold over the message and lick the info (i) button to know the exact time when the message delivered and seen by the receiver.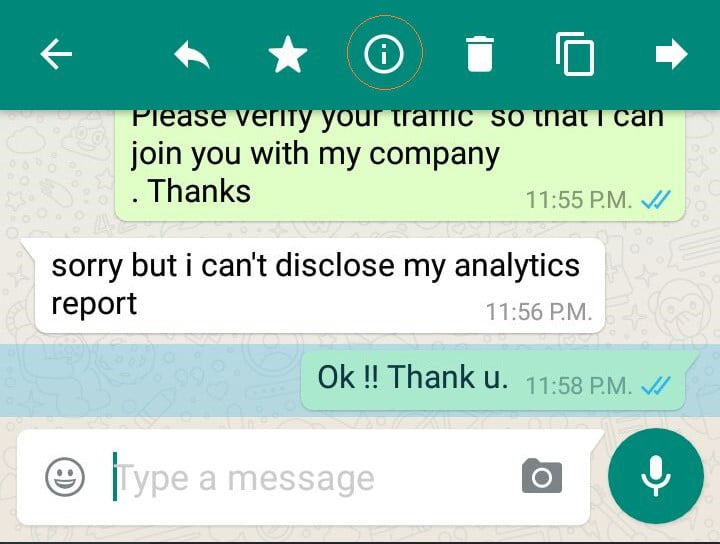 6. Create conservation shortcuts on the home screen
Just like speed dial, you create any WhatsApp conservation shortcut on the home screen. It helps you start the conservation with specific person directly from the home screen with just a click. Finding a specific person from lot's of WhatsApp contact sounds tough, but adding a chat shortcut directly on the home screen is easy to chat with that person. Press and hold over a conservation, select the three dots menu and click Add chat shortcut.
7. Export WhatsApp conservation in a plain text
May be someone ask you to send him your WhatsApp chat screenshot. But, you can't take the screenshot of the entire conservation at once. In this condition, you email the full conservation log directly from the chat screen. Just open the chat you want to send > click the three dots menu > more > Email chat and send the mail to a recipient.
Go to the send folder in your email service, and download the entire WhatsApp conservation attachment as a plain text file.
8. Get WhatsApp messages notification in a computer
If you read about running WhatsApp on PC, you will definitely know about WhatsApp web. The messaging company serves a web-based client lets users sync their WhatsApp conservation with PC and chat directly from the computer. Once you install and setup WhatsApp web on your PC, it will start giving your messages notification directly on the computer screen. It's easy to setup WhatsApp web, just scan the QR code from your phone and it automatically syncs all conversations.
9. Send messages to several friends at once
If you would like to send a message to bulk contacts, then broadcast list is the best thing you can use. Broadcast list is similar like WhatsApp group, but the difference is Broadcast list messages are private from each members in the list. Once the Broadcast list created, it automatically saved on the chat screen and you can send more messages to the list.
Creating a Broadcast list in WhatsApp is very easy, just click the three dots menu and select New broadcast. Now, add up to 256 friends in the list and send messages to all of them at once.