On the mobile platform, you can see ads on websites, or in the mobile app. Advertisements included in native mobile apps can appear anywhere on your Android system, such as the notification bar, while website ads will appear only within the web browser application. The thing is how can I stop advertising in the Android app, so that we can use Internet-based apps and websites without ads.
If we talk about computer platforms, then blocking ads in desktop browsers is so easy, just install an ad-blocker browser extension and forget about annoying ads. On mobile platforms like Android, people have used native apps mostly than websites, that's why I focus more on blocking ads in all different types of Android apps and games, then on browser applications.
Contents
Click here and jump to:
Block ads on Android apps, games and more
Method 1. Ad blocking application for Android
The applications below use the host file and the DNS method to block Internet ads in all installed apps and games on your Android device.
Note that the ad-blocker apps listed below request to set up VPN connections on your device, you must enable, your internet traffic will not go through any VPN server.
Below are the best Android ad-blocker apps not available on Google Play:
1. AdGuard (Download): It protects your privacy, and blocks ads in all apps and games that are installed on your Android device. The AdGuard app is free, it does not require root access, and battery friendly.
2. Blokada (Download): Blokada is an free and open-source ad blocker for Android, the app did not require any root access, it prevents tracking your device, and blocks ads in all installed apps on your device. Blocked ads will appear in Android notification bar or in Blokada application.
3. AdAway (Root access is required) (Download): AdAway is one of the best ad blockers for Rooted Android devices, it uses the host file method to block ads in apps and games. AdAway App is absolutely free and open source.
4. DNS66 (Download): It's a lightweight, battery-efficient ad blocker app that uses host file method to prevent advertising, malware and tracking. DNS66 is free and open source.
5. AdClear (Download): AdClear blocks all types of ads and advertising network (including Google ad network) in the applications, the firewall feature allows you to block Internet access for specific applications. If app installation was blocked, simply click on 'More details' and tap 'Install anyway (unsafe)'.
To block ads on Android apps and games using AdGuard, follow the steps below:
Download and install the AdGuard app on your Android device (you must enable 'Unknown Sources' under Device Settings to install any APK file).
Open the app, and tap on the protection enable button / icon.

Accept the VPN connect request, and wait for protection is enabled.

Open the left hand menu and go to Settings> HTTPS filtering.
Turn on HTTPS filtering and install the certificate.

Method 2. Block Internet access in application
Apps such as photo editors, video games, multimedia players, and file managers do not run through the internet, but they still use data to show ads, you can block Internet access in such apps , so it will not be able to load online ads, and you can continue using the application without seeing the ad banner.
You can also disable the Internet connection, but enabling and disabling the internet is wasting time.
To stop Internet access in installed applications, follow the steps below:
Download and install the NetGuard app from Google Play.
Open the app, and enable the firewall switch in the app title bar.

Accept the VPN setup request and blocking will then be start.
Scroll down in the app list and tap on the app that you want to block Internet access.
To stop Internet access, press the WIFI / Mobile network icon.

Block ads in web browsing
Ad-blocker apps, which are listed above, are able to block ads in the web browser, so when you visit a website, ads will not be displayed. If you want a better solution, use the web browser application that comes with built-in ad blocker.
Best Android browsers with built-in ad blocker
1. Adblock Browser (Google Play): Adblock browser has been created by the makers of Adblock Plus, and it is based on the open source Firefox web browser. The app includes all ads blocking features found in the Adblock Plus browser extension.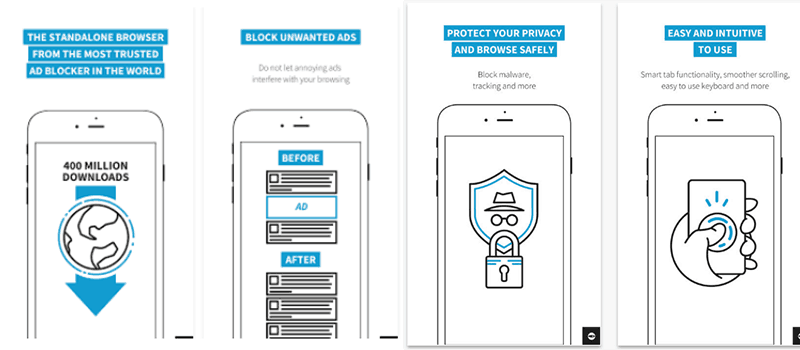 2. Firefox Focus (Google Play): This is a new mobile browser app from Mozilla that takes privacy at the next level. Firefox focus blocks tracking and ad scripts and helps you browse faster, even if it will automatically delete your browsing data and history to protect your privacy.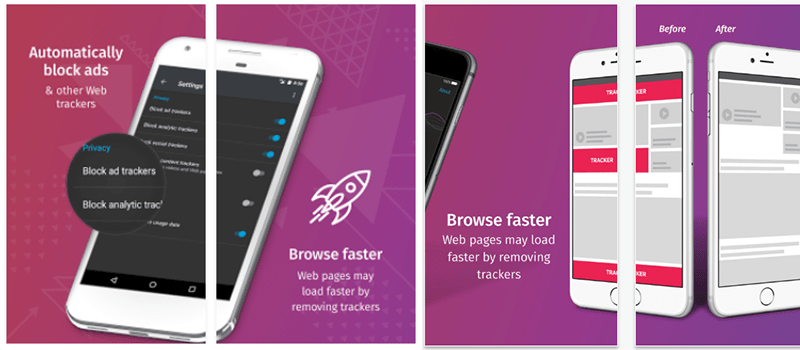 3. Brave Browser (Google Play): Mozilla co-founder Brendan Eich, and others have built the Brave Browser. It is based on the open-source Chromium Web Browser (not on Mozilla Firefox). It supports ad blocker, pop-up blocker, Https Everywhere, and many different privacy and security features.
4. Firefox Browser (required Add-on) (Google Play): Chrome mobile app does not support browser extensions, but Firefox mobile supports. You can install and use AdBlock, Adblock Plus or uBlock Origin add-on on your Firefox browser for Android.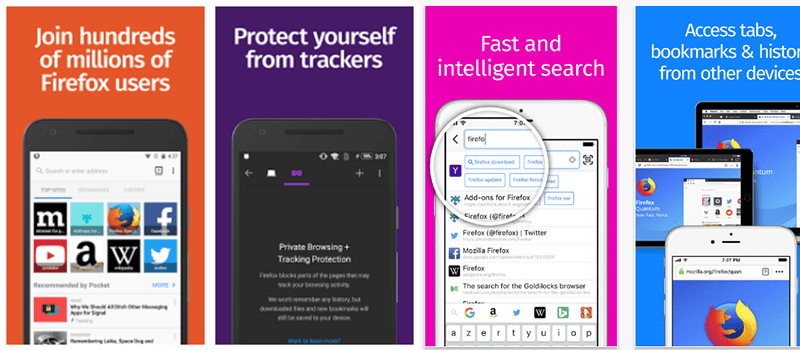 5. UC Browser (Google Play): UC Browser Mobile App Block ad on the websites you visit, but the browser app itself supports so many ads.