Whether you're a business or individual, everyone use multiple social networking websites such as Facebook, Twitter and Instagram. It's hard to manage, monitor and update all accounts daily, but the task become easy when it comes on social media tools.
With the help of social media tools, you can manage and update your account daily directly from one place or even schedule post to your account. Monitoring feature help you monitor your social accounts activity from the same dashboard.
If you're running an agency, paid tools are very close to you, but here I list only free social media tools.
Hootsuite is the best tool for managing and monitoring social media accounts from one dashboard. The free plan allows you to manage up to 3 social media profiles and generate a basic analytics report of your accounts.
The dashboard start with 'streams', where you can see all latest updates from your social media accounts such as home feed, messages, mentions and notifications. You can customize the stream page in your way or add a new stream.
You can send or schedule posts to your all connected social accounts at once.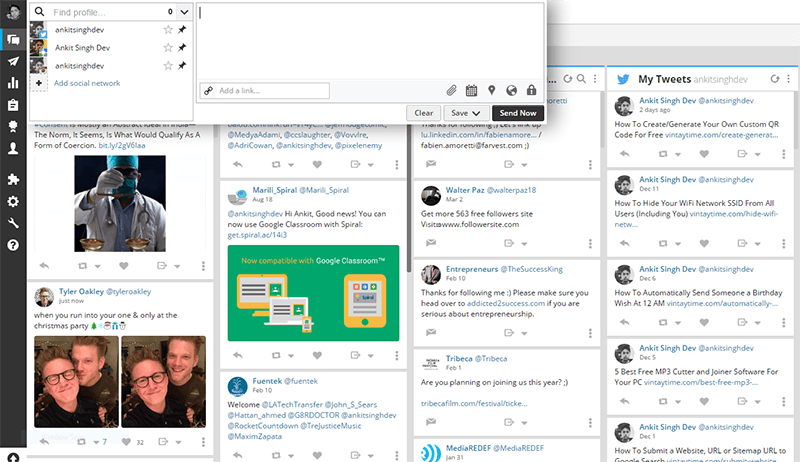 Hootsuite is available for Web, Android, Chrome and iOS.
IFTTT is not actually a social media tool but the collection of social media applets makes him great for managing social media accounts. If you're a individual, IFTTT is the best free tool for you.
It automates your posting task and helps you earn more reputation on social media. For example, this applet automatically tweet your new Instagram photos as a full image on your Twitter account.
Discover more applets for Facebook, Facebook pages, Twitter, Instagram, Pinterest, LinkedIn and Reddit.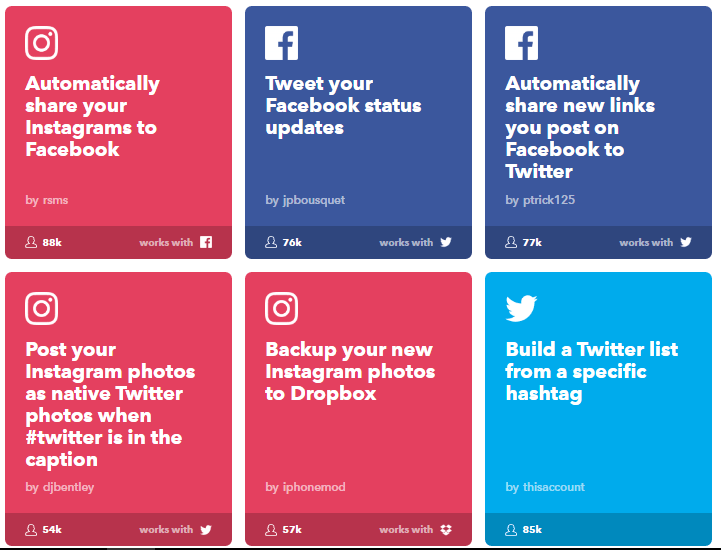 IFTTT is available for Web, Android, and iOS.
Buffer is a great way to post on all social networks from one place. When you schedule a post through Buffer app, it suggests you the best time to post on social media when your followers are active.
As a free user, you're allowed to add only one social account per social network and maximum 10 posts to be scheduled at a time. There is a link Shortening feature in the settings menu that automatically convert your post links to shorten version such as bit.ly, buff.ly or j.mp.
Buffer app is available for Web, Android, iOS and Chrome.
SocialOomph is absolutely free if you wish to manage and monitor only Twitter account because the free plan only allowed to use Twitter features. The tool helps you bulk follow Twitter profiles, schedule tweets for your account, follow-back and more.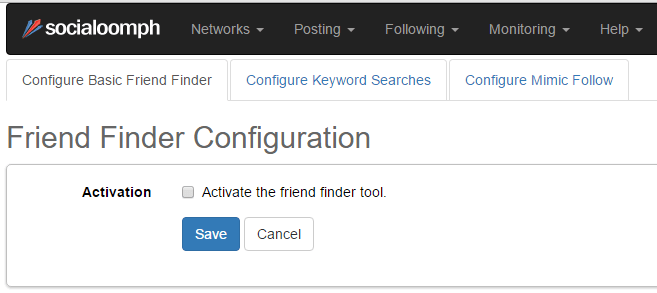 TweetDeck is a dashboard application officially developed by Twitter for managing and monitoring multiple Twitter accounts from one place. Every column you see on TweetDeck is working in real-time and you can directly perform actions on tweets from the same place.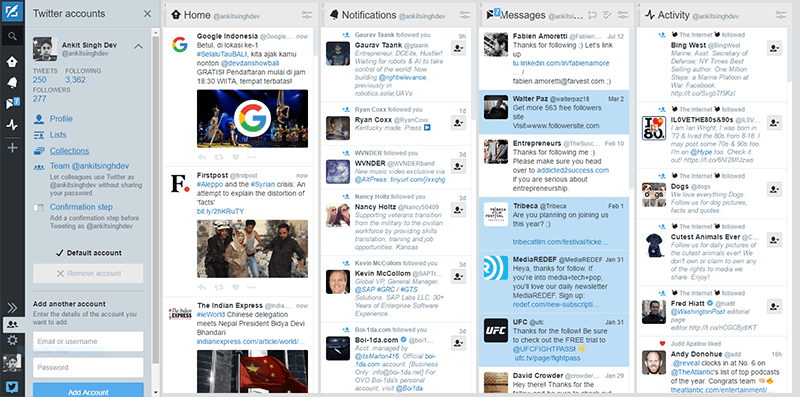 Zoho Social is a management and monitoring software for social media marketers and managers. It makes easy to manage multiple social accounts and pages from one place. The free plan allows you to add multiple accounts to your Zoho Social dashboard.
The tool is really great for business but because it newly comes on the market, I put it at the bottom of my list.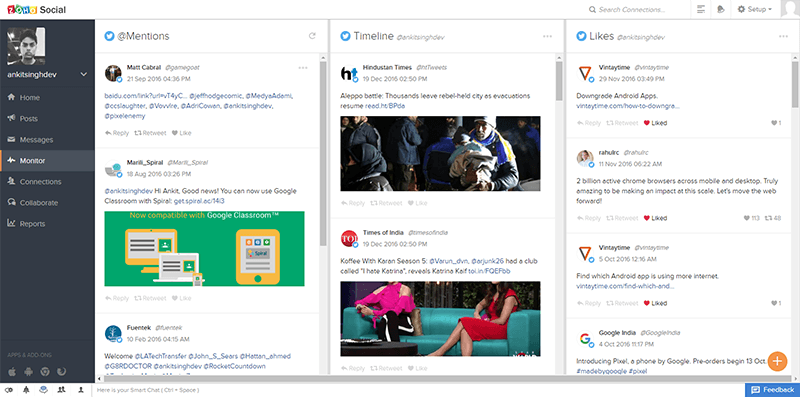 Zoho Social is available for Web, Chrome, Firefox Android and iOS.