If you're traveling alone outside of city or a country, then Google maps is the most helpful friend you'll always wish with you. But, unfortunately the home Wi-Fi is not with you and a running smartphone in data connection will consume so much 3G/4G data.
Google maps offline lets you save any location, area or whole city inside your app and navigate anytime even without internet connection. If the internet connection turns slow or disconnected, the Google maps app automatically uses the offline area if saved. You can update the areas or city map anytime from the offline section or rename, delete the downloaded location whenever you want.
Note – If the offline feature does not appear in the app, please do update the Maps app from the Google play.
Save city and areas
Downloading the whole city in the app will need more space on your phone and may be the download size is larger. My suggestion to you is first try offline by saving your current area, not the city. Else, if you're traveling around the whole city, then do save the city for offline.
Connect your phone with internet (WiFi or Data connection).
Open Google Maps app in a phone or tablet.
Search your current place, for example "Los Angeles" or click the Location icon.
Swipe the left hand menu and select Offline areas.

Click on the "+" button and select the specific area or location.
Zoom in or Zoom out to adjust area size, and click the Download button.

Wait for the download, and you've done.
Download the whole city
Search for a city, for example "New York".

Touch the bottom bar where the city name appears.
Click on the "Download" button and wait till the download completes.
Now, you can disconnect the internet. 🙄
A thunderbolt sign appears till your app running offline and places you click will didn't fetch more information such as photos, traffic, contact and more. Offline feature is only for finding routes, directions and getting navigation.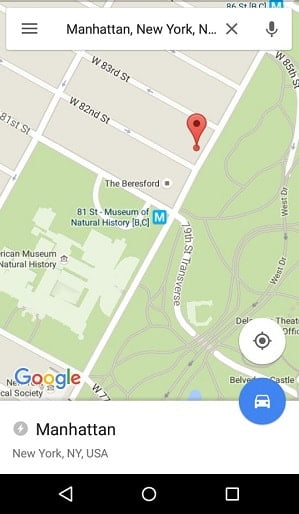 Search the name of the area or city, that you saved in the offline. For example, I saved "Manhattan, New York" for offline access. And, now I can find routes, directions or get navigation in Manhattan.
Zoom in or out in Manhattan and places, names also appears even you're offline. You can also type and search the full name of the places that comes in the offline area and get instant results.
Update and delete saved locations
If you think that the area or city should need to be updated, then update it from Google maps app>swipe left menu>Offline areas>select area>update.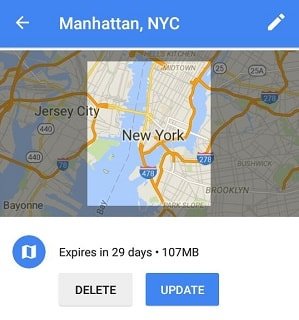 Because the offline data saved in your phone storage and this may slow down your phone performance. Once you leave the city or area, you should delete the offline data from Maps>swipe left menu>Offline areas>select area>delete.