I kept my android phone tightly in my pocket, but still i afraid of losing my phone because of huge personal data? Security option "screen lock" can't protect your android device from stolen or lost, it only protects your data from the thief or bad minds. But, still you'll lose your expensive phone.
Before registering a complaint about your lost android device, you can try Android device manager's way to locate, ring, or wipe your device from the web. The service was provided by Google and by using the same Google account (the account you use on your phone) you can easily track your lost android device. But, here are some things you'll need to make your device easily traceable from Android device manager or from other software or services.
Enable location
Location is an inbuilt feature of android that let you allow or disallow location access for specific apps. Enabling location means you enable GPS, but you can still choose the level of location: GPS (High accuracy) or mobile network (battery saving). If GPS was eating too much battery power, then do enable location when you're outdoor.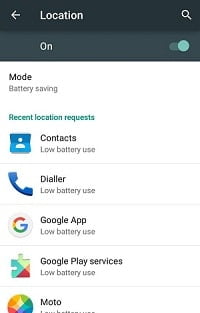 To enable location, simply pull down the notification bar and click the location icon or go to settings>personal>Location>On.
Automatically select WiFi or mobile network
To contact your device using Android device manager or other free apps, make sure your device should have an active data connection. Everyone stays connected 24/7 with their home WiFi, but going outdoor will lose internet connection.
This time you should try Auto WiFi / 3G Switch app to disable Mobile Data/3G connection automatically when your device is connected to a WiFi network and re-enable Mobile Data when your device is disconnected from WiFi.
And, Google account in mind
Nobody forgets our Google account easily, but still some people create a new account while setting up a new android device. To track your android device using Android device manager for web, you need to sign with the same Google account that you added in your android device.
Tracking with Android device manager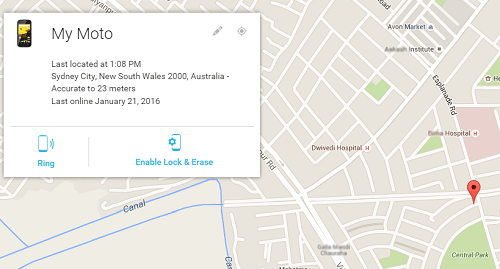 Android device manager is an official tool and you can use the app or web browser to start using the tool. Here are the steps to use Android device manager on the web:
Open www.google.com/android/devicemanager in a web browser.
Sign in with your Google account that you use on your android device.
Wait while Google detects your location or click the location icon.
Locate, Ring or Reset your device from the tool.
Or, just say or search "find my phone" in Google search to locate your device instantly.