It's very easy to create a Facebook fan page, but when it comes to increase fans, the task goes complicated for a beginner. Your page is nothing without fans, just like a smartphone is nothing without apps. Businesses and brands have their own online marketing budget, and getting the likes on their Facebook page is like you're buying something in bulk from a shop.
As a small business or a general Facebook page owner, you can spend $10-$15 and earn up to 1K likes on your page, because nothing is free in this world. Free ways to get likes on a Facebook page is very common and it can only obtain up to 100-500 fans in a long time.
1. Facebook Ads
Facebook ads is a paid way, and promoting a page through Facebook ads is known as a best way to get effective fans. Facebook boost likes on your page according to the daily budget you choose. Facebook ads are very cheap, even you can run your page promotion ad for just $1.
With ads, you don't need to waste  time in promoting the page manually and there is no advanced knowledge required to use Facebook ads. Only two things to focus, First is Ad creative, and secondary Audience. To get more likes in less amount, you should more focus on Ad creative.
Follow the steps below to get more likes on your Facebook page though ads:
Go to your Facebook fan page on a desktop.
Move your mouse over Promote button, and select Promote your page.

Edit Ad creative, and upload an attractive image.

In Audience, add locations such as a city, country (For particular audience), or most populated countries (For global audience).
Choose a budget, and run your ad until the next day.
Click Promote, and your page will start getting likes in a few minutes.
Small business and page owners can try starting with a small budget, like$1-$5. Once you got a good response, then simply expand the budget. To know more about, read the beginner's guide to advertising on Facebook.
2. Invite Friends To Like Your Page
An invitation sent to your friend as a notification to like your Facebook page is very effective. This is the only free way to collect your first 100 likes though your friends. Go to your page, mouse over More tab, and select Invite Friends. Scroll down, and invite as much friends you want.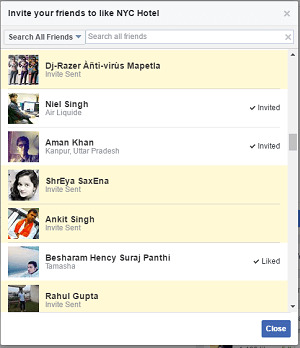 Sending invitation manually is really slow, let's try the geek way. Open Chrome and install Invite All Friends on Facebook extension. Open Invite Friends popup on the Facebook page and scroll down to the end. Now, click the invite all button appears right of the address bar.
3. Share Your Page
Go to your page, select share from the more tab, and share the page on your personal timeline. This can only generate few likes from your friends and followers. But sharing the page in a group or on the pages you manage can generate more likes.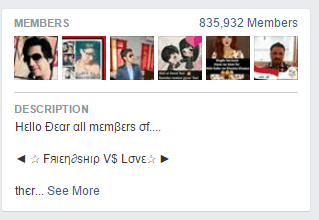 Groups with more number of members, like more than 10k-20k members can be very beneficial for free page promotion. Search and join up to 10 groups on Facebook that have a huge number of members. Share your page directly to those groups.