If you often listen to music from your local audio library, then you can have many music player apps on your Android phone that will meet your music needs. Online music streaming services provide their own Android Client app, and you do not use their service on a different music player. So the good thing about local music files is that you can play them on different media players.
Most of the file management apps for Android come with the functionality of built-in media player, which helps to run local music and video files directly in the file manager app. But you know that you have more musical requirements that no file manager can complete.
The best music and audio player apps for Android phones and tablet devices are as follows:
Pi Music Player app comes with beautiful UI and some themes that will let you fall in love with the player. The app is absolutely free and support advertising, but not so many advertising banners were shown on main app activities. Pi Music Player bundled with a rich equalizer and effects, while some additional features help you do more, like mp3 cutter and meta tag editor.

Google Play Music is one of the best music streaming services on the web, even you can use their client Android app to listen to local music library. You can upload up to 50,000 songs from your computer to your Google Play Music account for free, and listen them online from any Android device. The app may already be installed on your Android device because it is a part of stock Android apps.
The UI and audio engine of Stellio Music Player app is great, even the interface works smooth and fast. In the main playback screen you can change album art, find lyrics and edit the meta tags of the song you are playing now. In the settings menu, you have a lot of customization options including themes.
With a minimal design and more customization options, BlackPlayer is the best free music player on Google Play. It's absolutely free and support ads, but in main app activities there was no advertising. Library view and side menu looks very basic but if you look for settings then there are so many options. It supports 5 band equalizer, album art editor, meta tag editor etc.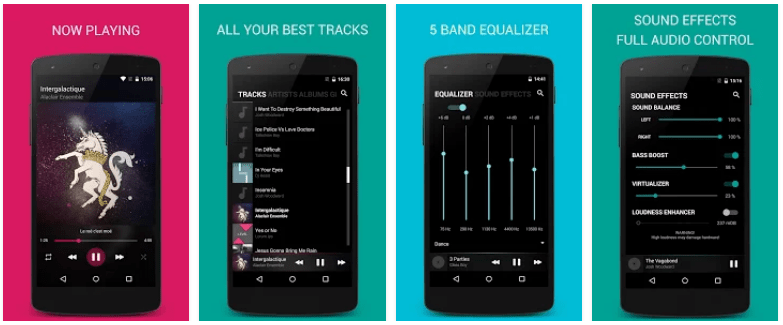 First of all, hats for the Surface View feature, a unique way to browse local music files. Zoom in with two fingers and you will see a grid of album art. It supports Equalizer, Album Art Editor, Music Tag Editor, and more. N7player music player is not absolutely free, most of its features are paid, you can check it until the trial is over.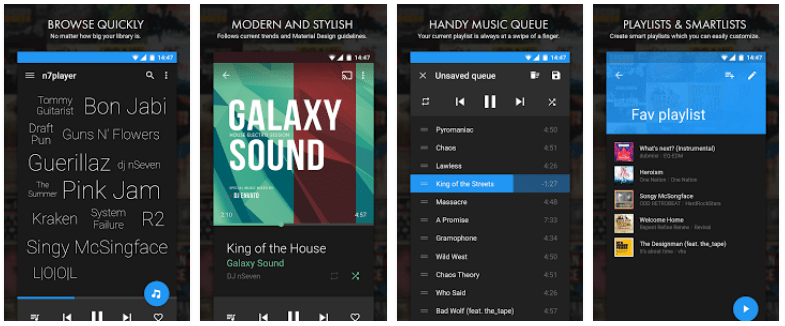 The doubleTwist player allows you to listen to music files from your local Android library, even it can also play video files. It supports music sync feature, lets you synchronize your computer music library with a mobile device over Wi-Fi or USB cable using their client app. The media player is not absolutely free, even some important features such as equalizer is not available to free users.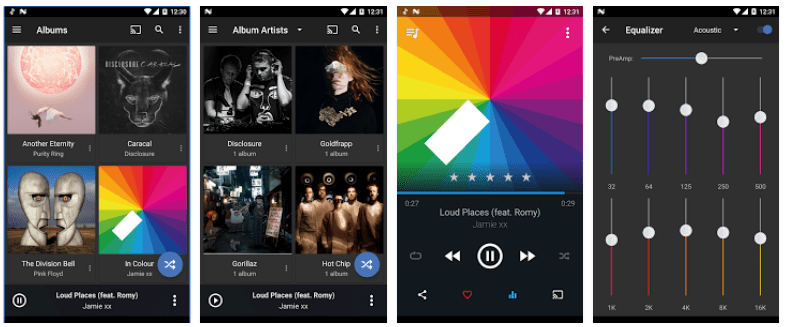 Rocket Player is a free (ad-supported) music player that includes 30+ themes, album art / meta tag editors, podcast managers, and many other features. It supports 10 band graphic equalizer, but as a free user you can only access the 5 Band Equalizer.
NRG player is a unique designed music player comes with a circular track progress bar in the playing now screen, and on top of it, the list of tracks in the row will be displayed. It supports themes, graphical equalizer with sound effects, meta tags editor etc.