For some time this happens when we hear any song somewhere and want to know what is this song? We work hard to tell our friends about the song  lyrics, but unfortunately they even not able to recognize the song name. What if you just move your smartphone closer to the sound, and in a second you phone recognize the name. You can also type some words of the lyrics to get the name of the song.
The method below is free for everyone, you do not have to buy any service to identify. Below are services and apps able to recognize songs in different languages rather than English.
Identify the song with the sound
Shazam is a great app and service that you can use to recognize a song around you. Follow the steps given below:
Open it and wait while setting it up.
Press the Shazam button and take your phone closer to the sound.

As soon as it recognizes the song, the app gives a link to this song where you can listen.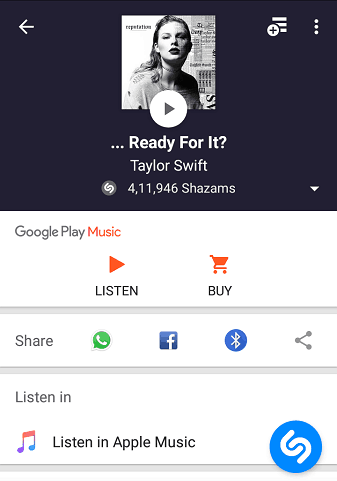 Identify which song is it using his lyrics
Musixmatch is the largest song lyrics database in the world, with more than 14 million songs lyrics in different languages available there. Follow the steps given below:
Install the app on your Android or iOS smartphone, or go to www.musixmatch.com with a web browser.
Click on the search bar and type some of the lyric words you remember.

 Choose songs from search results.
Some more similar services and apps
Like Shazam and Musixmatch, there are some other services and applications that you can use to identify the song:
Virtual assistant for smartphone: Siri and Google Assistant, use voice command 'What song is this?' or 'identify this song'.
Cortana in Windows 10 PCs. (Use Cortana voice command, 'identify this song')