Mobile photography has increased a lot since the smartphone has come into our lives, photo editing on mobile and tablet has become extremely popular in the last few years. The best thing about mobile (Android / iOS) photo editing apps is the number of one click tool that you can use with only one tap, such as color filters, stickers, makeup tools, effects, frames etc., if the feature is supported by the app then you can also create beautiful photo collages.
At the Google Play and iTunes App Store, you can find hundreds of photo editing applications for your device, some of them are absolutely free, some are paid and some are based on freemium business model. I can not exactly say to any person what photo editor app is best for you, because it depends to the person whether he is a professional photographer, selfie addicted, or just a beginner. The below list of apps are picked-up by comparing advertising support, number of one-click tools, ratings, popularity and more.
Major software companies such as Adobe, Google and Microsoft are also in the competition of mobile photo editing software.
Below are the best free photo editor apps for Android or iOS devices:
1. AirBrush: Easy Photo Editor
AirBrush is the best free image editor app for Android and iOS devices. The app's interface looks really nice and simple, it supports makeup tools such as smooth skin, acne remover, teeth whiten, makeup filters, and skin tone adjustment, through this app you can make your picture more beautiful than a click with make-up and color filters.
Airbrush is absolutely free and has not supported many ads.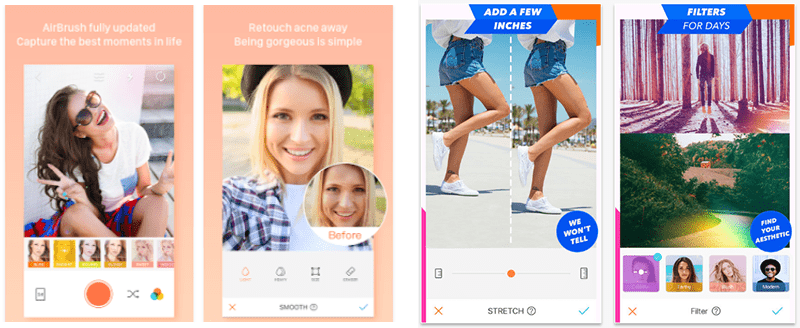 Install the AirBrush app from Google Play and the iTunes App Store.
2. PicsArt Photo Studio
PicsArt is the most downloaded mobile photo editor app with more than 450 million installations around the world. It includes a full-featured photo editor, collage maker and a community where you can discover and share your edits. The photo editor has a variety of tools and features, such as color effects, magic artistic filters, stickers, text, frames, stamps and more.
PicsArt Photo Studio app contains many ads, but the app is absolutely free to install and use.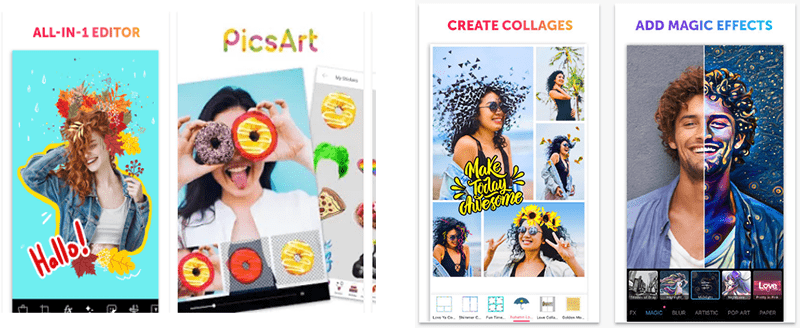 Install PicsArt Photo Studio from Google Play and iTunes App Store.
3. Photo Editor by Aviary
Aviary photo editor's user interface is really simple and fast, even their photo editing environment is embedded in many mobile photo editor apps using the free Aviary SDK. The photo editor app include all the tools and features that are required in mobile photo editing, such as auto-enhancement, effects, frames, stickers, overlays, splash color, drawing, text, etc.
Aviary was acquired by Adobe Systems and it is currently part of the Adobe Creative Cloud.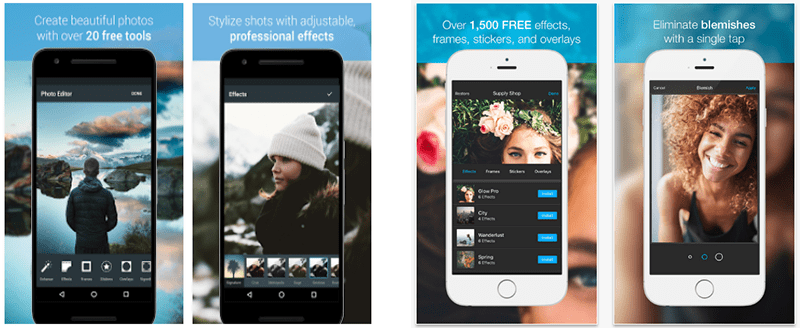 Install Aviary app from Google Play and iTunes App Store.
4. Snapseed
Snapseed is a freeware professional photo editor app for smartphones and tablets, developed by Google's subsidiary company or you can say that it has been developed by Google. Most of the features of this app have been made for professional photographers, and it didn't support stickers, frames, makeup and artistic filters.
Snapseed app is absolutely free, not supported advertising and is available for both Android and iOS platforms.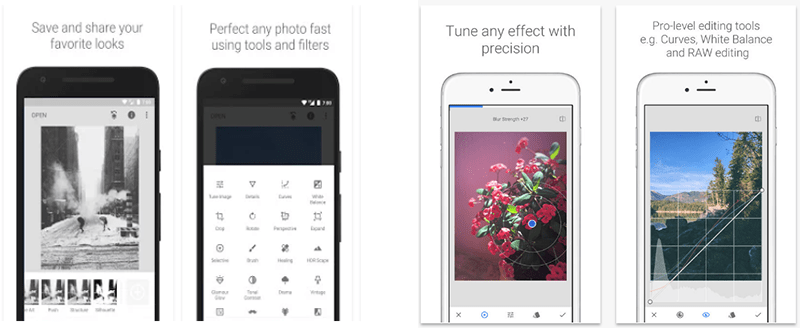 Get Snapseed app from Google Play and the iTunes App Store.
5. PhotoDirector Photo Editor App
Now this app is actually called a feature-rich photo editor for smartphones, PhotoDirector has been developed by CyberLink and has added features, such as image adjustment, effects, color splash, mirror effect, overlay, blur tool, stickers, collage maker and more. PhotoDirector app is free to install and use but there are some ads in it.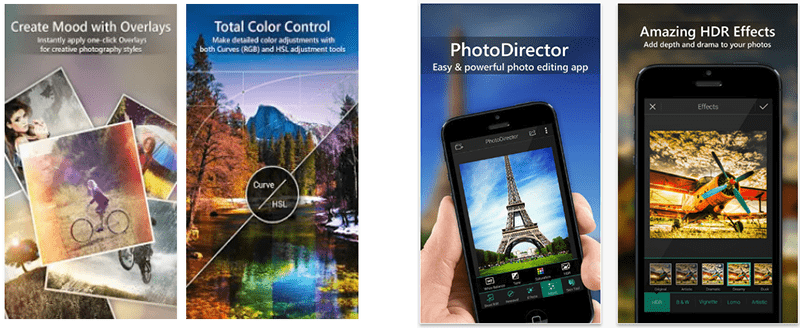 Get PhotoDirector App for Android and iOS / iPhone / iPad.
6. Pixlr
Pixlr is a freeware photo editing app which is an option for everyone whether you're a professional or just a normal user. With simple set of features in the app you can edit the image very fast, you can apply color filters, make color adjustment, add blur, color splash, effects, overlay, apply artistic art, frame, text and more, even you can create photo collages.
Pixlr is absolutely free and does not include ads.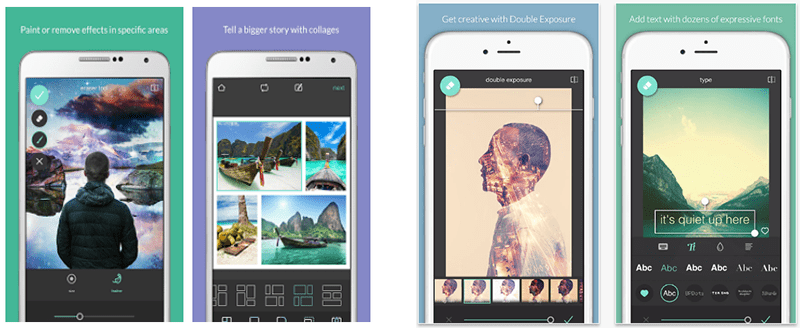 Get the Pixlr mobile app for your Android and iPhone / iPad / iOS devices.
7. Adobe Photoshop Express
Adobe Photoshop Express is not like the computer version of Photoshop, it's a mobile editor and it has features for easy and quick photo editing such as colorful filters, frames and auto-enhancements. The best thing about the app is that ads are not included, and absolutely free for all users, whether you have signed in with your Adobe account or not.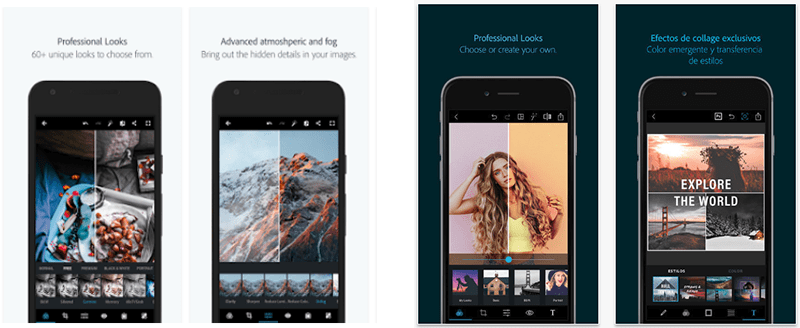 Install Adobe Photoshop Express on your Android and iPhone / iOS devices.
8. Toolwiz Photos
Toolwiz Photos is a photo editing app of all kinds, in which you can find more than 200 tools for image editing, including PIP, face tune, collage maker, face swap, filter, magic effects, text and more. The app has a professional image editor that gives you advanced editing tools. Toolwiz app is absolutely free to install and use, but the app contains advertising.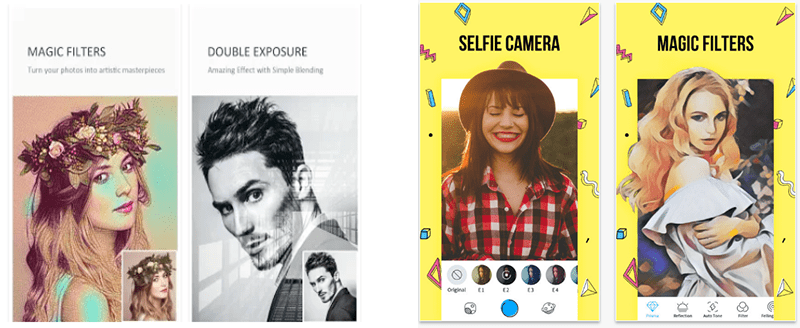 Install Toolwiz Photos app on your Android and iPhone / iOS devices.
9. FotoRus
FotoRus is a full featured image editing app that comes with all the necessary tools that we need to edit photos including collage maker, stickers, beauty makeup equipment, artistic effects, PIP and a professional photo editor. There are floating ads in the editor, but in terms of features the professional editor contains all the stuff including filters, funny text, frame, sketch effect, draw, etc.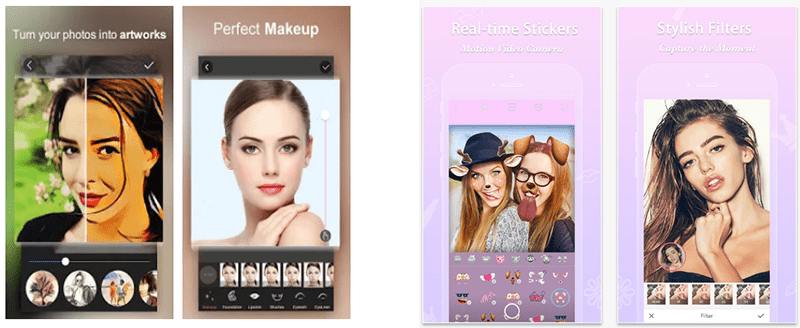 You can install the FotoRus app from Google Play and the iTunes App Store for your device.
10. Photo Editor by BeFunky
BeFunky is the best free web-based photo editor on the internet, and the mobile app is also great. The first thing I have to tell is that the app does not support advertising, absolutely free, and it gives you all the tools you need to edit images on your smartphone, such as color effects, overlays, frame, text, basic editing and a collage maker.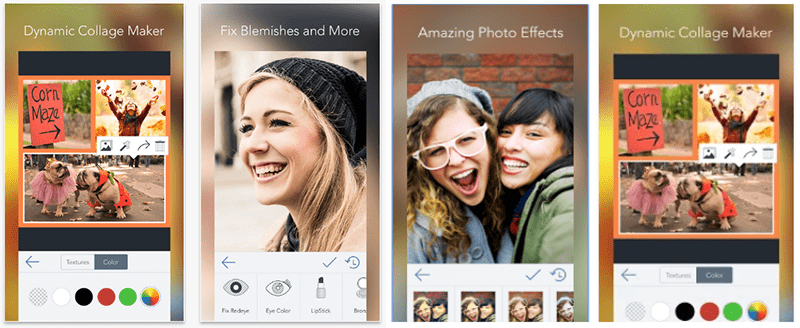 You can install Photo Editor by BeFunky from Google Play and iTunes App Store for your devices.