Sometime when you're sitting in a corner of your home, your Wi-Fi signal may do not reach at that place. Sometime it automatically connects but the signal strength is very weak, that may automatically disconnect the internet again and again. Because your router's signal cannot cover the entire corners of your home, that's why you're facing such connectivity problems.
People who are tweaking with the router's settings, it didn't actually works. You have to do some physical tasks to improve the Wi-Fi signal strength.
When you're buying a router online, please be careful, because in the specification, there is no simply written about signal strength in meters. Or, you can directly visit the nearest market and tell shopkeeper to give you a long range router.
Here are some ways you can actually boost your Wi-Fi router strength/signal:
1. The best place to kept your router
Wi-Fi signal are the radio waves that route through walls and objects. But a more thicker object can more clamp your signal. Don't choose a corner for your router like where your computer is placed. Try to find the best center of your home, and placed on the router. Never kept your router on the floor.
Use Wifi Analyzer app and walk around in your home to find how strong the WiFi signal is coming at every corner.
People who don't have a additional long Ethernet cable, please buy a 'Category 5 cable' from the market or online.
Note that metal objects like microwave, fridge and kitchen appliances may interfere with your Wi-Fi signal. Don't place your router near a metal object and try to find a open area in your home.
2. Use an additional, high-range antenna
Not all routers have 2-3 antennas, even most of the router vendors provide a single omnidirectional antenna, and that is not powerful as you think. Buying a additional high-range antenna for your router will boost your signal strength.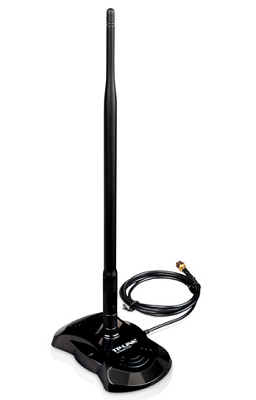 For home purpose, replace your old router antenna with an 8dBi, 9dBi or 15dBi omnidirectional antenna and boost your signal strength to a higher range. Please read the configuration details before buying an additional antenna.
3. Buy a Wi-Fi repeater
You probably heard about WiFi extender or repeater. It is a device that actually extends the range of a router. By taking an existing signal from a Wi-Fi router, it just doubles the signal strength. You just plug the Wi-Fi repeater in an electric socket and enjoy the signal at a long range.

Companies like Netgear and TP-link makes their own Wi-Fi range extenders for consumers. It would be very cool, if you buy a range extender same as you router brand, otherwise there are hundreds of WiFi extenders available in the market.
4. Reboot the router
If you're facing some strange problems with your WiFi, like connectivity fluctuation, very low signal strength and a slow internet, that means something is going wrong with your ISP or router. Folks who kept their router ON 24 hours in the last few days or weeks, it's time to reboot the router and the internet adapter too.
Switch off the power button of the AC power adapter and turn back ON after a few minutes. If you're still having problems after a reboot, then you should use the reset button situated somewhere on the router.
5. It's time to upgrade
In the market, there are dual and tri-band routers are available for home purpose. The dual-band router operates both 2.4 GHz and 5GHz frequencies and gives faster performance to all connected users. If you're still using a single band 2.4 GHz router, it's time to upgrade to a dual band 5GHz wireless router.
Tri-band routers are best for high-speed internet services like gigabit internet. Know about fastest internet in the world.
Here is the ASUS's dual band router called ASUS RT-AC88U.