As you know Instagram is one of the most popular social networking platform on the internet, and with over 400 million users, there was a 99 % chance to get followers through engagement, just like twitter. If you look through some guides on how to get followers on social media sites, the most best and free tip is follow other profiles, and this I also write to get more twitter followers. Instagram is all about smartphone app, you don't need to manage your followers strategy like a working hours, it's fun to use Instagram app. On the web, there are some sites that sell followers at a cost, but if you want to pay, then go for Instagram ads, at least you didn't get fake followers.
Strategy #1: Follow Instagram Profiles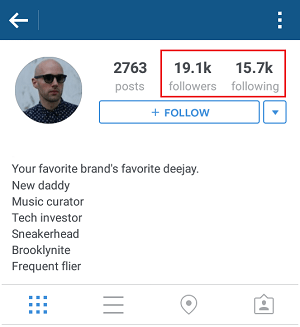 In the world of social networking, following huge amount of profiles is a type of trick to get followers to your profile. Twitter, Instagram uses the same functionality to increment followers of a user. If someone follow to other, then it will earn their profile visibility and fans. This way social platforms can easily grow our network & active users, and also users can understand more about the platform. On Instagram, keep following any profiles including business, friends, search for your favorite artists and more. Once you follow 50-100 profiles, your visibility just starts growing on Instagram and you will start getting some followers around the world.
Click the search button and see your people suggestions. Instagram suggest peoples according to your taste, for example Technology. Keep this strategy ON, and see your result in some minutes/hours/days/week. On the Instagram app, the search page is all loaded with grid of posts (photos, videos) that you may know or related to your taste, explore those photos and follow profiles like you're enjoying.
Strategy #2: Grow up your engagement (Post, Like, Comment, Mention and more)
You can grow up your engagement on Instagram by being active on Instagram. Post photos, videos regularly so that your followers will never unfollow you and daily you will get more followers as per engagement works. Don't post photos and videos by taking from the web, post your own images, videos so that your posts engagement has more chances to reach thousands of people in some minutes. Schedule your Instagram post using tools like Hootsuite and more, and be active without being active.
Keep commenting, liking to Instagram and show you're active. This is the most common way to grow up engagement on most of the social networks. Many users also mention others profiles in comment, posts so that mentioned profiles got an alert though notification and they will friend with them.
Strategy #3: Don't forget #hash Tags
#hash tags are the way to discover Instagram. A one popular hash tag can reach your post to thousands of users instantly as you publish. What are popular hash tags? On Instagram, people love to share inspirational, loving and life photos. You can estimate what hash tags should be popular on Instagram, By me: #love, #beautiful, #friends, #fashion, #cool, #happy and explore more.
Strategy #4: Share your Instagram Post URL on Facebook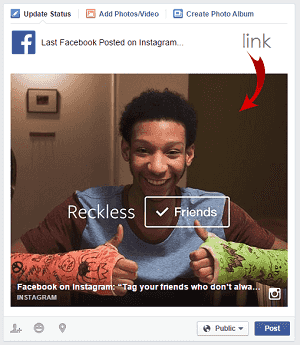 This is my totally unique way to promote Instagram account on Facebook. You only need to post an attractive image on Instagram, and share the post URL on Facebook. As you can see in above screenshot, your link will automatically convert in an image so that clicks over your image redirect the user to your Instagram post page, and follow button shows just above. Facebook didn't treat the Instagram link as a regular link. This is a very cool trick for Artists on Facebook who has huge number of fans.
→ Go to your Instagram account>click on image>press the 3 dots icon>Share>Facebook>Post.
Or
→ Open Instagram.com on PC>Login>Your account>Select Image>Copy URL from address bar>Share on Facebook.
Strategy #5: Sync your contacts
Sync your Facebook, Phone Contacts on Instagram shows your known contacts, follow them and all of your known contacts let start following back to you. Once you sync your Facebook profile, all of your friends on Instagram appear in the list on your screen and you can follow all profiles at once.
---
FAQ
How business accounts get so many followers in a day?
Business owners promote our account with the help of Instagram Ads, if you're ready to pay, then go for it else above free strategies are all for you.