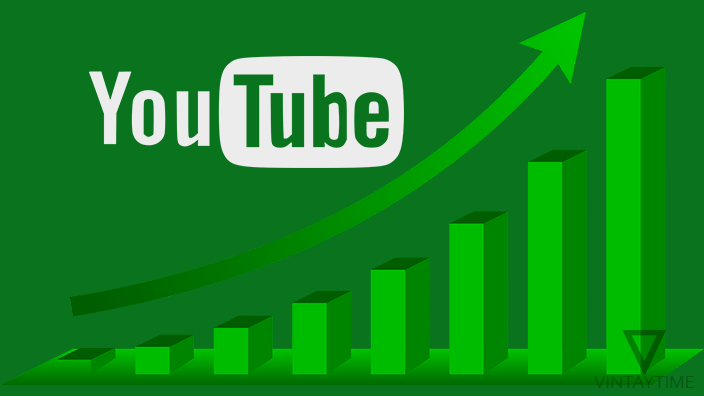 YouTube, a video-sharing site that have more than 1 billion users and known as the most popular internet entertaining platform in the earth. YouTube can viral any nonsense or low quality video and make the channel famous if the uploaded knows optimization techniques. Anyone can become a content creator on YouTube using their channel and start uploading videos to gain some YouTube fame. It's easy to create, upload and share the video on YouTube, but not easy to get popularity of your videos. The site where the number of users cross the billion or million, you know there was always a content engagement algorithm works. As a vlogger or a channel startup, you need some entertaining mind or high-quality and original recorded videos in order to discover more on YouTube. As a beginner content creator, you must try free YouTube promotion and as a smart creator you must read the below optimization guide.
Let's Create a Better Title
The title is the king whether you're creating a YouTube video or a web page. If you craft your title with searchable keywords, then you have good chances to rank up in YouTube's and Google's search results, and try writing something unique in title that can easily grab users attention.
Step 1. Find searchable keywords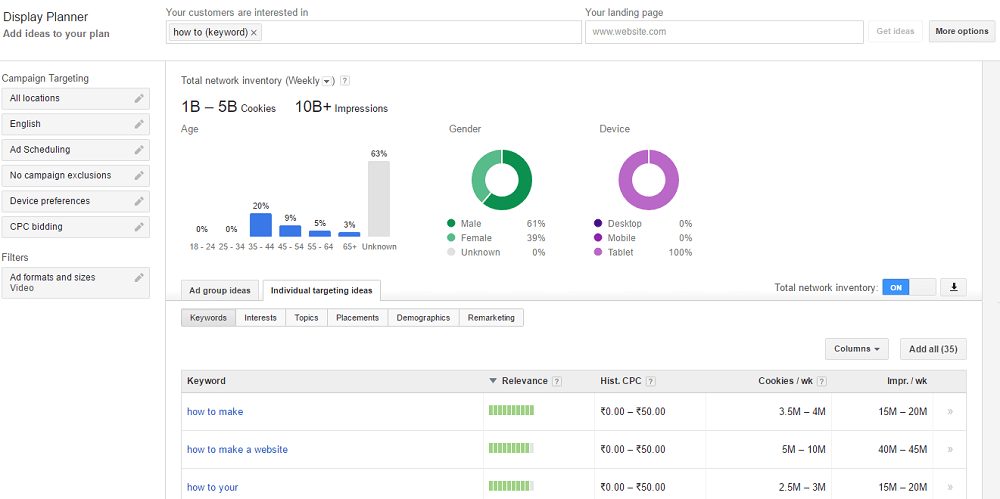 To get searchable keyword ideas using Display Planner, Go to Keyword Planner tool > Tools > Display Planner > Search for new targeting ideas > Enter a Keyword > Edit Filters > Select Formats Videos. Now, Click Get ad group ideas > Select Individual targeting ideas tab > and click Keywords.
To compare the popularity of keywords, Go to Google Trends > Search your term > Filter YouTube Search.

Else, you can use YouTube's search bar to get keyword ideas. Just type your keyword in the search bar and you can see the list of searchable keywords of your location. Go to the footer section of YouTube and select worldwide in order to get keywords from all over the world.
Step 2. Grab attention
Like a newspaper headline, you'll see the front page headline is written very well and people attract to read. On YouTube, you should write an attractive title, For example: Charlie bit my finger – again!, Taking a Bath in a Giant 1,500 Gallon Coca-Cola Swimming, Crazy Plastic Ball PRANK!!, Top 10 Sexy Female Movie Villains, WORLDS MOST OFFENSIVE GAME?, etc.
Some popular topics that people love to watch on YouTube are: Music, Funny, Prank, Challenge, WTF?, Gameplay, S*x, and more.
Step 3. Be short
In Google search, Long-tail keywords perform better, but on YouTube, short titles are better. While writing a title, don't be very short and make sure you're unique. For example: A Funny Montage, Beef 'n Go, CROSSBAR CHALLENGE!!!!!, iPhone 6 Plus Bend Test, and more. In simple words, if your topic needs a long title so please don't go beyond 60 characters.
What is Smart Description?
After writing a short title, maybe you didn't rank for the keyword that doesn't appear in title. But, adding all other keywords in the description field will help your videos better engage with other similar keyword videos and in search results. Write the description in natural language, Put your links after the first paragraph and make sure the important keywords should be written on the first line. To find more related keywords to your topic, Use Google Keyword Tool and Google Trends.
Using #hashtags in a YouTube description will helps your videos more engage with other similar hashtag videos.
Properly Tag Your Videos
Tags plays an important role on YouTube optimization and you can add many tags on your new or existing videos. After writing the title, YouTube automatically suggests you some tags related to your title and video metadata, but using your own custom tags is good for optimization. Use specific tag, a one word keyword that describes the video. Don't use suggestions, just type a keyword and press the Enter button.
Add some Generic tags (General word tags) to better describe your video, such as Funny, Spoof, Animal, Music, Dance, and more.
Custom Thumbnail is a winner
According to YouTube, 90% of the best-performing videos use custom thumbnail. A clickable thumbnail can viral any video whether it doesn't contain entertainment, interesting, or even the video content is different than the title. YouTube recommends 1280×720 thumbnail size and supported format are .JPG, .GIF, .BMP, or .PNG.
Watch your video in a media player and capture an attractive scene. As you can see in the above thumbnail, a challenge video where Jesse has to touch Jeana's body with bandaging eyes. In this video, Jesse mistakenly goes through Jean's chest and that's the moment when the attractive scene created. The Uploader snap the scene and use as video thumbnail and this is called a clickable thumbnail. It's true that if your thumbnail contains adult visuals, you click rates goes higher on YouTube.
Video Length and Resolution
Long time videos like Movies, Short Films, and Shows are optimized automatically on YouTube even the uploader didn't follow any optimization rules but make sure it not be copyrighted. By default, you can upload videos that are up to 15 minutes long, but in order to upload videos more than 15 minutes, you need to verify your account.
The maximum recommended video resolution on YouTube is 2160p (4k) and you should upload your videos in HD resolutions such as 720p (HD), 1080p (Full HD), or 1440p (2k). High definition videos perform well on YouTube and it indicates that the creator works like a Pro.
Avoid Copyright Material
Use of copyright material is going huge in both Google search and YouTube. People who don't know how to use other's material in his video, so please read YouTube Copyright Center and Fair use. And people who want free music for their videos, so please use YouTube audio library.
Using a copyright material on your videos will affect your ranking and optimization even there was a risk of deleting your video from YouTube. But as a fair use, you can link back to the creator in the description or show the name of the channel over the copyrighted scene.
YouTube Optimization and SEO study driven by YouTube Creator Academy and the editor. Thank you!