Since the Brian Acton and Jan Koum launched the WhatsApp in 2009, the subscription fee is the main key to earn revenue from the app. Ads are not a part of WhatsApp since launched and I don't think third party ads will ever introduce on WhatsApp that will drop users experience.
The company Facebook inc. Who bought WhatsApp for $19 billion will sure think a big business idea before buying the app, but since Mark Zuckerberg donates 99% of his Facebook shares to the charity, it's looks like the company didn't greedy of the money.
Everybody knows WhatsApp was very near to touch the milestone of 1 billion users (currently 900 million+) and the milestone will soon reach because the service is now totally free for everyone.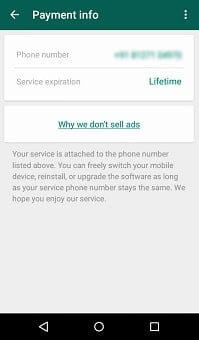 Here are the some reasons why WhatsApp becomes subscription free:
1. Not have payment options, can you accept cash?
When you install the WhatsApp on your phone the service was free for a year, but after 1 year there was a charge of $1/year. The amount was very cheap that everyone can easily pay including kids and students. But, the problem is "Payment Option".
WhatsApp is not only for parents or teens who understand the subscription fees and pay using their credit or debit cards, even the app was available globally and students, kids or peoples don't have online payment options. At this time users worried they'd lose access to their friends and family after their first year.
2. WhatsApp to become business solution
The announcement of dropping subscription fees will shock users now how WhatsApp will earn money? And everyone thinks that third-party ads will be the source of revenue? You're wrong, No ads shown on WhatsApp but the company were testing tools to use WhatsApp to communicate with businesses and organizations.
3. The subscription fee is not a part of social media
There is no subscription fees on any Facebook products and that is the reason why the company's products are the most popular products in the world. WhatsApp is a property of Facebook Inc. And the company removes subscription fees by making all their products available free for lifetime.
Social media is the only place where people connect with their friends, families and relatives and word "Fee" feels awkward on social networks. May be you're registering on many social networking sites, but you didn't hear Subscription charges or fees to use the platform. With over 900 million users, WhatsApp already a social media platform.
4. May be Facebook is not greedy of money
Since mark Zuckerberg donates 99% of his Facebook shares to the charity, it's felt like the company not greedy of money. But, wasting the network of 900 million users for free is not a good idea. May be the company plans to earn revenue from the tools they making for businesses and organizations or Zuckerberg don't want users to pay, only businesses should pay.
5. People don't want to pay WhatsApp
When it comes to pay money on the internet, many users skip and look forward for free. Some users I found that when WhatsApp expired, they immediately switch to the different free messaging app. It's a loss and Facebook don't want loss of users when it comes to active users.
Many people start doing fake WhatsApp tricks to re-activate WhatsApp free for 1 year. By thinking of these crazy stuffs, WhatsApp is now completely free and you can update your app to the new version to remove subscription functionality from your app.