May be your boss give you a project to get an audio speech for an announcement, or you're creating a presentation and for that you want a speech to introduce your project. Text-to-speech (TTS) is a solution that converts normal written text into speech, and you don't need to speak yourself or get help of music studios because TTS solution sounds like natural voice.
May be you saw a learning video in a bank, office or on YouTube, where animation move and computer audio speaks, and this is all about TTS. Operating system like Android and Windows has an inbuilt Text-to-speech feature that helps blind peoples to navigate.
Step 1. Download and install Natural Reader



Natural reader is an English desktop reader lets you open a text document and listen to the speech. It can also convert text into an audio file that you can use the audio anywhere like videos, presentation, announcement, and more. It's text to audio file feature will not work with the free version, please activate the software with a key to make work text to audio converter.
Step 2. Open existing document, or create a new one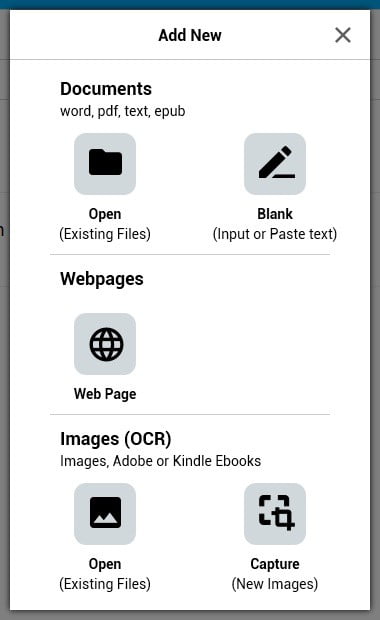 You can open a document like PDF, Word, text, etc. And start working with the software without copy pasting text. From the top, click Add new and open your existing document file. Else, select Blank to create a new blank file and input or paste text.
Step 3. Configure voice and preview

As your document goes opened, you can preview the voice by clicking the play button at the top and the speaker will read your document from the beginning. You can also switch speaker voice and speed, as you can see in the above screenshot. The speed value is available in both positive and negative value, do it better.
Step 4. Covert to audio file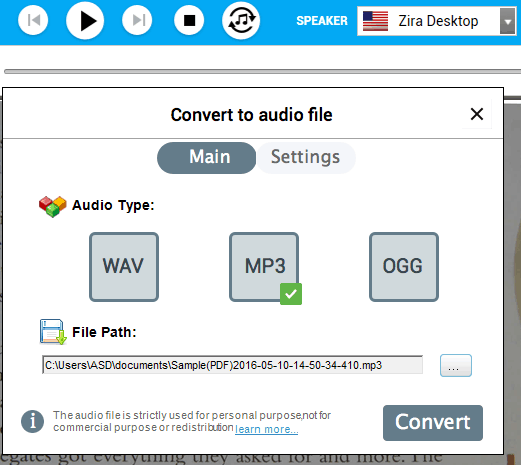 On the top, as you can see the audio conversion icon, click it and covert t the document text into audio speech. Don't forget the settings to make changes in the output audio. An audio file will automatically save on your computer and you can use it wherever you want.
How to convert multiple documents to MP3 at once?
A feature called Batch converter in Natural Reader will convert all of your text documents into audio files at once. To use it, open Natural Reader> Click the corner drop menu> Select Batch Converter. Now, open your all existing documents to the converter and click convert.
How to get audio file from the online TTS converter?
If you're using a free online TTS reader, and want the audio you're listing in your browser, just use the IDM. It automatically detects audio from websites and give you a download option.