Is your Android device/phone/tablet slow, freeze or hang? Let me fix your Android speed and performance fluctuation and give you back the experience of a new Android phone. Earlier, when people use a 8 Gig Android device, it looks like we don't need to insert an external SD card. But since Google play become the king of apps, users installing more apps on their device. More apps take more internet storage, more RAM and more CPU usage.
The most stupid thing people do to fix their Android speed issue is, move apps to external storage or use a speed booster app. Apps like DU Speed Booster and Clean Master can speed up your device with just a click, but the problem with these apps is continuously run in the background, who eats RAM itself. I never suggest you use speed booster apps when my ways can boost your Android speed without any extra app.
1. Free up internal storage
When the internal storage of your Android runs out, your device will alert you in the notification bar to free up some space. But, it didn't mean you never empty, until it tell you. Go to settings > storage > Internal storage, and know what is using most of the storage excluding Apps.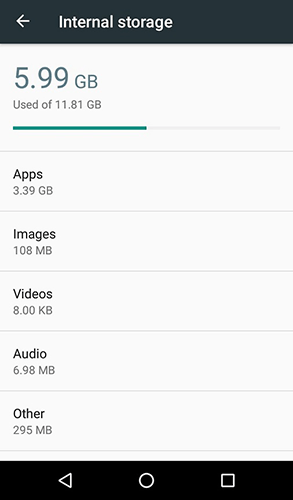 Don't make a mistake by installing or moving apps to the external storage. Clear Cached data, move videos/music/movies to the external storage, and never store large files in the internal storage. Permanent solution to fix this problem is switch your Android to a new 32 gig or 64 gig device.
2. Know which app is using more memory
Stop killing those background running apps, and think a permanent solution. When the Android phone goes hang, some people give you a common solution, which is free up some RAM.
Exactly, apps like Facebook, Messenger, and Chrome eat too much memory, even some apps continuously run in the background. Go to settings > apps > running, or settings > memory > app usage to know which app is using more memory in the background. Simply kill those apps or remove from your phone or disable it.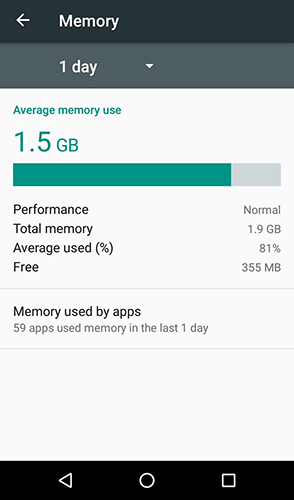 3. Slow down multitasking
Multitasking is awesome. Running multiple apps and switching with each other feels smarter, but the app you're not using should not be minimized. For example: I just open Instagram, and check the feed. After that, I click the home button and start using a different app. But, still Instagram is running in the background.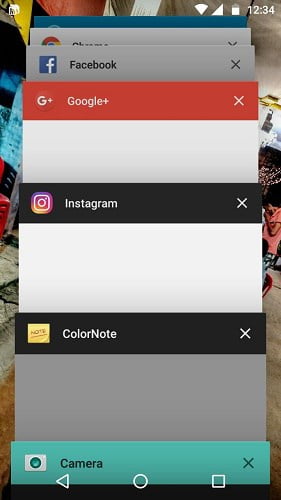 Hold down the home button or tap on recent apps button, and swipe all apps from the list. Stop using the home key or back button, it didn't close the app entirely.
4. Do you really need antivirus on Android?
One of the high impact startup program in my PC is an Antivirus software. And, I can't disable it because it protects my computer from viruses and threats. But, why should I use an Antivirus on an Android phone. According to Android Central and AndroidPIT, you don't need to use an Antivirus app on Android. Even an antivirus app eats too much memory than a regular Android app.
5. Reboot your device
The most simplest way to speed up an Android device is restart your device. All the tasks, background process and some unknown apps may keep running for a long time. It's hard to clear all those tasks manually at once, but a reboot can kill unknown apps running in the background. This is a temporary solution.
6. Stop using widgets
Widgets are beautiful, cool and it gives you a new advanced home screen experience. But, the resource those widgets are eating is more than a regular app. Don't decorate your home screen with widgets. Try to use only useful widgets, like the Google search bar, time and weather. Never use internet-based widgets, it automatically refreshes as you unlock the screen and slow down your Android.
7. Turn off animations
Animations are looking awesome when navigating to different apps and multitasking, but these are not good for Android performance and battery life. To disable all animations in your Android, go to settings > about and tap on build number several times. It enables Developer options in the settings. Go back, and tap on Developer options and turn him on. Scroll down to the drawing section, and turn off the animation scale of Window, Transition and Animator.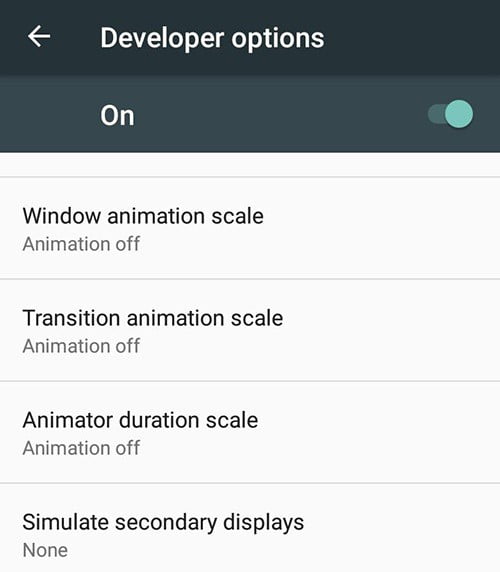 8. Avoid live wallpaper
I believe the worst thing people do in their Android phone is a Live wallpaper. The moving wallpaper is actually used more CPU resource and battery power. If you want to make your home screen fancy, then go to an app called Wallpapers for Me. It has a beautiful collection of wallpapers. Live wallpapers are only for enjoying something new on your phone. Never make it permanent on your home screen.
9. Be up to date
System update and app update is very beneficial for your Android. When a developer release a new app update, it generally improved for reliability and speed. Other hand, system update also consists improvements for speed. Never ignore those updates, and be up to date with a latest version.
10. Identify your needs
Tips and tricks can only solve Android's speed issue for a time period. But, if your needs are more than before, then nothing is better than switching to a new Android device. First, identify how many apps you daily use on your phone. Second, identify how much RAM and internal storage those apps are eating. And third, compare your needs with a new Android phone from the market.
If you're using a high-specs Android device and facing some serious speed issue, then go factory reset your device. Go to settings > backup & reset > Factory data reset.