As you know, WhatsApp is one of the safest instant messengers that comes with end-to-end encryption, the security of the messenger is difficult to hack, but it can be easy to trick. I'm going to tell you that without using a computer, you can be able to hijack or hack into the WhatsApp account of the people you know, through WhatsApp Web.
WhatsApp Web is a web-based application designed for desktop users so that people can manage their account via computer, or can officially use WhatsApp on a computer. Users need to scan the QR code displayed on the computer's screen to sync with their chats with the web-based client. Officially you can not use the WhatsApp web from a mobile browser, but I can tell you how you can.
Note that this page does not include any real hacking techniques and tools. The content written below is just a trick, also known as a hack.
There are some conditions
You need to use the target phone physically once.
The target phone should have an active internet connection.
You can not hack any person's WhatsApp without using his device.
Follow the steps written below:
Step 1, Open WhatsApp Web on your Smartphone
Do you have a Chrome browser on your Android or iOS smartphone? If not, just install it from the store, and launch the app. Go to the Chrome menu, and open a 'New incognito tab'. Again, go to the Chrome menu and check the 'Request desktop site' option (see below).
Now you can use the desktop version of any website on your browser.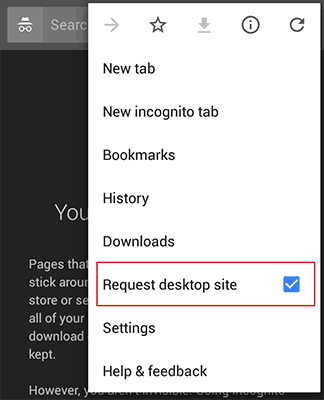 Visit web.whatsapp.com and you will see the WhatsApp Web interface on your mobile browser.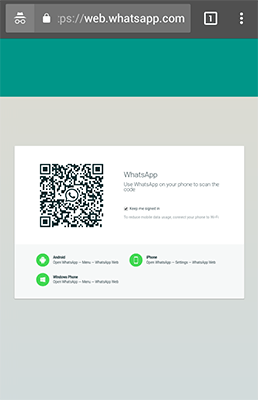 If web.whatsapp.com redirects to WhatsApp.com, clears your browser's cache and cookies.
Step 2, Get the Target Phone and Scan QR Code
Zoom in WhatsApp's QR code on your phone and do not check to 'Keep me sign in' box. Get the target device in your hand, open the WhatsApp app and select 'WhatsApp Web' from the app menu (see below). Scan the QR code appearing on your phone browser and the targeted account will start syncing in your mobile web browser.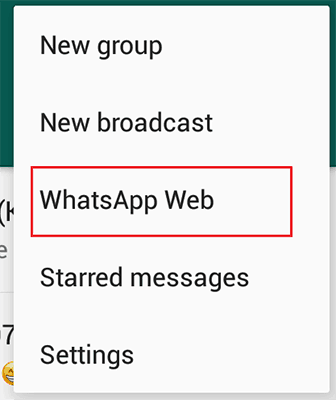 Wait, do not put the target phone back. Read the next steps.
Step 3, Block WhatsApp Web active notification

When you activate the WhatsApp web session on any computer from your phone, you will see a notification on your phone's status bar regarding the active status of WhatsApp Web (as seen above). You can block all WhatsApp Notifications on the target phone, so long as you are using your account through web platform, it will not be known.
To block all notifications in smartphones and tablet devices:
In Android, press and hold the WhatsApp Web notification, click the "info" icon and toggle 'Block all'. Or, go to Settings > Apps > WhatsApp, and block all notifications.
In iPhone / iOS, navigate to Settings > Notifications > WhatsApp, and toggle 'Allow Notifications'.