Anyone can add their (or someone else) business listing in Google Maps easily, but it's not easy to rank higher than your competitors in Google maps. I'm going to tell you how to improve your Google maps listing using some effective tips and tricks.
Whether its a small or large business, place creation in Google maps is available for everyone. Anyone can contribute to Google maps using just a Google account. After a place added in Google maps, it will be starting to appear in Google search too, after a few hours. People want to rank their business listing at the top when a local user search about their business in Google. Lets see how it possible.
1. Collect Reviews From Your Customers
Number of reviews and ratings are the two most important factors Google uses to determine which business should be ranked highest. Tell your customers, workers, friends and family members to review us on Google by searching our name through the Google app or Chrome browser.
Print a paper that show steps on how to write a review for our business on Google, and stick somewhere in your shop. The number of reviews will increase, your business ranking will increase in Google Maps and Search.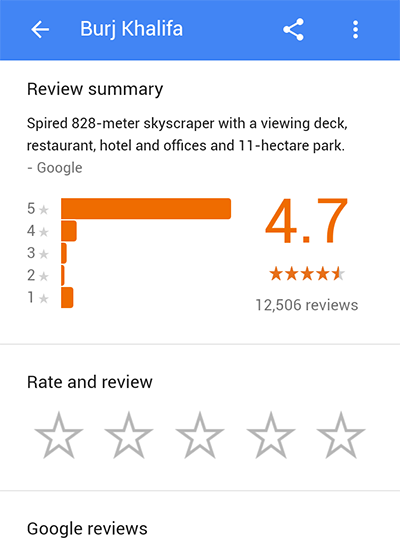 2. Add Photos
Places in Google Maps with Photos get more clicks, even Google rank those places higher in local search results. Make sure your business listing in Google maps has some photos. Upload at-least 2-3 photos of your business place, including the logo image (if you have).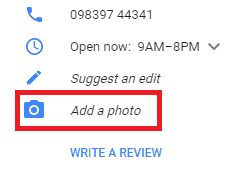 You can upload photos by searching your listing in Google Maps and click Add a photo. Your photos will not appear promptly, it will be reviewed and will appear after a few hours. Please upload a real photo of your business, else Google will not approve your request.
3. Claim Your Business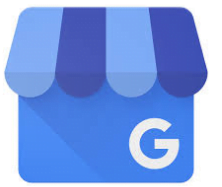 Did you know about Google My Business? As you can see a link in your Google maps's listing called Claim this business. Clicking on that link will redirect you to a Google My Business page, where it says you to verify your business with a call or by post mail. Once you verify your business, you can add more additional information in your business listing, see Insights, respond to reviews, engage with customers, etc.
4. Add Keywords in the Name
As a website owner, I try to include all those keywords in my page's title and description that people mostly search on Google. The same thing you can do with your business listing. For example, If you run a Pet Shop so do include the keyword 'Pet Shop' in your business listing name.
I have optimized many Google Maps places using this trick. If you want some keyword ideas, try Google Keyword Planner tool. In the  keyword tool, don't forget to select your business location (e.g., City) in Targeting.
5. Do You Have a Website?
Absolutely true, Google rank business listing higher in Maps and Search who have added a website. You can create a simple intro website for your business without any coding, and for free.
You can add your website address in the business listing by using a link called Add website. The request will be reviewed and may be required website verification.