Android smartphones and tablet devices come with useful pre-installed apps such as a file manager, but you know that the pre-installed app provided by the manufacturer is not really powerful and feature-rich than the app available on Google Play. The built-in file browser app on your Android phone may be very basic, which can help you browse local files and folders, not from the network.
Here I am going to tell you about the best free file manager app for Android, which will give you more options than simple file management, such as encrypt files, extract and create archive files, browse to network files, run multimedia files, recycle bin and much more.
1. File Manager by Flashlight + Clock
Also known as 'File Manager +', it is a full-featured file manager app that you can use permanently for your Android. The good thing about this app is that it did not support the ads at all, and as a free app, it provides all the features that we need in a file management app, such as an built-in multimedia player, storage analysis , recycle bin, archive file compress and decompress, cloud storage access and more.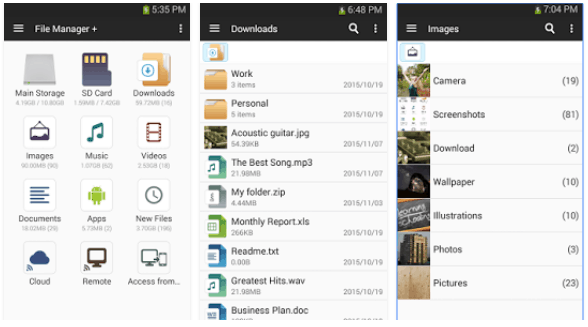 2. ES File Explorer File Manager
ES File Explorer is the most installed file manager app on Google Play, but because of many ads in the free edition of this app, I have not placed it on number 1 in this list. To find out what a full featured file manager app is, you should now use ES File Explorer on your Android device. The app support for more features than your needs, such as local and network storage management, space analyzer, built-in multimedia player, recycle bin, root explorer, theme, archive files management, Android storage cleaner, password encryption and more.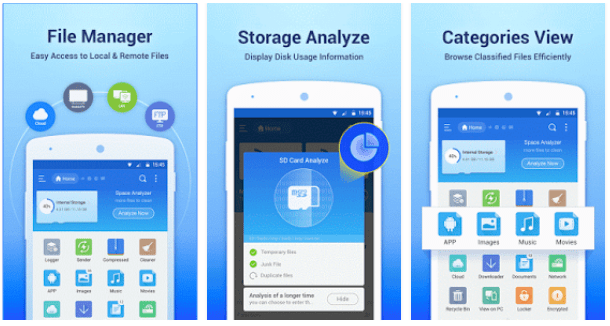 3. X-plore File Manager
Do not be confused with the dual-pane view in the app, it's really good. If your Android device has a small screen, then just rotate your device screen into the landscape. The X-plore File Manger has many file management features, such as local and web storage access, FTP access, SSH file transfer, WiFi file sharing, built-in media player, password encrypted vault and more.
You'll be more comfortable with this app while using it on Android tablet devices.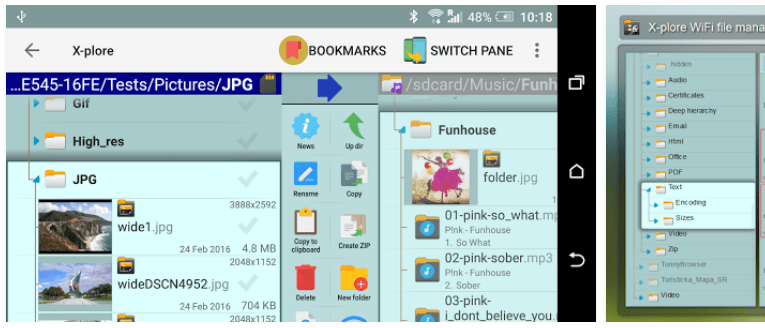 4. File Manager by ASUS
ASUS specifically creates this file manager app for its ZenFone series of Android smartphones, but you can install it on any Android smartphone and tablet. Based on ASUS Zen UI, the app's interface is really simple. On the Home screen you can locate local files by category, and you can also add network space and cloud storage to the app.
ASUS file manager support storage analyzer, recycle bin, PC file transfer and hidden cabinet (to hide files in encrypted location)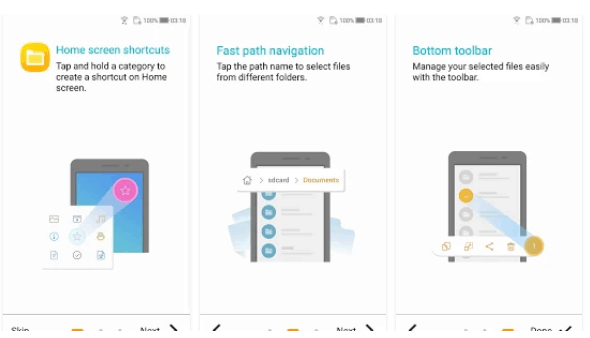 5. FX File Explorer
The free version of the FX file explorer did not support some of the features we want, but the content design UI and no advertising support make this app best. If you do not want network and cloud storage access, then the free version of FX File Explorer is most appropriate for you. It supports multi-window with dual-view mode, multimedia player, text editor, archive file creation and extraction, and themes.
6. Astro File Manager (File Explorer)
Astro File Manager, one of the most downloaded file manager apps on Google Play, is the best option for you to last forever on your Android device. It did not support ads and provide you all useful file management features, including network storage management and cloud storage access, archive file compression and decompression, storage analyzer and more.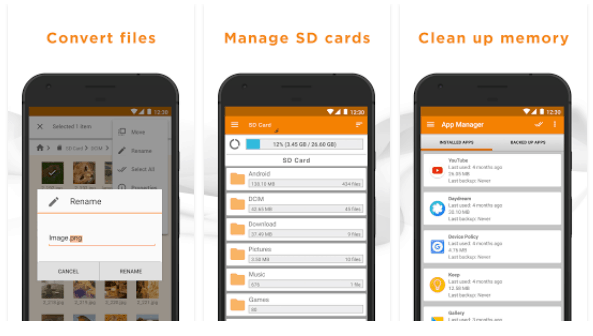 7. File Commander by MobiSystems
MobiSystems has developed many good apps for mobile devices, and the file commander app, which was developed by the company, is also very good. As a free user of this app, you can not access useful features (e.g., Recycle Bin, Storage Analyzer, etc.) and you will see the advertisements, which is why I am putting it in the bottom of this list. The UI design of the app is really beautiful, and the file management is really simple.