Facebook account is one of the important account of our life. It consists personal data, photos and other such information that you don't want to share with anyone else. If the age of your Facebook account is more than two years, you'll feel sad when you lost that account. Creating a new account is easy, but connecting with such friends, pages, and celebrities again is sounding little tough. Personal data worth more than gold, because gold can be bought again, but personal data will not return.
People like you never thought their Facebook account can be hacked, but when it done, then you understand the meaning of security and privacy. Hackers only target accounts, that something beneficial for him, but people around you can steal your account without any reason.
Following are the security, privacy settings and tips that every Facebook account owner should know:
Basic Level
1. Only 'friends of friends' can send you a request
Connecting with peoples on Facebook is really simple, but don't make it simple for the peoples you don't know or your friends don't know. When you receive a friend request from a person you believe not have connection with you, it means anyone can send you a request.

In Privacy Settings, there is an option called Who can send you friend requests?. Change the value from Everyone to Friends of Friends and disable the Add friend button on your account for unknown peoples.
2. Private contact information
Contact information like email address and phone number can be easily use to recover your Facebook account. Many fool peoples use their mobile number as a password and it can be easily guessed. You should always select Only me for your personal contact information like Mobile Number, Address, and Email. Go to your profile, click about and select Contact and Basic info tab, and make such personal information to private.
3. Verify at least 2 email addresses
When your account successfully hacked, may be the hacker change your primary email address or hacked your email service account. If you verify multiple email addresses in your Facebook account, there must be a chance to recover hacked Facebook account using another email address. Go to the Email settings, add another email address and verify.
4. Private Friends list
The most common Facebook privacy setting is hiding friend list from the others. We highly recommend to all male and female profiles to hide their friend list and make them available for only friends. Public friend list broke your friends privacy and it can be result worse. Go to your profile, select Friends tab, click the Manage/Edit icon and select Edit Privacy. Now change the value of Who can see your friends list?.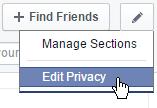 5. Never allow unknown Facebook app access
When you use a web app or mobile app, sometime it required to use your Facebook account. Many websites also serve users to register on the site using a Facebook account. When it comes to registering on sites, then it's may be safe, but it's risky to allow access webapps like Facebook Autoliker and Third-party Facebook tools. If you just allow any unknown Facebook app access to your account, please monitor your activity logs and remove spam apps from App Settings.
6. Timeline privacy
Post shared on your Timeline will be visible for public. Never allow public to see things from timeline and never allow friends to add things to your timeline. From the Timeline and Tagging settings, review Who can add things to my timeline?, Who can see things on my timeline?, and How can I manage tags people add and tagging suggestions?.
7. Stay incognito when using Facebook on a public computer
When using Facebook on a public computer or internet cafe, please go incognito using Ctrl+Shift+N in Chrome. Incognito mode never saves browsing data, cookies, auto fill and any other tracking data in the browser. These data can be easily recovered and may affect your Facebook account. In a regular mode, the browser automatically saves your login email or username. Please clear browser's cookies, cache and history when leaving the public computer.
8. Disallow search engines indexing
If your profile is enabled to index on search engines like Google, Bing and Yahoo, then your pictures will be automatically crawl in web images. Spammers and Frauds mostly use web images to create fake Facebook profiles and web content. Disable search engine indexing from Privacy Settings > Who can look me up? > Do you want other search engines to link to your timeline?.
Advanced Level
9. Login alert

An additional Facebook security feature called Login Alerts will send you a notification on your Mobile and Email when anyone access your account from a new location or device. It must be activated on your Facebook account. Go to Security settings, edit the Login Alerts section and Enable login alerts by selecting radio buttons.
10. Two-step authentication
Two-step verification is an another security layer on your Facebook account known as Login approvals. Users can enable the security feature from Security Settings > Login Approvals. Once the security is activated, your Facebook account needs a special security code each time you login to your Facebook account though a new device or browser. Login approvals prevent hackers to get access your account even he knows your password. Read how to activate two-step authentication for a Facebook account.

11. Monitor activity logs and devices
When something goes wrong with your Facebook account, you should check activity log (Profile> View Activity log). Activities like posting, sharing, liking, and commenting are automatically appearing in Activity log and you can revert such actions from the same page.
Go to security settings, and edit Your Browsers and Apps to check for how many devices you account is logged in. Remove devices you didn't use to login to your Facebook account in future.
12. Submit trusted contacts
Trusted contacts help you to recover hacked Facebook account using codes send to selected trusted contacts. When you forget your Facebook's account password, Forget Password link is the only way to get recover the account. In recovery steps, Facebook also serves you recover the password using Trusted contacts.

13. Strong password
Never compromise with passwords, always write a password mix with characters and numbers including uppercase letters. Make your Email and Facebook account password should be different, so  no one can hack your all accounts at once. Never use your phone number and name in the password because it can be easily guessed. A stronger password contains a combination of at least six numbers, letters, and punctuation marks.
14. Use one-time password on public computers
One-time password is an additional security feature protects your real password from public devices like Library computer or Internet Cafe. Once you send a text message to Facebook number by writing in the message 'otp', you will get a unique code to use as a password instead of a real password. It's only supported on limited carriers, see the list of carriers and know more about What's a one-time password and how do I get one?.
15. Lock the screen while you absent
Few peoples' complainant that their Facebook account was hijacked due to leaving the device screen open in my absence and someone create a post without my permission. Please lock your device when you leave the mobile and PC/laptop alone in a room.