Facebook officially has an option to merge two duplicate pages and make it one. This way users of Facebook are only be with original single page. After you complete merge, all of both page's fans automatically transfer to the new merged page. There are some things you may probably lose after this process, For Example: posts, username and more, not likes. Also, if you want to merge a Facebook account to a page, you can easily do that and it is a part of Facebook tricks. Pages merging also have some requirements, see below and also you have to be the owner of both of the pages. Once the process will complete, Facebook takes some time to transfer likes(fans) of both pages, don't worry here.
Requirements & Other
The name of both of the pages should be similar
There's no guarantee, your all posts will be merged
---
1. Choose Pages

First, make sure you're an admin/manager of pages you're going to merge now. Then, simply visit www.facebook.com/pages/merge/ or choose merge option from page>settings>general>merge pages. As you can see on above snapshot, my page names are totally similar but they are different, fans quantity is different, once you complete process, all fans are goes add into one page.
2. Confirm Merge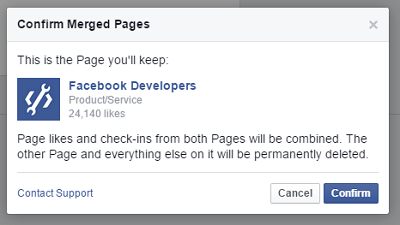 When you confirm merge, Facebook automatically shows a popup with a page that will keep, means this process will automatically select the right page and auto import all fans from the second page. This way you didn't lose any posts and you can successfully merge your duplicate page fans with the original page.
3. Edit Page & Review
The process didn't take the time, it completes instantly. After, you can review your merged page and see what you have to change and edit because some of the information data of the duplicate page will probably import to the original page. You can check the page info there. For other impossible help, contact support.
---
FAQ
My fans are not merged yet, what to do?
If your pages have fans quantity less than 1K, then it will be instantly merged without any problem else Facebook takes some time to merge fans. There are so many problems may be persist on Facebook's server during this process, Example: same fans on both pages, that's why sometime it takes time.
Is there is any way to merge a Facebook account to a page?
Yes!, you can, and the followers and friends of the account are all convert into fans of the pages. Here is an official tutorial to Converting Your Profile Into a Facebook Page.