Flushing your Facebook Account permanently from your life will be a big reason behind that's why you're quitting Facebook. But deactivation of account for a limited time is very common. There is no risk of data loss in deactivation such as Friends, Followers and Photos, and you can reactivate your account in the future.
If you want to delete your Facebook Account for reasons like: Peoples irritating you, someone tries to blackmail you through Facebook or Abuse, then you should block those users or read some Facebook Security and privacy tips and prevent unknown users to connect with your account until you allow them.
To Deactivate your Facebook Account:
Here's comes the Tutorial with Screenshots for how you can disable a Facebook account temporary, and if needed to then reactivate your Facebook account anytime manually or automatically.
Login to your account> and visit Settings> Security Settings
Simply visit your Security Settings or try Deactivation Link.
Choose the Deactivate link from below

Skip this step if you click on the direct deactivation link. As you saw on the above screenshot Deactivate your account link will take you to the Account Deactivation page to confirm.
Select any reason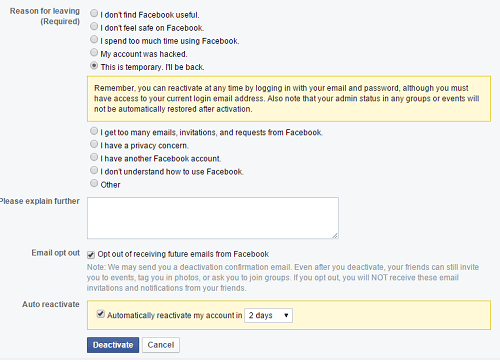 You have to select any reason before Deactivate. The most common reason as you saw on above snapshot is I Checked: This is temporary, I'll be back. If you aren't have any reason you can also choose other at the last.
Want to Auto Reactivate?
On the Deactivation page at the last step, Facebook serves your Auto Reactivate option that your Facebook Account reactivate after a time you selected, Min. 1 day and Max. 28 days, it may be changed in future, if it's changed, then you may leave a comment below & we will modify this page.
Confirm the password and you have done!

As you confirm your password, Facebook just deactivates your account and now your account is like disappear from Facebook. Your account doesn't appear anywhere, including in comments, Friends list and more.
---
How can i Reactivate?
If you enable Auto Reactivation during disable process then your account will automate come live, if not, then you can simply login to your account using your login Email or Username and Password and your account goes activate. There is no Reactivate button exist, because simplicity is Good.
---
To Permanently Delete your Facebook Account:
Here comes the permanently delete tutorial, you have to pay attention about them and think about your account age, from how many days/years/months you're using your account. Once it deleted, there is no way to revert changes and everything goes flushed. By thinking of data loss, I make this tutorial a complete tutorial.
Download a copy of your Facebook account
As your account deletion request accepted after some days, Facebook didn't give you any other option/opportunity to recover your deleted Facebook account. That's why thinking of this, you can Download a copy of your account and save it in your computer. This method is a part of Facebook Tricks. To do this:

To download the complete Facebook account:
Open Facebook > Settings
See below Download a copy of your Facebook data link > Click

Press the Download Archive button
You'll soon receive the download link to your E-mail, and with a single click your archive will start downloading.
Clear message threads
Some of the data which still appear to your friends, even you permanently delete your account like: Messages. Messages are a part of both accounts in between conversation does, that's why Facebook didn't clean messages database even one account is closed. You can delete all of your conversations by one click by using a Chrome extension: Facebook – Delete All Messages or try the official way to delete messages or a conversation.
Choose a new Admin of your Pages/Groups and more
I found some time, many folks request our Facebook account deletion request and without reading the steps from web, they permanently delete our account, but it's a mistake, you should always read the official or unofficial tutorial documents, which give you a complete guide. My friend permanently deletes our Facebook account without changing admin of the page he manages, and now it's called a big mistake that you should can't do this.
To raise a permanently account delete request:
Go to Account deletion page
Accept Delete my Account
Enter CAPTCHA> Ok
Your account now disappears from Facebook
Wait for 14 days(this required for security reason)
---
FAQ
Can I Reactivate my Disabled Account Manually, if I check Auto Activation?
Yes!, you can do this by simply login to your account using your login credentials. Auto activation will stop as you login.
How much time Facebook takes to Disable or Permanently delete an Account?
In case of Deactivation, Facebook does it immediately as you click, but for a permanent account delete will take up to 14 days.
There is an option to recover my deleted account?

Sorry!, but there is no way to undelete/recover your Facebook account, next time you should try Account Deactivation not Permanently Delete.