In Facebook, you can see videos share on news feed are of two types: External and Internal. External are the videos links to external websites like YouTube, Vimeo, Dailymotion and more, But the internal videos are uploaded and hosted on Facebook.com, which you want to download here. Now you can see videos are the part of most of all top social networking sites including, Twitter, Instagram and more and watching videos on social sites is feels like instant. Officially Facebook doesn't provide any option to download videos directly, you can only share but I have some multiple ways to download a Facebook Video in HD(High Quality) or Non HD(Low Quality) both.
[Official way] Save Video from a Mobile Domain
The trick here, for me it is an official way you can save Facebook videos from your computer browser. When I download Facebook videos from this way, My videos are not saved in Full HD, it just a low quality according to the mobile phones.But the video is working fine.
1. Open video post in new tab
From your news feed or from any Facebook page open the video post in a new tab by right clicking on date> open link in new tab.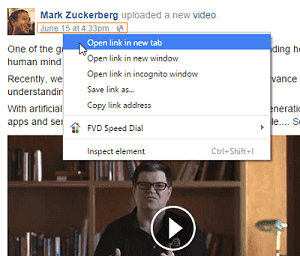 2. Replace 'www' with 'touch' from URL

On the address bar, replace the www with touch from URL For example: www.facebook.com/ to touch.facebook.com/. It is also a part of Facebook Tricks. You can also use m instead of touch.
3.  Save video and you are done!
Now, you just right click over video> Save video as> Save (Make sure your video is played, otherwise no save video as will shown.)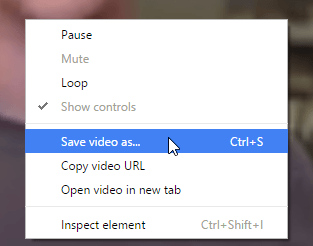 ---
[Unofficial way] Use Online Video Downloader
Here is an unofficial way, where I use an online streaming video Downloader that detect and convert steaming video from a page into a direct download video link. Facebook.com is working on this tool, and now you can download the Full HD or low HD both formats using this way. Note that if for any reason in future Facebook goes strictly for video downloading, they will surely raise a complaint against the Downloader I'm using, in this condition you may Google other online video downloaders.
Open any online video Downloader or Clipconverter.cc
Paste the Facebook Video page URL(Right click on the date and select open link in new tab)> Submit or Continue
Select HD radio button and Download it.
Note that if the above tool didn't detect video, you may try again because sometimes it works by trying 2-3 times.
---
FAQ
Can i Download Posted video in their original HD Resolution?
Yes ! with Unofficial way, you can do it for free.
Actually, now from artist to business, everyone uploading/sharing official videos on Facebook because of huge fans on a page or any other reason.Facebook understand the problems of copyrights, that's why no more download button.
Can i reuse Facebook videos on YouTube?
You can use it because there is no way for YouTube to detect copyright video from Facebook, but if the owner of video saw on YouTube, so the video may be taken down by the owner.