Do you know how much potential the food delivery app market offers? Have you heard about the growth of this industry in recent years?
The on demand food delivery app development market has seen tremendous growth over the past decade. This is largely due to the rise of smartphone usage, as well as advances in technology. With more restaurants and food establishments offering delivery options, consumers now have access to a wide variety of cuisines from all over the world, without having to leave their homes.
It is clear that the food delivery app market has immense potential for growth and development. If you are looking to get involved in this business, it is important that you understand the nuances of this particular sector. In this article, we will look at what makes up the food delivery app market, its current trends and its future prospects. By gaining a better understanding of these factors, we can gain an insight into the potential for profitable returns in this sphere.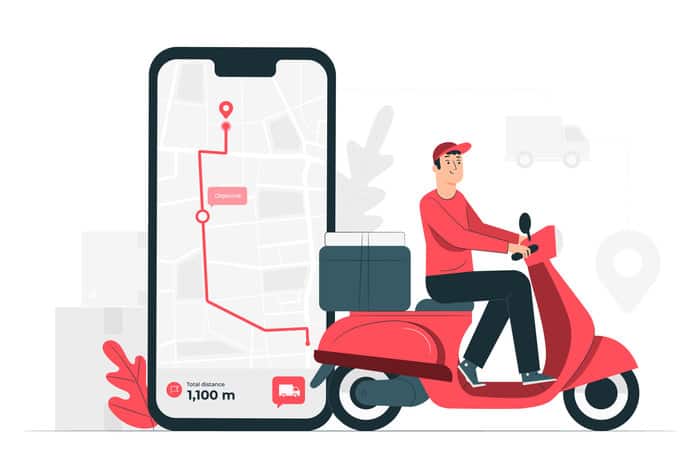 Food Delivery Market Overview And Challenges
The food delivery market has grown exponentially in the past few years, and it shows no signs of slowing down any time soon. The growth is so impressive that it's often referred to as the "gig economy." But while the market offers a plethora of opportunities, it also has its unique challenges. Here's an overview of the food delivery market and some of those associated challenges.
With restaurants continuing to stay closed due to pandemic-induced lockdowns around the world, people have increasingly turned towards food delivery services for their meal needs. Many users are now ordering food through apps such as GrubHub, DoorDash, Ubereats, Postmates etc., which have become must-haves in this modern era.
Challenges in Food Delivery Market
1) Customer Attrition: One major challenge for food delivery companies is customer attrition. Customers often find better deals or move away from one service provider to another – hence creating a challenge for the business owners who want customers to remain loyal with them.
2) Quality Control: A key feature that sets food delivery services apart from other forms of restaurant dining experience is quality control. Poor order accuracy and long wait times can lead to angry customers who won't hesitate in leaving a bad review on your app or social media profiles – leading to further customer loss for you.
3) Costs: Depending on the type of service you offer, you may be subject to additional fees such as fuel charges and payment processing fees among others – these will add up faster than you think and will have direct implications on profits earned by your business.
4) Competition: The most obvious challenge you'll face when entering into this space is competition from other established players in the field who also provide similar services as yours – staying ahead requires not just proving efficiency behind operations but also having unique USPs (unique selling propositions).
5) Supply Chain Management Issues: Managing a large number of orders and deliveries accurately can be very tricky for any Food Delivery Businesses operating at scale – Ensuring quality supply chain management should be given utmost priority else it can lead to major issues like product shortages, delivery delays or errors in fulfilling requests made by customers
By understanding these core challenges within this field, digital businesses will be able to reach their full potential more quickly while avoiding potentially costly mistakes along the way during operations! This is when features step in. If you have the right features in place, you can be certain of getting the results you have been hoping for. Below we have it sorted for you about the features that you must keep in mind before investing in food delivery app development services.
Key Features Of Food Delivery Apps
Food delivery apps are a great way to enhance the food experience for customers. These apps allow users to find new restaurants, order their favorite foods, and have them delivered right to their doorsteps with just a few clicks.
Here are some of the key features of food delivery applications:
Restaurant Search Function
A restaurant search function is one of the first things you'll notice in a food delivery app. This feature allows users to browse through menus and find restaurants that offer dishes they'd like to try. The search should also include filters for specific types of cuisine, dietary restrictions, and budget considerations.
Seamless Payment System
No one wants to struggle with payments when ordering from an app. A good food delivery app will make it easy for users to securely pay for their orders with features such as multiple payment options, discounts and promotional codes.
Secure Authentication System
Having a secure authentication system is essential when allowing customers access to your food delivery app. This ensures that only authorized personnel can use the service and order items from listed establishments. The authentication system should also help protect user accounts from potential hackers or other malicious activities online.
Social Media Integration
Integrating social media platforms such as Facebook or Instagram into your food delivery app allows customers to share their dining experiences with family and friends through photos, videos, reviews and more. They can also find local deals, check out new menus and get interesting offers from nearby restaurants — all without leaving the comfort of their homes!
User Profiles
Creating user profiles on your food delivery application gives customers an easy way to store personal information such as addresses and payment methods so they don't have to enter it every time they want to place an order. Profiles also provide businesses with valuable insight into customer preferences so they can target ads or send customized messages with special offers or discounts at certain times throughout the year.
Delivery Tracking
Customers need assurance that their orders will be delivered on time if not earlier than expected! An efficient tracking system utilizing GPS coordinates helps keep track of deliveries at all times so customers are always aware of where their meals are coming from until it reaches them safely at home or office destination as requested.
These features need to be integrated to enhance the chances of making your food delivery app successful. All you need to do is to connect with a reliable food delivery app development company and enhance the chances of gaining significantly out of it.
Cost Of Food Delivery App Development
Food apps are becoming increasingly popular amongst restaurants and takeout chains as it allows customers to order food directly from their phones. Getting a food delivery app of your own is a great way to stay competitive in the increasingly crowded market. However, this process comes with certain costs that should be taken into consideration. Here's an overview of the cost of developing a food delivery app:
Development Team Selection
The selection of a development custom mobile app development team is arguably the most important factor when considering the cost of developing a food delivery app. Developers who specialize in app development will likely charge higher than average rates, so it is important to choose wisely when selecting your development team. If you opt for a larger company or agency, you can expect costs to be upwards of $100,000; however opting for smaller, specialized developers can bring costs down significantly.
App Design & User Experience
The design and user experience are crucial components in any successful mobile application. Depending on how sophisticated you want the experience to be, the cost can range from a few thousand dollars for simpler applications up to tens of thousands for more complex builds featuring custom animations and graphics.
Server Infrastructure
To ensure that your users have access to real-time updates and data at all times, your application needs reliable server infrastructure — either hosted at web hosting providers or running on premise within your network environment — which adds to both long-term hosting cost and initial development costs such as expert configuration services.
Integrations & APIs
If your app includes integrations with third-party apps like payment processors or search engines or takes advantage of ready-made API sets supplied by the likes of Yelp or Google Maps, then these services also need to be considered when pricing out a food delivery app project.
Maintenance Costs & Ongoing Development
Finally, it's important to consider both short-term maintenance expenses and long-term ongoing development plans when setting aside funds for developing -and running–a food delivery app. Although expected demand levels will not remain consistent during different periods throughout the year (i.e. during summer months order volumes may spike), having good scalability built into the back end can help keep infrastructure costs lower over time and limit unexpected spikes once users start asking for additional features in later versions.
Wrap Up
Hopefully you got complete clarity about the potential of the food delivery application market. All you have to do is to connect with the best and most reliable service provider who can understand your vision and help you make the most out of food delivery applications. Connecting with the right iOS and Android app development agency can make it easy for you to have an application that ticks all the boxes. Good luck!
Author Bio
Scarlett works with the editorial team of A3logics, a leading company offering IT Consulting Services. Exploring the latest technologies, reading about them, and writing her views have always been her passion. She seeks new opportunities to express her opinions, explore technological advancements, and document the details. You can always find her enjoying books or articles about varied topics or jotting down her ideas in a notebook.