Are you facing problems while selecting file recovery software? With the exponential growth in data, the risk of losing it has also increased. Whether you lose a chunk of data or heaps of it, data loss can put you in trouble. Unfortunately, if data loss occurs on your device, it can affect your business to great extent. Instances like automatic deletion of photos, videos, music, and other files are common these days.
When you experience situations, like data loss and need to select a data recovery software, make sure you go through various criteria aspects of that software. Wondering how to find the best Windows data recovery software?  Don't worry, in this article we have provided the popular 5 tips to choose the best file recovery software. These important tips will help you find popular File Recovery Software available online.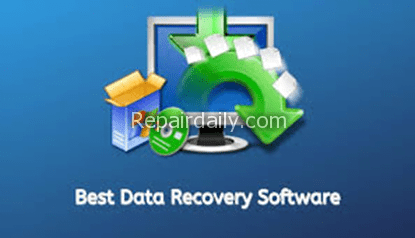 Why Do Businesses Need Data Recovery Software?
With the advancement of technology, it became very easy for us to store different file types on our computers. We can store our documents, photo and video files, music files and other program-specific files (.pdf, .psd, .msg, .idd etc.). It has become very easy for cyber-fraudsters to attack your home network and personal devices. The files and documents stored in your document become the victim of data theft, ransomware, catastrophe events, and whatnot.
Though we install basic protection like anti-virus software in our system, this is not enough. Sometimes, VPNs (Virtual Private Networks) fail in highly distributed environments. So, it is important to update your data backup and recovery strategy before data loss occurs at your end.
Important Tips to Select Best Data Recovery Software
There are numerous data recovery programs available online that you can try to get your deleted data back. Before you opt for any particular program, it is important to consider some factors. Here are the top 5 tips that you need to keep in mind before opting any Mac or Windows data recovery software:
01: Performance & Versatility 
Several recovery programs that we see online support very limited file types. Any recovery tool becomes resourceful when it supports a wide range of file types. Before you select any data recovery program, check if it is able to restore deleted files, including photos, videos, music files, and other files too. Another important aspect is that many programs do not support the recovery of files from external storage devices. Many users found that problems like data loss on their system occur on external or portable storage devices. Before selecting any recovery tool, make sure it can recover deleted files from external HDD or USB flash drives.
02: Speed
The time that any recovery program takes to restore your file plays a very important role. In a busy schedule, it is not possible for anyone to spend much time waiting for the scanning and recovering processes. All of us need the recovery process to be completed quickly. Good-performing Windows data recovery software generally provides an option to complete the scanning process with high speed. And some even come with an in-built deep scanning option that targets a specific file for recovery.
03: Cost
Make sure the recovery program that you are going to use is pocket-friendly, as well. It is important to check the cost factor of the Mac or Windows data recovery tool that you are going to use. There are several recovery programs available that can recover only one file type but can cost you a huge amount. If your software is charging way more than other vendors, we recommend you try other available options.
It is good practice to select the recovery tool that doesn't charge a huge amount of fees. Several popular manufacturers provide a pay-as-you-go model. In this, they allow you to pay on the basis of services that you need at the moment. You just need to choose the services and avoid other expenses that are not required at that time.
04: User-Friendly
We all need software that is easy to use and has an interactive interface. If the data recovery app that you need to use is not easy to operate that you will definitely not be going to select it. A simple and interactive interface makes any app easy to use for its users. There are several free file recovery software programs that feature flashy icons and offer high-tech features that are of no use. As an end-user, you must need a well-defined interface and make sure your recovery program is offering that.
05: Supported OS & File Formats
Before you select any data recovery software to recover your deleted data from different storage devices, make sure it is compatible with your device's OS. The tool that you want to use should be compatible with several versions of Windows or Mac OS. It must recover data from corrupt hard drives and formatted partitions.
Several Windows data recovery software, like Stellar data recovery – Standard, perform deep scanning to scan your device. This feature helps the recovery program to completely scan the selected drive and recover every data from it securely. Also, ensure that your recovery software restores data from the modern 4K hard drives formatted with FAT32, ExFAT, or NTFS file systems.
Which File Recovery Software is best For Your Business?
There are several brands of Windows data recovery software and tools available on the internet. Some of these are easy to use, but it is important to select a quality tool for data recovery. Quality software will have all the features that we have mentioned in the above section to serve its purpose. Stellar Data Recovery – Standard is one of the best software that completely fulfils all the features that we have provided above.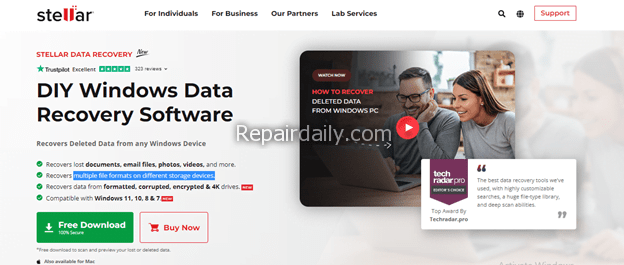 Though the software is available in multiple versions; you can select the one that is suitable for you most. The standard version of Stellar data recovery software offers more features, flexibility and recovery options. It allows you to recover deleted data from formatted, corrupted, encrypted & 4K drives. It is very easy to install and use the software on Windows or Mac systems. The software can easily recover your deleted documents, photos, videos, and files of other types on different storage devices.
Some amazing features that make Stellar Data Recovery – Standard different from others include:
It recovers accidentally deleted files even when they get permanently deleted from recycle bin.
The software allows you to recover data lost due to malware/virus attacks from any storage media.
It supports recovering data from all types of 4K hard drives formatted with FAT32, ExFAT, or NTFS file systems.
Recover data deleted from the formatted or corrupted drives or even from password-protected drives i.e. recovery from the encrypted drive.
Conclusion
Alas! Deleting a file from your system can put you in great trouble. So when you found that any file is lost or deleted from your system, don't get upset. There are several Mac and Windows data recovery software available nowadays that you can easily use to get the deleted data back. Before you select any data recovery option, make sure you check it properly.
We have provided the best 5 tips to choose the best file recovery software that you must keep in your mind. Just check these important points in any software before you opt for it. Stellar data recovery – Standard is popular software that you can use. Must give it a try!