Did you really love the way your music player shows the album art of the music? Because android music players have all awesome material design that makes a non-music lover user to a music lover. You  know what! Why many users buy genuine music from online or offline instead of downloading free from pirated websites. The Apple iTunes music library has their own music quality and depth that you didn't hear anywhere and the metadata of the audio file is all comes in a official/genuine way, and that are some small things makes our music experience more better. You can customize any music file metadata (Tags, Album art) with your Android device, an easier way.
Select & Install App
You can select any app from listing below. All are made for android and my ratings shows how best is app. I use Star Music Tag Editor to edit my music libraries, music tags, album art and more. Also, I use the same app for below tutorial and screenshots, don't confuse here. If you don't like any app here, just search "music tag editor" on play store and install from hundred of options.
Star Music Tag Editor


MP3dit

iTag

---
Your Music File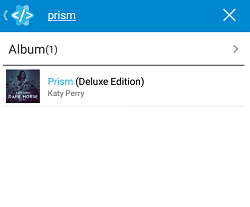 After installing the app(Star Music Tag Editor), just open and select any music file from your SD card. You can select or find your audio file by exploring libraries on the app like: Album, Folder, Search and more. You can also select any format of audio file including .mp3, .aac and more. If you have an audio file that not supported on the current app, then try another app from the above listing.
---
Change/Edit Tags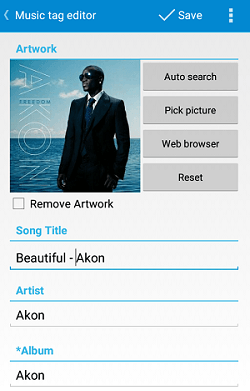 On the editing screen, all the music metadata fields shown to you and you can edit whatever you want, even your personal name instead of artist name. First, make sure which way you like to explore music in your player, By Album, By Song Title, By Artist or other. This way you only need to change a specific tag of all the songs from your collection. After just click> Save and restart your music player if changes didn't appear. Tags field are all a container of ID3.
---
Customize Album Art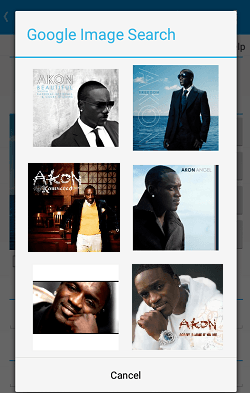 To customize album art,Tap the Auto Search button on the editing screen and select the right keywords for the music. Start Music Tag Editor get images from google images using your keyword and with one click, you can apply the art to your audio file. You can also choose an image from your mobile SD card, Example: your own personal camera images and more.
---
Play Music, Your Style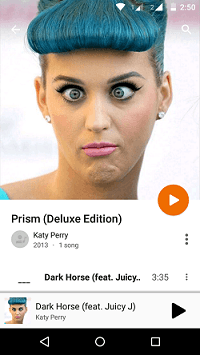 Here is the final view of the media player, how the audio file is look and feel after customizing album art. Some of the Android media players also allows to customize tags and album-art directly from player, if that functionality is in your player, then go on, else start from above.