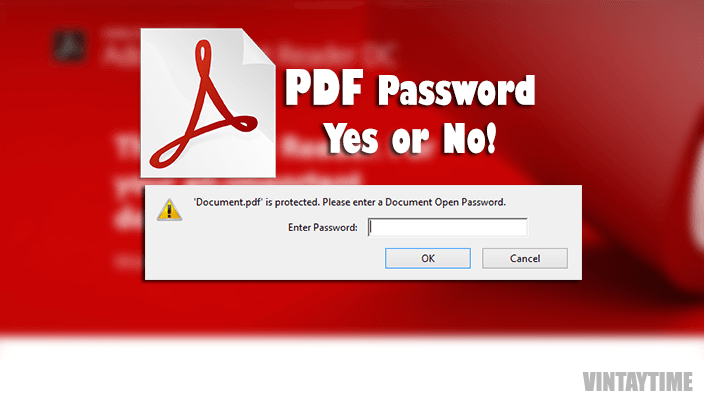 When you store sensitive information in a PDF document, what you do next to protect your information? In a PDF file the most popular way to secure documents and information is just applying a password to them, so only those folks can access information who know the password. Adding password to an Adobe PDF file is not so tough, and with the help of online tools you can add and remove password protection with in seconds. Now, you can manage PDF password anytime, anywhere, from any smart device because Adobe, who invented PDF is now give tools for all device platforms. The official tool to Add/Remove password protection from a PDF file is Adobe Acrobat, which you can easily download from the official website.
Add and Remove PDF Password: Offline
I use Adobe Acrobat, an official PDF tool to enable and disable password protection of a portable document file. There are also other alternative tools and methods found which you can use instead of this official method, but official is original. If your computer don't have yet Acrobat install, install it from the official website.
#1) To enable password
Open/Create any PDF file in Acrobat
Go to menu section and select File>Properties
Now select the security tab
In Security Method options, select: Password Security

Check box: Require a password to open the document> Input your new password and confirm

Press OK button and Save the document to take effect.
Done!, now open the file on the reader and see it works.
#2) To disable password
Open the existing document in Acrobat
Enter the old password
Go to File> Properties
In security tab select Security Method option: No Security
Press OK! Button and save the document to take effect.
---
Lock and Unlock PDF Password: Online
Online apps changes the way we use software on our computers. Now you can make use of free web tools to lock and unlock a portable document file(PDF) with in some seconds. Below we use different tools to lock and unlocking a document. If you found any online app which can do both tasks at a time, then you should go to that tool also.
#1) To unlock PDF
Open Unlock PDF
Drag or choose a file from your computer
Click upload and wait while it Uploads
Enter the file password, press unlock button
Click Download file button and save your unlocked document
#2) To lock PDF
Visit PDFProtect
Drag or open files from your computer, Google drive and more
Input your new password
Click Protect
Download the file and you completed
---
Alternative methods/tools
Use Microsoft Office 2013
Work: Offline, PDF password: Add/Remove
In Microsoft Office 2013, you can convert a document to PDF and also add security to the document like: Password encryption. On earlier versions, office can export PDF after a plugin installed, but it doesn't encrypt the document with a password.
Use Google Chrome
Work: Offline, PDF password: Remove
You can also remove the password from PDF using a more popular browser Google Chrome. The only thing you have to do it just drag/open the file on chrome> Enter the old password> Press (CTRL+P) or Print action> Select Save. The document was saved by chrome at this time will not contain any password.
Work: Online, PDF password: Remove
Online2pdf can only remove password from a file. You just simply select the file, select the lock icon and enter the file password> hit the Convert button and you done. The protected document you uploaded just, is now downloaded in your download folder without protection.