Users can use the Google Discover feature to find engaging material that matches their specific interests and preferences without having to type anything in. Based on past search activity and interactions with the Google Discover app, it learns what users enjoy and proposes new material. So Google Discover in SEO has vital roles and for web developers, its necessary to understand what is Google Discover in SEO.
Discover was previously known as Google Feed, which may be familiar to some users. The quality of the function was increased, and a new moniker, Discover, was given once it hit 800 million monthly active users. Of course, Google's makeover isn't the only thing that's changed since the company's new name and style were unveiled in 2018.
In today's guide, we're going to explore why you should be aware of Google Discover and how it impacts the SEO ranking of your business, website, or service.
What Is Google Discover and How Does It Work?
Let's start with the basics.
Google Discover is a Google-curated feed for mobile devices that delivers articles and videos. Users' material is tailored based on their searches and related stories. It also allows users to further personalize what they see on their feed by following topics that they're interested in.
Which means Google Discover depends on personal experience, so everyone will have their own results. It's intended to help users discover content from around the internet that pertains to their interests and browsing. Everyone's Google Discover feed is personalized to their preferences.
The Discover app's results are updated on a regular basis based on freshly published material and user preferences.
When Google announced its intention to rebrand the service formerly known as Google Feed, it was carried out via a three-step project. One of these adjustments was from inquiries to providing a query-less method of obtaining pertinent data. While Google Discover works in a similar way to Google Feed, it has undergone some substantial changes since its launch.
Here are some of the changes you'll want to think about.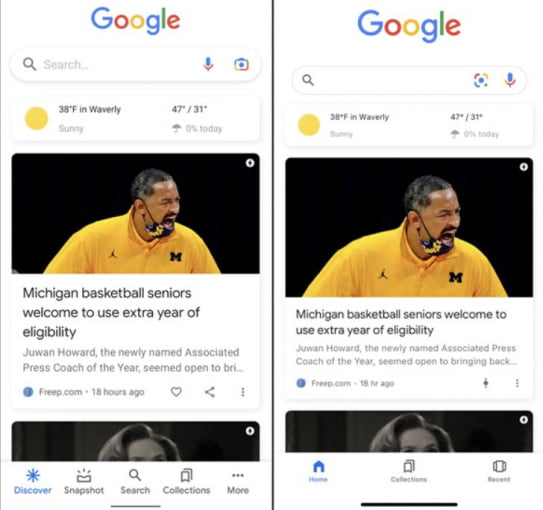 "First and foremost, recognize that Google's content delivery method has stayed mostly unchanged. The search engine continues to provide results based on the user's personal search history, as well as some Google Al results. The more a consumer interacts with Google Discover, the more relevant content is presented to them," shares Daniel Bennett, a writer at Origin Writings and Brit Student.
Other changes include things like;
Name — As previously stated, Google Discover was renamed as part of the makeover. According to Google, the new name better reflects the company's objective of providing people with fresh and engaging information.
Look — The overhaul included a brand new, more visually attractive look. New topic headers and a Discover icon may be visible to users. After clicking on the heading, the user can choose to Follow the interest.
Updated Content- Google's Discover page is always being updated with new content. The majority of the information on Google Feed was news-related. Google, on the other hand, has recently included evergreen material to keep visitors interested.
More Control — Another feature that many users appreciate is the increased ability to control what they view. Users can tap the Control symbol at the bottom of each card to inform Google whether they want to view more or less of that particular content.
Convenience — Instead of being limited to Google's mobile apps, Google Discover is now available on the homepage. Users can simply interact with engaging topics on their feed with Discover, which is available on all Google mobile browsers.
Optimization – Many companies have discovered that Google Discover is an important part of their SEO strategy. However, before Google displays anything on Discover, it must adhere to specific rules.
What makes Google Discover interesting is that it may be a strong source of traffic to websites for content publishers. The content in Google Discover feeds usually made up of news stories and evergreen content. Visuals, such as photography and movies, also tend to be heavily emphasized.
The app had a more text-based look before the Google Discover redesign, with headlines, meta descriptions, and the occasional photo.
What Is The Importance Of Google Discover In SEO?
While most people understand that SEO is an important part of content production, many businesses aren't giving Google Discover the attention it deserves. Google Discover is crucial to SEO since it is a feature of Google Search that allows users to stay up to date on topics that are important to them.
Users can look through new data that is available in a variety of formats, including blogs and videos. Discover also doesn't limit its capabilities to merely displaying new content, allowing users to post any article, independent of its date of publication. At first, you may find stuff that you are not interested on.
Only because you searched one time for a Maryland crabs doesn't mean that you're a crab lover. It may be you are interested in Maryland. In such cases you can inform Google that you're not interested in that, and your experience should get better.
"Discover is still an important aspect of any content strategy since it allows organizations to view an analysis of their content success through its reporting function in Search Console. Access to this information can help businesses improve their content optimization, rank higher in search engines, and raise their chances of appearing in Google Discover," shares Dylan Harper, a marketing blogger at Write my X and Australia 2 write.
Is My Blog Content Eligible For Google Discover Visibility?
Google Discover does not accept all types of content. To improve one's chances of appearing on the feed, specific processes must be followed in order to attain visibility. The Google Webmaster Guidelines spell out what Google expects from websites.
A website must be indexed, verified, and adhere to the Google News content policy at a minimum.
If you can meet these criteria, then yes, your content can be listed on Google Discover, and you'll be able to take advantage of the service in order to boost traffic and overall visibility to your website.
George J. Newton is an SEO writer, blogger, and consultant at Write my case study and Dissertation writing service. He has been married for ten years and loves reading any and all books in his downtime. He also writes for Next Coursework.