Opening a salon is a feat to be proud of. It means you've been through the hard work in school and passed your certification and board exams. Now, it's time for the next step. Whether you choose to move into an existing salon or start your own salon, there are a lot of things to know.
Working in a salon can certainly have its challenges. While you may love what you do, you will be faced with days that can be difficult. Before you start your salon career, take a look at these things that you need to know.
Time on Your Feet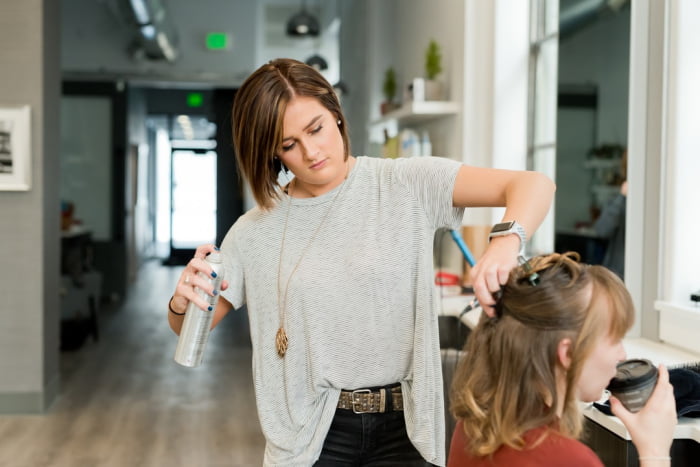 Working in a salon means a lot of time standing on your feet. It's the nature of the job. Salons are known for their employees working a lot of really hard hours. During that time, you will likely get minimal time to just sit down and relax. The time on your feet and the time standing and moving in sometimes awkward positions can do a number on your body.
According to the Denver Spine Center, sitting or standing for long periods of time can affect your posture and place stress on areas like your neck and back. You're often looking down or possibly even hunching over. You may need to be sure to schedule some time for your personal care. Things like chiropractor visits, massages, and even stretching could be beneficial.
Look the Part
Hairstylists typically have a bit of an open dress code. However, some salons do require certain uniforms or styles just to make sure everyone looks nice. You will find that black pants are a common requirement. White House Black Market black skinny jeans are comfortable and stylish. When you need to look the part, you don't have to be miserable in pants that don't feel good.
You can easily dress up your style with a nice top. The key here is to try to look nice and professional while still being comfortable for the long day of work you are likely facing.
Customer Accountability
Working in a salon places you in a unique position. Customers schedule appointments with you so that you make money. The problem is that when a customer doesn't show up, you don't get paid. When they don't bother to call and cancel so you can fill the spot, you're left with lost time and income.
It can certainly work in your favor to choose some sort of accountability for your customers. Maybe you give them a one-time grace pass. After all, life happens. However, you will find that many salons are now requiring booking with a deposit or a credit card so they can be held accountable if they don't follow the cancellation policy. This is something you will most likely work out as you go, but you should be aware.
They Chose You
A salon career can be incredibly rewarding. As you build up your client base, you have the opportunity to prove yourself. How you treat your clients will say a lot about you. Remember that those clients chose you out of a large pool of options. Something drew them to you, and you rely on clients to keep your business operational.
While you don't have to let clients take advantage of you or treat you poorly, you want to remember to value them. Part of being successful is selling your value to those around you. On that same note, be sure to market yourself with that attitude. Share photos of your work, always have business cards handy, and be involved so you can get your name out there more.
Good luck with your salon career. You will do great!