A hackathon is sometimes referred to as a code fest. It is a gathering of programmers and other enthusiasts who want to enhance or create new software.
The term "hackathon" is a combination of the words "hacker" and "marathon." "Hacker" refers to a clever coder and "marathon" refers to a race needing endurance. The first hackathon was the OpenBSD Hackathon, which took place on June 4, 1999, in Calgary, Canada.
Hackathons are events where teams collaborate on innovative projects within a limited timeframe. It usually takes place over a set time, ranging from a few hours to a few days. Participants work in teams to ideate, create, and deliver a finished product within the allotted time frame. 
Hackathons are often organized by companies, universities, or other institutions looking to attract innovation or find solutions to specific issues.
Participants may be given a theme or challenge to work on or be allowed to work on any project they choose. At the end of the hackathon, teams present their projects for judging, and the top projects can win awards.
Hackathons are typically focused on developing software projects or applications. But not all roles need coding. Several hackathon roles don't require coding skills. In this article, you will  explore some of these roles that contribute to the success of a hackathon project without coding knowledge.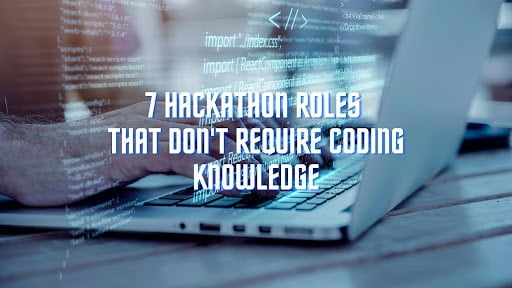 Hackathon Roles Without Coding Knowledge
1. Market Researcher 
A market researcher during a hackathon identifies customer needs and preferences. This involves conducting surveys, analyzing market trends, and researching potential competitors. They can also assist in testing and validating assumptions about the product or service. 
A researcher, for example, who focuses on developing a new health-related app, could be responsible for identifying key market segments. He could conduct user interviews and research industry best practices. 
2. Business Developer 
A business developer can help identify new opportunities and partnerships for a project. They do some research on potential investors or partners. The developer negotiates contracts and builds relationships with key stakeholders. 
3. Project Manager
As a project manager, you help ensure the team stays on track to meet project deadlines. The manager creates project timelines, delegates tasks, and coordinates team meetings. 
In addition, a project manager can help a team stay organized and focused on their goals during a hackathon event. 
They can also assist in identifying project risks and opportunities for improvement. 
He/she ensures each team member has the necessary resources and informs stakeholders of progress. 
4. Pitch Deck Designer
A pitch deck designer can create eye-catching presentations. They present the team's idea and value proposition. They can design the slides, create graphics, and craft a persuasive narrative. 
The presentation of the team's idea must communicate to customers. It must be clear and captures the attention of potential investors or consumers.
They can also assist in refining the team's messaging. Ensure the delivery of the pitch in a concise and impressive manner. 
5. Ideation Specialist
An ideation specialist can help brainstorm new product ideas. They identify potential solutions to problems. In a hackathon event, ideation specialists conduct research and collaborate with team members. They can also explore creative approaches to product development. 
6. Product Strategists
A product strategist helps develop a clear vision and strategy for a product or service. They define product features, identify target markets, and create a roadmap for product development. 
For example, if the team is developing a fitness app, the product strategist can help determine the types of exercises, tracking features, and user interface that will be incorporated in the fitness app.
7. Design and UX 
A user experience (UX) designer ensures a product is easy and intuitive. They design interfaces, conduct user testing, and incorporate user feedback.
A UX designer, for example, can help a team create a user-friendly interface for their product or service. 
Hackathons are a Popular Event for Technology Enthusiasts for Several Reasons
Hackathons offer a

supportive environment

where participants can collaborate and share ideas. Participants can learn new skills from each other. This is beneficial for contestants needing access to the same resources or expertise. 

Hackathons provide an opportunity for participants to work on real-world problems or challenges. This can be a chance to tackle issues that still need to be solved. It is an opportunity to develop new and innovative solutions to existing problems. 

Participants can network and connect with other like-minded individuals. This can lead to new opportunities for collaboration, job opportunities, or even the formation of new startups or businesses. 
Online Hackathons
Virtual hackathons are efficient for enlisting and collaborating with talented individuals worldwide. This type of hackathon uses collaboration tools such as Zoom, Asana, Slack, or Skype.
Below are the benefits of online hackathons:
It offers flexibility. Participants can work on their projects at their own pace without paying for hotel or airfare.

Online hackathons provide a more multicultural participant pool. People from all over the world can join and contribute their viewpoints to the project.

Individuals with disabilities may find it challenging to travel. Thanks to online hackathons, they can participate and contribute to projects from the comfort of their homes.

Online hackathons provide a range of collaboration tools that make it simple for team members to cooperate even in different places. Some of these tools are video conferencing, messaging apps, and project management software.
Conclusion 
Hackathons offer a unique opportunity for individuals with various skill sets. Interested participants come together and collaborate on innovative projects. 
While coding skills are helpful, non-coding skills are also necessary to participate in a hackathon. Business and marketing professionals can all contribute to the success of a hackathon project. Entrepreneurs and individuals with solid and soft skills can participate even without coding skills.
Developers, designers, and other technology enthusiasts can meet like-minded people. Everyone can pick up new skills and work on engaging projects during hackathons. 
Overall, hackathons can be a fun, challenging, and rewarding experience. Whether you're a coding expert or a business professional, there is a role for everyone to play in a hackathon. This makes it a truly inclusive and collaborative event. 
Online hackathons are anticipated to continue to grow in popularity.  Introducing novel concepts to the world because of the increased flexibility and accessibility. So, don't hesitate to participate in the next hackathon event in your area. See how you can make a difference!