Google Trips is a very useful smartphone app for frequent travelers, while anyone can use the app to plan and organize their travel. If your personal email service is Gmail, the app will show your flights, hotel, restaurant booking information at one place. No need to use Maps, Gmail, and Travel Booking app separately because Google Trips app organizing your essential travel information in one place.
I have found some very essential features in the Google Trips app, such as get notifications about upcoming trips, it shows most rated places, and offline access to reservations, places, and restaurant information.
Setup the Google Trips app on your smartphone
You can install the Google Trips app on your Android and iOS smartphone. Then, launch the app and sign with your Google (Gmail) account. Please use the same Gmail account from whom you book flights and hotels.
Create your trips
On the home screen, search and select a place where you have to travel (e.g., San Francisco, New York, Dubai, etc.). Then click the CREATE TRIP link and create your first trip plan in Google Trips. Now your created trip is saved and visible on the app home screen.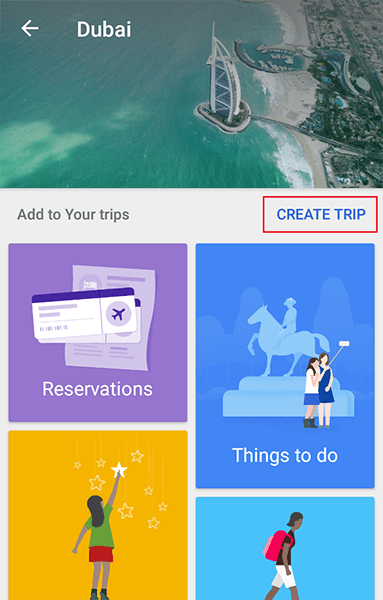 Like this you can create many trips you want.
Your current location automatically visible on the home screen.
You can edit or delete trips from the app's home screen.
Reservations
If you sign with the Gmail account from whom you book flights and hotels, your reservations automatically appear in the Reservations. If not, simply click the Add (+) button and manually add your flights and hotel information in the Google trips app.
Explore top places in the Google Trips app
Google Maps is one the most useful apps for frequent travelers or who love to visit new places. It's really good to know what are the best and popular travel places in a city. Using Things to do feature in the Google Trips, you can explore top places in your travel location.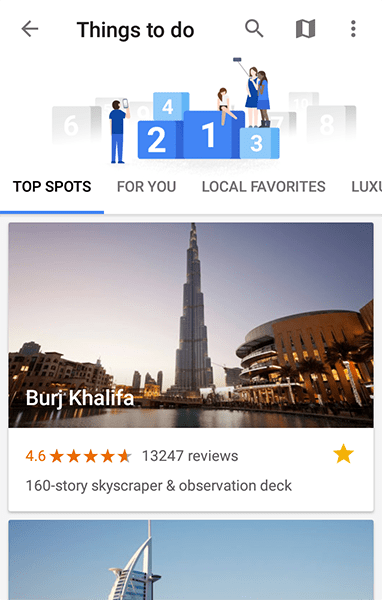 The places list is categorized and contains reviews, contact information, etc.
Save your favorite places
When exploring places from the "Things to do" section, touch the star icon to save the place. It will now appear in the Saved places. Google Trips also show your favorite places from Google Maps and Google Search.
Find a good spot to eat and drink
Without using Google Maps, you can find top nearby spots to eat and drink with Google Trips. The data shown in the Food & Drink section are categories, such as Family-friendly restaurants, Bars, Breakfast & lunch, etc.
All food & drink spots contain useful information such as opening hours, ratings/reviews, contact number, etc.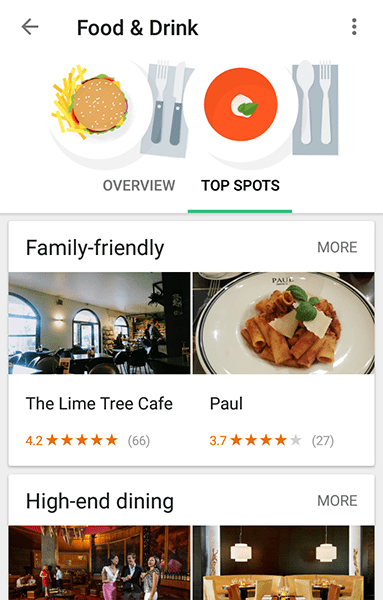 Plan your day
If you want Google Trips app to plan your day, simply use the Day Plan section. One of the interesting feature in Google trips is Magic wand. In the Day Plan section, when you create a new plan manually, click on the magic wind icon and lets Google show you the best places to start with.
Find useful information about your travel places
Using the Getting Around section, you can find important information about transportation in your travel places. In the Need to know section, you can find general information about your travel places such as emergency numbers, shopping mall timings, etc.
Offline access is awesome
Whether you have an internet connection or not, you can access your Google Trip data and trip places information anytime. The only thing you need to do is, click the download button showing on each trip card in the app's home screen.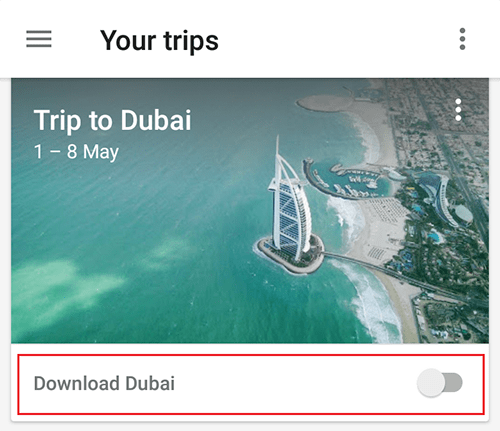 For more information, please read the official Google Trips help pages.