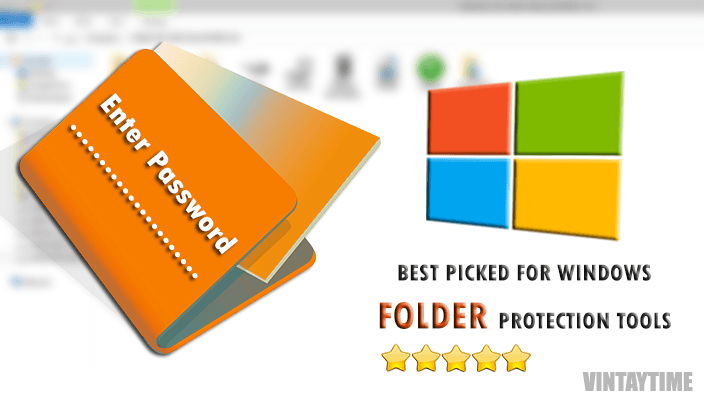 In windows, you can protect a file folder using a software or without software, but here you can use some software to encrypt or create a windows directory with a password and secure all of your important stuff within seconds. If you want to protect a drive instead of the directory, then some tools listed below can also do this, but for external storage you should try different tools, try reading USB password protection. We picked up below folder security software after testing many tools from the web and found the best suites for your PC. If you're not satisfied with the free features, the go or a paid plan.
Price: Free Limited, Publisher: NewSoftwares.Net, Score: 10/10, Windows Platform: XP/7/8+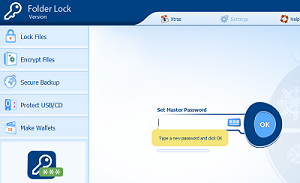 Folder Lock by NewSoftwares.net is the most popular and best tool to Encrypt files and folders on the go. It's not just lock your folders with a password even also protect portable drives, backup them and more. The interface is very friendly to use and you can use this tool on any platform like: Android, iOS and more. Another version Folder lock lite also available which has less features than Folder Lock. You can choose a edition according to your needs.
Features
Lock Files and Folders By Drag & Drop.
AES-256 Encryption.
Create multiple lockers.
Protect USB/CD.
Backup lockers locally or in the cloud.
Price: Free Limited, Publisher: Iobit, Score: 9/10, Windows Platform: 2000/XP/Vista/7/8+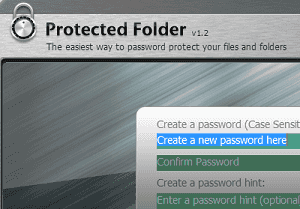 Protected Folder is a highly customized folder protection software and it consist different locking options such as: Hide, Deny Read Access, Deny Read Access. You can simply drag and drop files or folders to the tool and easily lock/unlock them. You can protect files and folder from windows directory also. Also, in this tool, read the protected files/folders from the software without unlocking protection.
Features
Multiple locking options.
Drag and drop interface.
Protect files/folders including windows directory.
Access to protected files without unlocking.
Price: Free Limited, Publisher: Everstrike, Score: 9/10, Windows Platform: 2000/XP/Vista/7/8+


A Light weighted directory security tool: Protect Folder, makes your files, folders and removable drives, encrypt with a passcode and unlock your data using hot keys. It gives security more stronger than ZIP archive protection. The tool is very light and you can install and uninstall in some seconds. This tool also automatically locks the directory when the time goes out.
Features
Send files and folders to protected directory.
Stronger protection.
Light weighted interface.
Protect removable drive and their directories.
Price: Free Limited, Publisher: Kakasoft, Score: 9/10, Windows Platform: 2000/XP/Vista/7/8+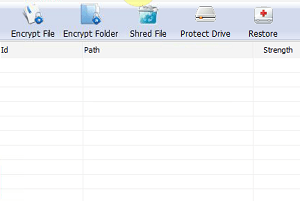 Advanced Folder Encryption by Kakasoft is a another light weight encryption software which gives you ease-to-use functions with a simple design interface. Once you drag and drop any folder or file to the tool, it asks you to enter a new password for the file/folder and after your file/folder automatically changes into a protected icon. The best way to protect any folder is just right click in the folder and select Encrypt.
Features
Ease-to-use interface.
Right click over folders/files and protect.
Multiple protection level.
Prevent permission, if protect folder from delete.
Price: Free Limited, Publisher: lock-folder.com, Score: 8/10, Windows Platform: XP/Vista/7/8+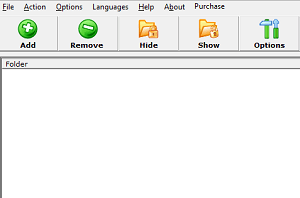 Lock & Hide Folder is made for folders protection and it hides the selected directories with just a click over Hide button. If you compare this tool with other listed here, then this tool has less features, but if you want a tool only for the directory protection then it will be awesome. You can also make use of hot keys to enable and disable hide folders visible.
Features
Quick hide and visible.
Use Hot Keys.
Made for directories hidden.
256-bit Blowfish Encryption.
Price: Free, Publisher: SysTools, Score: 7/10, Windows Platform: XP/Vista/7/8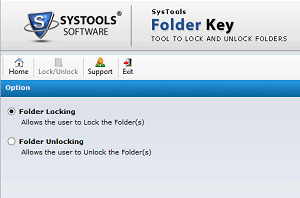 Folder Key is a freeware tool to lock and unlock folders. It is not advanced than above listed tools, but it's very easy to use. There are only two screens shown in this software: Folder Lock and Folder Unlock, and it feels like i'm using a third-party program, but the good point that it is totally free. As you apply the lock over a directory, it converts into an unreadable protected file with an icon of a lock.
Features
Less features.
Lock and Unlock from different places.
Password key.
Price: Free, Publisher: Softpedia, Score: 8/10, Windows Platform: XP/Vista/7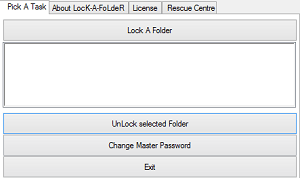 LocK-A-FoLdeR is an open source project of the developer, which was found published on Google Code and you can also download the tool from Softpedia. The tool is very simple and the only thing you have to set is the master password, and select many folders you want. As you apply lock over selected folders, the directory goes hidden.
Features
Straightforward Interface.
Open source.
Lock unlimited directories.