People are dying to play music on video sharing platform YouTube. The most popular videos on YouTube are music videos like PSY Gangnam Style, Justin Bieber Baby and more. Previously, users want to run YouTube music videos on background, so they use the app just like a music player, but YouTube didn't allow this because videos are for watching not for listening. Now, with the help of  YouTube music app you can listen the music videos without watching it. YouTube makes it easy for artists that ads are run with music or for ad-free music you can try the YouTube Red membership, there you'll also get some more benefits.
Install and Sign in to YT Music App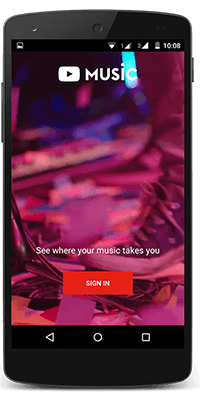 The YouTube music app is available for both Android and iOS platform devices and you install the app for free from your official store. The service is not yet available globally, make sure to check the availability in your country.
Click on the above button and install the app, after sign in to the app using your Google account and start using it today. The UI design of the music app was similar to YouTube's video app with all tabs control, but here tabs are all about music: Home, Trending and Liked.
Start Listening Music Videos
The service is very similar to Spotify and Apple music, but the major difference is YouTube music is free  till you didn't want to remove ads and it can also play video. Yesterday I installed the app in my nexus and it feels better than a regular Android music player or services. My experience with the app says that in future you may be forgetting your regular music streaming service and start taking your daily music dose on YouTube music just like watching videos on YouTube.com instead of buying DVDs.
With feature offline mixtape, you can save the music videos to make it listen offline. From the settings, you can even set the storage limit use by offline mixtape to save music videos. While playing music videos, you can also set the station variety to get music suggestions according to your taste.
When playing any music video on the app, it shows video and with the help of the toggle button over the video you can stop watching it and start listening it even on the background just like a music player.
Search on the app gives all instant results about music, for example: Searching "Swift" keyword will give results of music videos by Taylor Swift.
YouTube Red Membership
YouTube Red is already previously launched and if you already have Red membership, you can make your experience better by streaming all music video ad-free, save offline, background play and more. The red service will cost you $9.99 a month and it not yet available globally, you can check your country availability by visiting www.youtube.com/red and know more about the paid service.