Team Win Recovery Project (TWRP) is the best custom recovery software for Android-based smartphones and tablets. A custom recovery has more  advanced features than the stock recovery, such as touch-enabled interface, easy to flash a custom ROM or firmware, and Nanodroid backup functionality.
When rooting an Android device, custom recovery like TWRP or CWM is required to flash SuperSU and Custom ROMs. Stock recovery cannot flash third-party ROMs and MODs, it can only perform basic actions like Wipe data/factory reset, Install the update from SD card and view logs.
After flashing TWRP, you can use it from your device bootloader menu > Recovery.
How to download and install (flash) TWRP
Step 1, Download TWRP: Like Custom ROMs, TWRP is built differently for each Android device. If your device exists in this list, you can simply download the TWRP image for your device. Else, search 'TWRP <device name>' on the web in case your device is not exist in the list.
Once it downloads, simply copy the 'twrp-xxx-xxx.img' (where xxx is the file name) to a folder/directory of your PC.
Step 2, Bootloader should be unlocked: In order to flash a custom recovery, your device bootloader should be unlocked. The Bootloader unlocking process may require a token from your manufacturer website. Take help of Google search to know how to unlock bootloader of your device.
Step 3, Install ADB with USB drivers (PC): You can use 15 seconds ADB Installer (with drivers) on your PC to flash TWRP recovery. Installation is very simple, just run the 'ADB-setup-xxx.exe', type 'Y' and press ENTER on all steps, and install device drivers.
Step 4, Enable USB debugging: Open settings on your Android, select About phone and tap 7 times on 'Build number' to enable Developer options. Go back to settings, tap and enable Developer options with USB debugging (as seen on the below screenshot).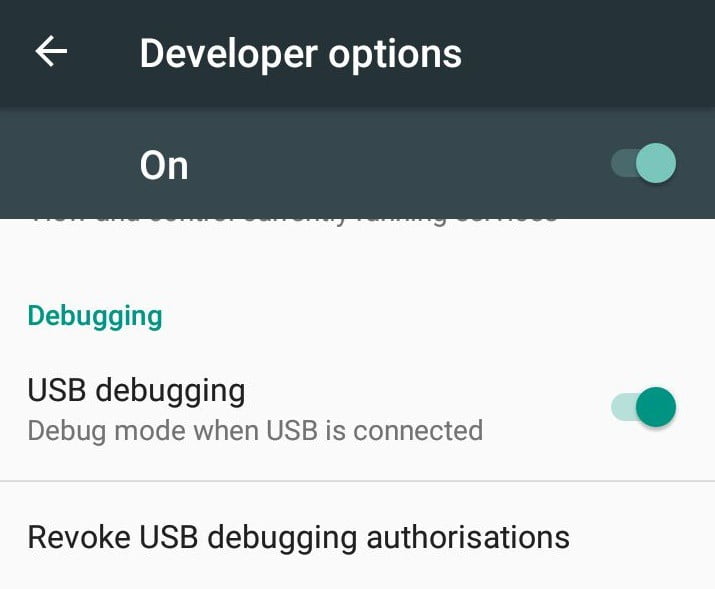 Step 5, Install/Flash TWRP recovery: Connect your Android to PC using a data cable. Go to the folder on PC where you saved 'twrp-xxx-xxx.img'. Hold-down the SHIFT button, right-click over a blank space and select 'open command window here'.
Type the following commands:
adb reboot bootloader
fastboot flash recovery twrp-xxx-xxx.img
Replace 'xxx' with the file name of your TWRP IMG.
Now open 'Recovery' from your Android bootloader menu and start using TWRP.
How to use TWRP features
Install
You can flash a custom ROM, kernel or any MOD file easily by using the 'Install' button. Just click 'Install', select a flash file from your device storage and swipe right to flash.
Wipe
When you switch to a different ROM, it's important to perform a factory reset. In the Wipe menu, you can use many factory reset functions, such as clear data and cache (including dalvik cache), format data and advanced wipe.
Backup
Not a simple backup, TWRP actually creates a Nanodroid backup (a complete mirror image of your Android device) that can be easily restored to the exact working condition.
Restore
Restore the Nanodroid backup file with just a swipe.
Mount
Mount and unmount partitions that are available to be mounted. You can mount multiple partitions too.
Settings
Adjust TWRP settings, such as Enable zip signature verification by default, Auto reboot after installation/flashing, screen brightness, vibration and language.
Advanced
Use some Advanced features in TWRP such as Terminal, Partition SD card and File manager.
Reboot
Reboot to system, recovery or bootloader.
Official TWRP App
Team Win also provide their official TWRP app on Google play that automatically notifies when a new version of TWRP is available for your device. If your device is rooted, you can flash the TWRP (.img) directly from the app, without booting into recovery mode.