In Microsoft Windows, sometime we need to create a new drive partition for a reason like wanting to store some personal data, guest users drive or other, but in earlier time people format the hard disk drive again to create partitions. Here you didn't need to reformat or reinstall your Windows to create partitions or not even have to restart your PC. Shrink Volume is a feature, let you can create many partitions you want, in my language you can create unlimited until your hard disk goes full. I tried this feature in windows 7 and windows 8/8.1, for other versions try same steps as written below.
Also Read→ Install Windows 7 From a USB in minutes
1. Start from Disk Management
First, you need to start Disk management Utility from: Right click over My Computer> Manage> Storage> Disk Management or Use RUN(Windows key+R) with command diskmgmt.msc. This utility is in windows from a earlier time even you're using XP now. You can use Disk Management to fully control disk-Based hardware connected to your PC. From here you can do edit drive letters, rename, delete, format and make so many partitions of a drive without formatting.
2. Select and Shrink The Volume
Now, you need to select the drive from which you take empty space and use to make a new drive partition and this process is also known as Shrink Volume. If your Windows drive(C:) currently takes more than 100-150GB, then don't shrink the C: otherwise it will drop your system performance. Select another drive which you think, it have more free space.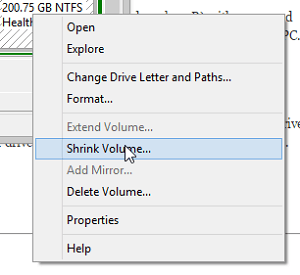 → Right click over drive> Select Shrink Volume> Enter the amount of space to shrink in MB> Shrink.
3. Install the Free Space Drive
As your Shrink Drive process completes instantly, you will now see a Free Space Drive along with all drives. You can check the capacity of the drive, from which you shrink, it is now appearing less.
→To make Free space drive, a Healthy Drive: Right click over Free drive> Select New Simple volume> Follow Wizard>  Select Drive letter> Select Format this volume and file system NTFS> finish.
Once all things completed, you will now see the new drive in your My computer window. Use it, Fill it, Format it or whatever you want.
---
FAQ
Can I merge drives back?
You have to delete both of the drives first to start merge, and here your data will also be deleted which you didn't want. First move the data from both drives to the other drive which not participate in merge, then delete both drives and now you will see a single free drive in disk management. Now follow the steps from above: 3. Install the Free Space Drive.
Can I shrink from Windows Drive(C:)?
As I said above, less free space in C:  will make your computer performance low. I suggest you to leave 50-100 GB empty in C: to keep your system performing better.
Can I use free space to make multiple drives?
Yes!, you can. When you start a wizard to install a free drive, you see Windows want an amount in MBs to create a new partition. Simply input amount less than total free space. For ex. If Free space: 100 GB, so you can input 51,200 MB(50 GB) in new simple wizard to make more than a single drive.